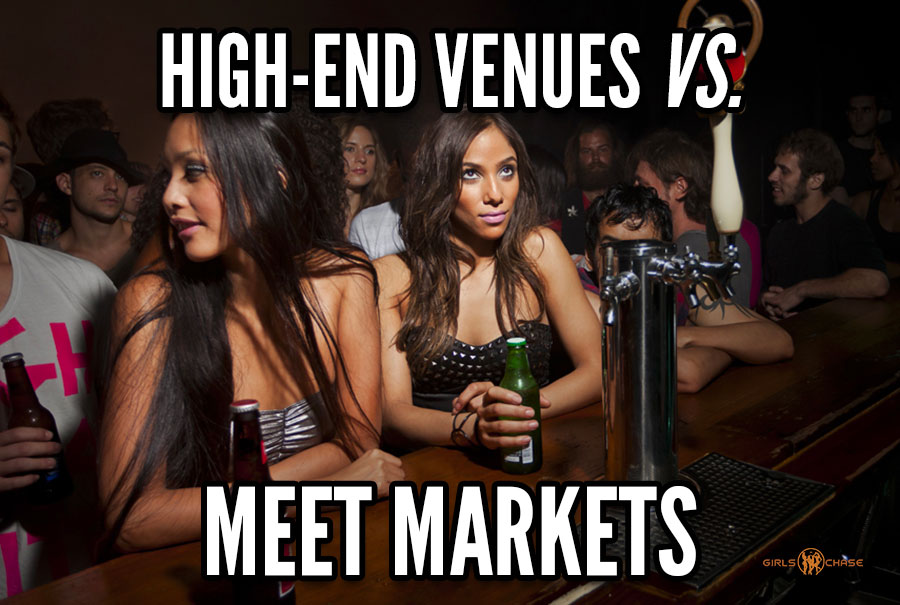 Going out to meet women? The nightlife venue you choose has a big impact on your odds. Meet markets are good for lower level playboys, but at elite levels, selective is where it's at.
Hey guys, welcome back. Today I'll discuss night game.
As you know, venue selection is a crucial part of night game. Selecting the wrong venue (whether it's not suited for you and your game or just a poor choice) will greatly affect your night and may determine whether your night is successful—or not.
I have written plenty on venue selection and calibration, so I will not repeat myself here.
Today I'll compare the differences between selective clubs and typical "meet markets." Which places are the best for pick up? I'll go over the pros and cons of both types.
Many men dislike more selective places because they can be intimidating. Some men perceive that girls are harder to get there. Some of these girls tend to be more beautiful and seem more reserved. They do not seem to openly flirt or show a sexual vibe.
On the other hand, the typical meet markets tend to have a sexual vibe and girls may be more sexually open and willing to flirt. More importantly, the places are far less intimidating.
So, which places are the best? Most guys starting out in night game tend to favor typical meet markets. Beginners usually go to those venues—the same with intermediate guys. We will get to why that is shortly.
Elite night gamers tend to favor selective venues. There are some exceptions to the rule, but generally, the exceptions are good reasons for not sticking to the norm.