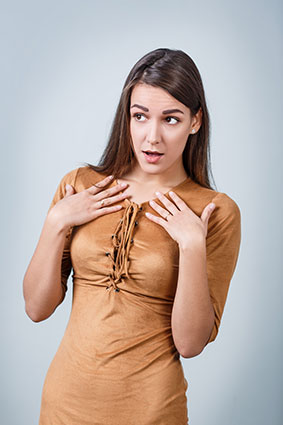 A few hours ago I was in a girlfriend's apartment with her and some of my girlfriend's friends. I showered there, and when I finished my shower I left the bathroom in just a towel, then returned to dry my hair.
After my girlfriend's friends had left, she told me one of her friends had seen me walking back and forth wrapped in my towel and proceeded to make an unpleasant face, then look away.
Now, if I was younger I might've been inclined to take this reaction at face value and assume there must be something wrong with my body, or maybe I don't look that good in a towel and ought to stay covered up all the time. I'd feel self-conscious and take something like this as reason for doubt.
However, at this point, I know I'm in decent shape... I have some muscle, and little fat. I have arguably the best figure right now I've ever had. And I've had plenty of girls tell me I have a good body. So I know that "Ugh!" reaction likely doesn't mean, "Ew, he's so ugly."
Instead, I figured this likely happened because that friend is devoutly religious, and her reaction was her forbidding herself to suffer impure thoughts / temptation. I told my girlfriend this, and she said that was her read as well (then asked me if I could stay dressed around her more conservative friends).
It seemed like a simple little interaction, but it highlighted an important point:
You must be careful not to take what women say or do at face value.