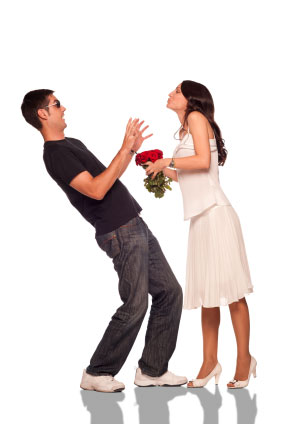 A reader recently wrote in to ask me why I thought his text conversations weren't going anywhere. He's been working really hard to get his game tightened down, and thought he was doing well... but here, again, he could feel this girl slipping away. The texting transcript he sent picks up mid-conversation:
Him: You suck with directions. Lol. Are you from the city?

Girl: haha I dont know what the streets are called1 Just know theres one down a side haha. Its by the big bungy thing, down a little street:-)

Him: haha. You suck. Need to get a gps then. Can you cook?

Girl: haha sorry:-) uhmm like simple things. and if I had instructions then yeah lol

Him: Imple things like biting your nails or fun things? I like dangerous stuff:)

Girl: haha as in easy stuff

Girl again:haha as in easy

Him: Im just finished with my engineering project. I think youll find it interesting. Are you a metal head or a classical music type like me?lol

Girl: Haha uhmm, not really... More party side.lol

Him: Im running seminars in the city next week,. We should go grab a coffee and you can come by...

Girl: I have exams and school next week.

Him: Im running it in the weekend. But your missing out! IM hungry. Make me some soup.

Girl: Um, Whats it about?
Then he replied with some brief info about his seminar, and... nothing. She never replied. It was lost. And he didn't know why. Was she just not interested? he wondered.
Actually, she sounds pretty interested early on. How'd he lose her? Well, it's a little more complicated than you might think. And, as the subject of today's post, one of the main problems it turns out is that he wasn't quite teasing this girl the right way. Because this isn't just a texting issue -- it goes deep into how you hold conversations with women in general. And if you aren't teasing women right, you may very well be costing yourself a lot of success with girls you like.