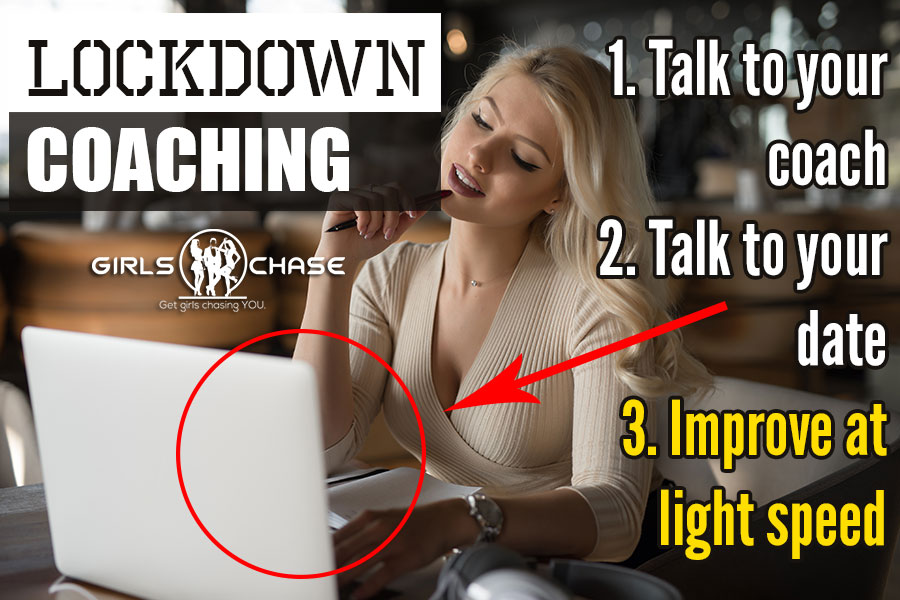 Rapidly improve your conversation, vibe management, and flirtation with our newest coaching offer. Meet with your coach… then meet with your DATE… and compare notes after.
There's a new kind of coaching in town, and it's set to get you bowling your dates over right in their chairs in the coffee shop or restaurant.
First off though:
Have you ever taken a girl out, only to have things start well... yet go south... and as you walked away at the end of the date, certain you'd never see that girl again, you had no idea why?

Do you ever run out of things to say to dates (and end up with that super awkward feeling that you're watching your shot with this girl die in real time)?

Or do you sometimes mishandle the vibe (and suddenly a date that felt fine two minutes ago feels completely weird or off kilter)?

Have you ever been on a date where no matter what you tried, you just couldn't get you and the girl to 'click'? You talked, and she talked, and she offered plenty of polite laughter to your jokes... yet both of you knew you were just killing time out of politeness, rather than any kind of legitimate shared connection.
These things are maddening when they happen. And for some guys, they happen a lot.
Even if they only happen to you sometimes, you still want them to not occur.
The good news is, if you go on enough dates, you will figure it out eventually... probably...
However, the even better news is rather than take 6 months or a year to fix those problems, you can put that process on rocket boosters instead.
The way you do that is with coaching and practice, tied together, working together, to let you zero in on exactly what you need to do differently -- then get you doing it.
To give you exactly this, I've assembled an A-team of Girls Chase coaches... PLUS a bevy of lovely, fetching 20-something gals I've handpicked to serve as your 'practice dates' to let you get this stuff DOWN.
The chats are real. The feedback is real. The coaching is deep.
And the dating learning curve you're on, once you're on this program, gets SLASHED in half (or even less).