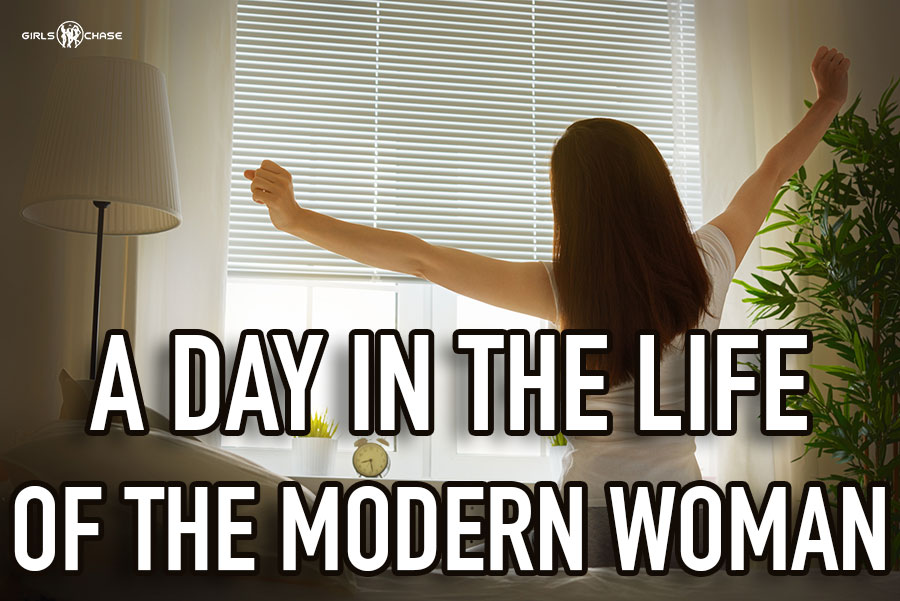 What's a normal day look like for a regular girl? Work, friends, gym, guys – lots of guys, of all kinds – and that's just the start.

Monica's phone alarm goes off. It's 7:00 AM. "Ugh," she groans. She stayed up too late to watch that stupid show again. It always seems like a great idea when she's into it. And then it seems like dumbest, most vapid thing ever when she wakes up sleep deprived the next day. She slides her finger across the phone screen to disable the alarm, and rolls out of bed.
She shambles over to the bathroom, yanks her panties down, and plops down onto the seat. Pee hisses out. She feels relieved. She gives a few wipes, flushes the toilet, and gets up to go into the kitchen.
Breakfast... should she or shouldn't she? She stares into her cupboard. She's skipped it every other morning this week so far. "No breakfast" is part of her master plan to shed this light extra layer of blubber that's crept onto her waistline. Nobody else seems to have realized she isn't super super skinny anymore yet, but she's realized it. Hunger overrules the desire to drop a few pounds and she pours herself a bowl of cereal. Well, at least it's healthy cereal, she reasons. She munches on her breakfast at the table while she reads on her phone.

Looks like normal drama on her social media today. That crazy single mother Abigail in her network had posted another two-paragraph self-justification dressed up as life advice. This time she'd posted about how life is all about experience and travel and not being held back from going for the man you want. That got her a slew of likes and praise ("SO TRUE!")... until Maria couldn't help herself and weighed in: "That's maybe also why 2 kids, 2 dads, still single though, right? #lifechoices." The comments on the post exploded after that. Monica snorts out a laugh. Maria is her workmate who never held her tongue (or her punches). About 90% of the comments under Maria's remark are other women scolding her. But Monica knows most of those women secretly hold opinions closer to Maria than to Abigail. She thinks about clicking 'Like' on Maria's post, then decides she doesn't need to get involved in that debacle.
After breakfast, she puts her bowl, spoon, and glass in the sink. There are a few days' worth of dishes in there. Gotta clean those before they start to attract bugs, she thinks. She quick washes any milk and crumbs out of the bowl, then leaves it for a proper wash later.
She puts her hair up in a bun and takes a quick shower, using the handheld showerhead to rinse. She spends a little too long with the shower jet aimed at her clitoris. Then she moves down and rinses her legs. She gives herself a quick scrub with some soap and a pouf, then another rinse, then it's out of the shower. She dresses herself in a neat, tidy little business-y outfit, brushes her teeth, does her hair, and grabs her purse and her duffle bag with gym clothes, then it's out the door and off to work.