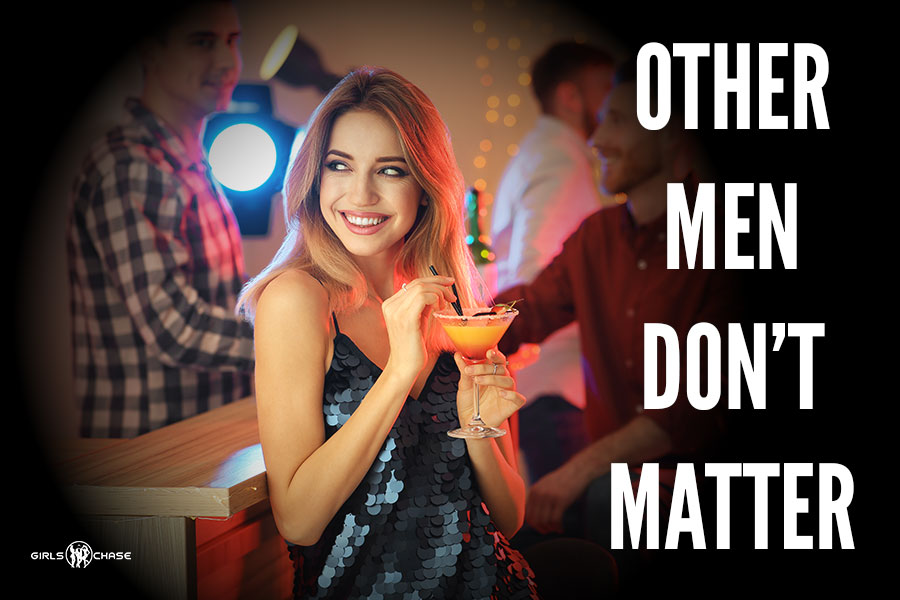 Men who are not super experienced with women tend to focus a lot on other men. Yet the romantically experienced man, in contrast, focuses on women, with little time for other men.
Recently I was observing myself, as I like to do, and noting my own behavior.
I was watching a particularly beautiful woman in a conversation with a man. The two were flirting and the woman was alternating between showing interest in him and playfully rolling her eyes at him.
I could tell you exactly what the woman looked like, what hairstyle she had, what color clothes she had on and what type, her facial features, facial expressions, and so on.
I have only the faintest idea what the man looked like. I didn't bother to note whether he was short or tall, muscular or skinny or fat, or had any facial hair. I did notice he had short hair spiked in the front (possibly with gel). I have no idea if he was good-looking or not, but I'm not really able to tell that with men generally. I don't know what he was wearing.
I realized this after I glimpsed briefly at the man, but returned to focusing squarely on the woman. As I observed myself, I noted this difference, and asked myself what I was looking for in the woman. I realized I was looking to see if she made signals in my direction, or indicated in any way that she wanted me, or any other man than the one she was with in general, to enter the conversation and whisk her away.
While I was observing her, I thought about how when people watch sex videos, both men and women focus on the woman: her facial expressions, reactions, etc.
And I thought, "There's an analogue here, perhaps."
But then I thought of how many novice seducers are constantly talking to me about men here on Girls Chase. They compare themselves to other men ("I'm not that tall", "I'm not good-looking", "I can't build muscle", etc.). They talk about what kinds of men women go for. They talk about being intimidated by other men.
And I realized I don't think any experienced guy I know thinks about other men the way seduction rookies do.
The only people overly worried about male competitors is men who aren't very good at competing for women.