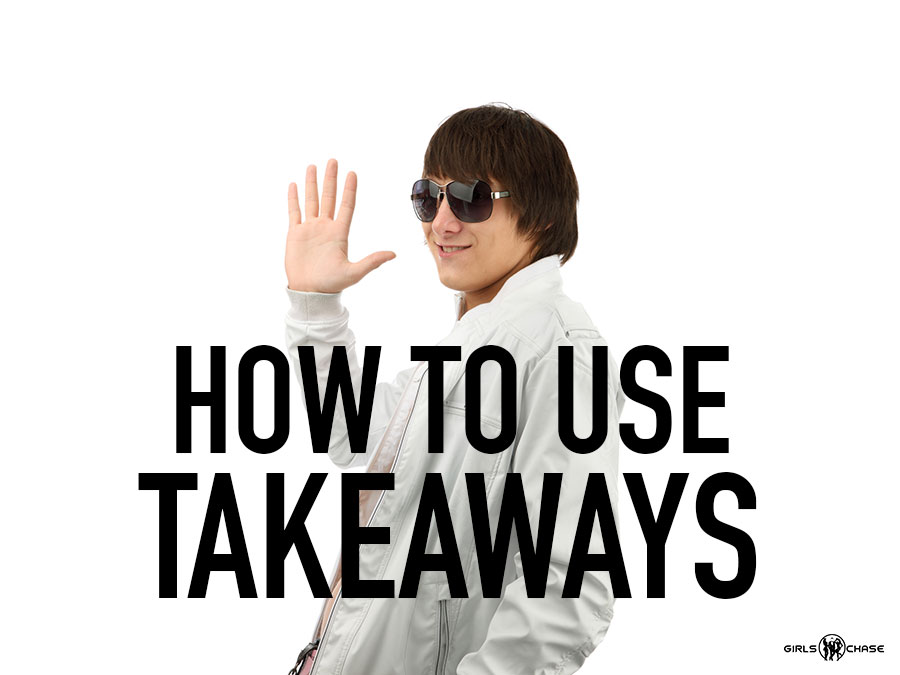 When girls tease, go off topic, get distracted, or turn mean, a takeaway may be in order. But the key to these is calibration: not too much, not too little.

We've talked a lot about takeaways lately on Girls Chase. Alek has posted a few recent articles on "hit and run" in bars and nightclubs (where you talk to a girl for a bit, leave, and come back later). And in Monday's article on handling disrespect, Hector made ample use of the full suite of available takeaways.

A takeaway is any behavior you use to remove your attention, interest, or even outright presence away from a woman. It can be an effective way to snap women to attention, to increase your scarcity (and thus, the urgency of hooking up with you), and to differentiate yourself from other men (many of whom cling onto any woman who talks to them like burs as soon as she gives them her attention, and would never leave or withdraw attention until they'd totally given up). Takeaways also let you fractionate your courtships, and are a powerful way to inspire women to chase you and do more of the work in the courtship.

You've felt the power of takeaways plenty of times before yourself. A girl you talk with shrugs her eyebrows and seems disinterested. A girl you are with suddenly shifts from warm and open with you to frowning and telling you she doesn't think you and her are very much alike. Another girl you were flirting with suddenly tells you "I have to run – I'll catch you later!" and darts off. All these are takeaways... though some of them (like when she seems disinterested) are lighter and more implied, while others (like when she darts off) are stronger and more demonstrative.
We'll look at the different types of takeaways you can use in this article. Then we'll talk about some times to use them, as well as some times not to use them.