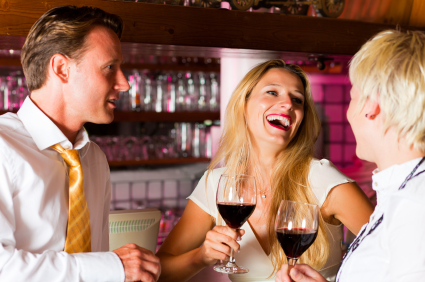 Several nights ago, I was out with a friend in a nightclub, and I noticed a cute platinum blonde German girl standing next to him not doing anything while the two friends she was with, a girl and a guy, flirted back and forth. "You should talk to that girl," I suggested. So he did, and she happily engaged.
At one point though, he turned to me and said, "Chase, where did you say you were from again?" and then introduced the girl to me and told her where I was from. She quickly jumped off of him and rotated around to my side, away from him, and began chatting me up. I flirted with her, pinched her arm a bit, had her tell me why she was in China if she disliked it so much. My buddy eventually roped her back in again, and I withdrew. She peeled off and left a short time later.
After she left, I asked my friend a question: "Why did you introduce her to me? Did you run out of conversation with her?" He said that no, things had just been slowing down, so he thought perhaps adding another interesting person to the mix might spice the interaction up a bit.
"Dude," I said, "you broke circle. Never be the first to break circle when you're talking to a girl." He didn't know what I meant, so I explained.