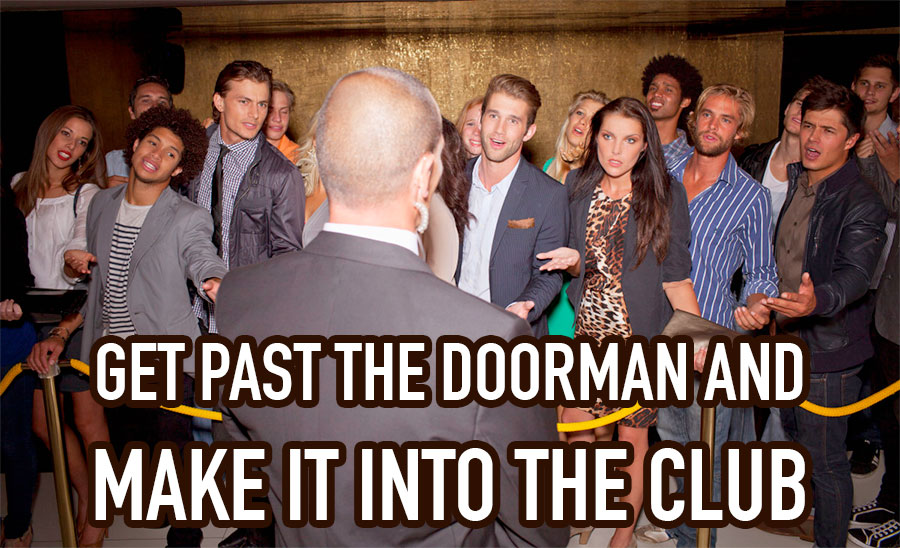 To get past the bouncer and make it into the nightclub, mind the 5 aspects of the GET IN club entry system: girls, expenses, trouble, + 2 more.

The worst club entry experience I've had was at a place in Las Vegas. I found myself stuck outside the venue, pushed to the side, while everyone else in line – who'd gotten there much later than I had – was allowed to march right in past me. I was dressed well (better than many of the people who got in) and looked good. But I'd made the fatal mistakes of getting there too early, and talking to a poorly dressed, low status guy in line... And the bouncer exiled me to the side of the queue as a result. After standing to the side watching other people march in for twenty minutes, I finally stooped to bribing the bouncer to get in – something I'd never done before and haven't done since.

After this incident, back home in San Diego, I made getting into the clubs I wanted a priority. I picked up a VIP card that let me cut the lines at most of the venues in town. I rolled with people who knew people. And I went out of my way to befriend bouncers and club staff again, something I'd neglected since my early days in clubbing.
Before long, my outings often consisted of the opposite of that Las Vegas experience. Throngs of other club-goers would be stuck in a slow-moving queue as I marched past them, flashed my ID at the bouncer, and stepped right in. Some of those club-goers – girls especially seemed to hate watching me get in while they had to wait – would yell about fairness, or spoiled elites, or how assholes like me needed to wait in line like the rest of 'em. And I'd just chuckle and bear these folks no ill will, because I'd been in their positions plenty of times before.

If you enjoy the nightlife regularly, in any major metropolis, entering the club will be a major concern of yours. So today, we're going to cover all the various ways you can gain entry, or even skip the cover charge, and not have to worry about getting stuck outside.