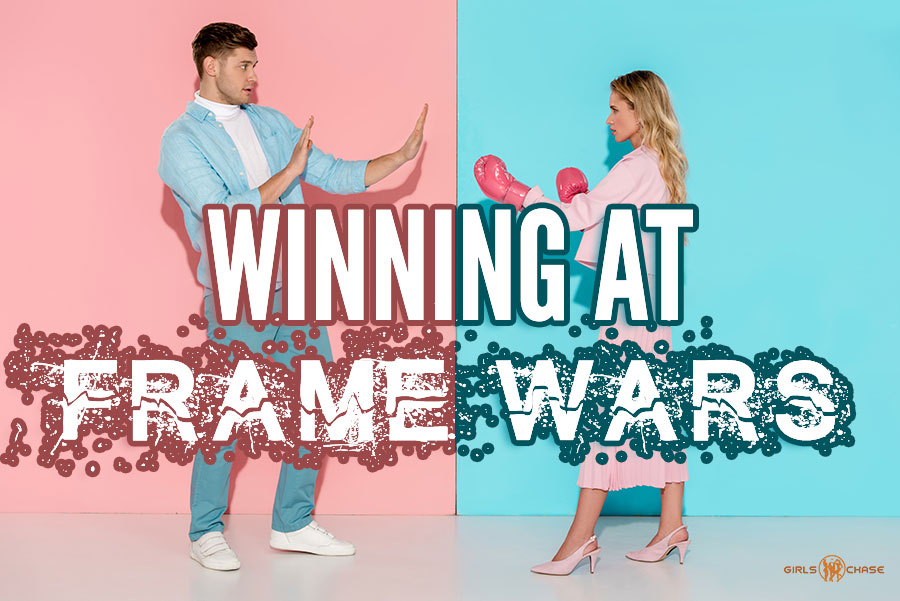 You can't always avoid a frame war. If you find yourself in one, you're going to use one of these tactics to come out the winner.
Hey guys and welcome back!
In my last two posts, we discussed frame wars. The first explained what frame wars are (they happen quite frequently, especially in night game). The second post outlined some preventive measures to help you avoid frame war agony since prevention is the best cure.
Frame wars occur when a girl tries to wrestle the meta-frame away from you and switch things from her chasing you back to you chasing her. Whoever holds the frame is considered the prize.
She may try to steal the frame because:
Society has programmed her to believe she is the prize

When men chase, her ego is satisfied

It makes her look good socially and bad if she chases you
But it can also be due to her simply wanting you badly, and the best way to get you (and rightfully so) is to make you chase.
The problem is that the moment you start chasing, you fall into her frame, which means that she will be in charge of the interaction. This goes against her idea of you as a dominant man, which she finds attractive. It also means she will be framed as higher value than you. It is problematic since women tend to fall for higher-value males. Also, you will satisfy her ego, and when she is satisfied, she will have nothing left to gain from you and will be able to comfortably move on, so you will lose her.
In my last post, I suggested that you avoid overusing meta-framing techniques such as:
All are rapport-breaking techniques. What is wrong with rapport-breaking techniques? They push you away from each other when you should be moving closer. The tension caused by meta-framing techniques should be treated merely as a "necessary evil" to boost compliance. The caveat being that it is a double-edged sword, so if overused, it can cause unwanted effects such as auto-rejection or, worse — frame wars.
Rapport-breaking techniques may make her feel undervalued, tooled, and powerless. They represent ego hits, offending her conception of herself as the prize. If pushed to the brink, she may respond by declaring a frame war.
So avoiding the overuse (not use) of meta-framing techniques is a great way to dodge frame wars.
Yet, sometimes frame wars are unavoidable. That's just the way it is. Maybe you miscalibrated and overused meta-framing techniques when they weren't warranted. Perhaps that's the way she is, or something in the context of the interaction triggered it accidentally.
What do you do if you sense a frame war coming? That's what this post will answer.