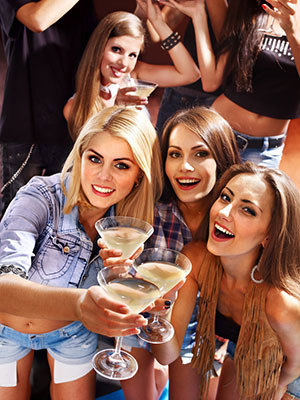 A fellow named Estate - one of our forum members - has been meeting women in bars and nightclubs, and recently expressed some frustration that opening scenarios are rarely as "clean" as how you'll find them described in most articles on opening new conversations, like these:
Specifically, Estate lists out scenarios he's run into that don't seem to fit the simpler mold you'll see in how-to articles:
"Some situations I come across:

Girl in circle of friends (as described above), she's cut off from a direct approach without moving her friends or engaging them. I guess the only answer, like you say is to simply engage them and work the group. Not to be lazy here but it feels like you are exerting a lot more time and effort here when potential for reward is probably smaller since you are essentially competing for her attention and taking time to navigate the group who will naturally be protective (especially if her group includes guys clearly into her as above). Working your way through the group no matter how smooth, I don't think anyone is fooled by it.

Girls who are too "flighty"... the social butterfly perhaps but she is just bouncing around from place to place, bar, dance floor, upstairs, downstairs... getting her attention, calming her down to allow her to be isolated for any length of time.

Girls who give off all the "IOI"s. For example a cute Brazilian girl I met Friday, she kept hovering around me, looking at me, brushing off and bumping into me, even "unknowingly" dancing up against me even though there was plenty space.... yet when I open, she acts almost un-interested... this girl actually bored me as I expected her to be somewhat chatty or friendly and I moved on, only to have her return to do the same!?!?

Girls who isolate themselves in groups to a corner, a booth, a table... perhaps these girls just don't want to be approached thus move out of the limelight. I guess just plowing through and engaging the group would be the only answer here.

Language barriers... lots of foreign students in this town. (Even if I'm foreign myself, haha).

It's literally too loud to actually converse, even pulling her to another area is just too loud (I know, switch venues, but we all have those nights where you hit the club with friends and there is just this one girl we have to meet). Changes the game up, I like the "low key" relaxed, chill, sexy guy approach personally. Probably just need to switch venue or go high energy here.

"
What do you do when there's no easy path to meeting that beautiful girl?