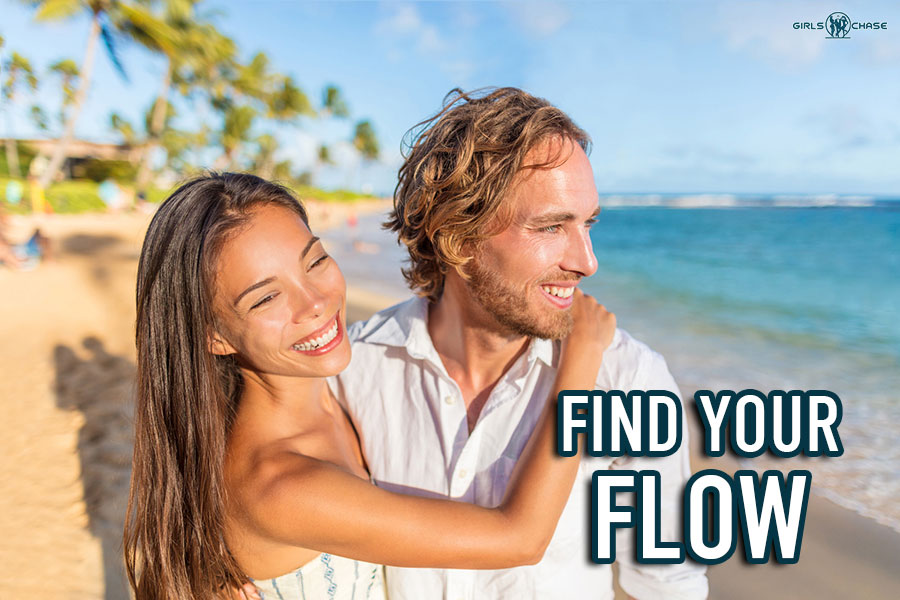 Flow state is when you feel natural, and whatever it is you're doing just works and is enjoyable. But how do you find it, especially when it comes to attracting women?
You've probably seen an advanced seducer in action before and didn't even realize it.
That's the beauty of advanced game – it doesn't look or feel like "game" in any sense. It's more a way of expressing yourself so purely and subtly that the girl you approach doesn't feel any discomfort or ulterior motive. It doesn't cause bystanders to take notice (unless you want it to) and the whole interaction feels "normal."
A woman who experiences a man with amazing game will likely describe him as "fun" or "interesting," whereas a guy who lacks skill won't even make an imprint on her.
Advanced game is almost an oxymoron because it's a state of "normalcy." Where a beginner will go out with the intent to meet women, the advanced man just is. He's become what he's wanted to be for years – a healthy, libidinous male with mesmerizing social skills.
He is one who's not willing to passively wait for chance. He presses the game of odds by spinning the wheel – as often as necessary – until he wins or goes bust.
But to the girl, even though he's "normal," there's also something special about this guy. He's different somehow. But what is it that makes him different? From her perspective, it's like watching two different movies. One is a B-movie with bad actors and poor writing.
You know you're watching a bad movie because the poor performances dismantle your suspension of disbelief. You might still watch the film for entertainment's sake, but these are actors, the ghosts aren't real, and the sets are CGI. When you watch an A-grade actor in an Oscar-worthy performance, you're whisked away to another world.
It's the difference between Jurassic Park 5 and Lord of the Rings. One movie has you laughing rather than crying as a T-Rex chomps the lead character to bits – the other has you in tears of sorrow for the loss of Gandalf to the Balrog. It's your emotional investment in a situation that feels more real than real life.
A girl who experiences a great seducer won't text her friends "Some guy just approached me," but rather "I just met this guy, wow!" It's as if she just met Brad Pitt. He comes across as an A-lister rather than a cartoon character or an NPC in a video game.