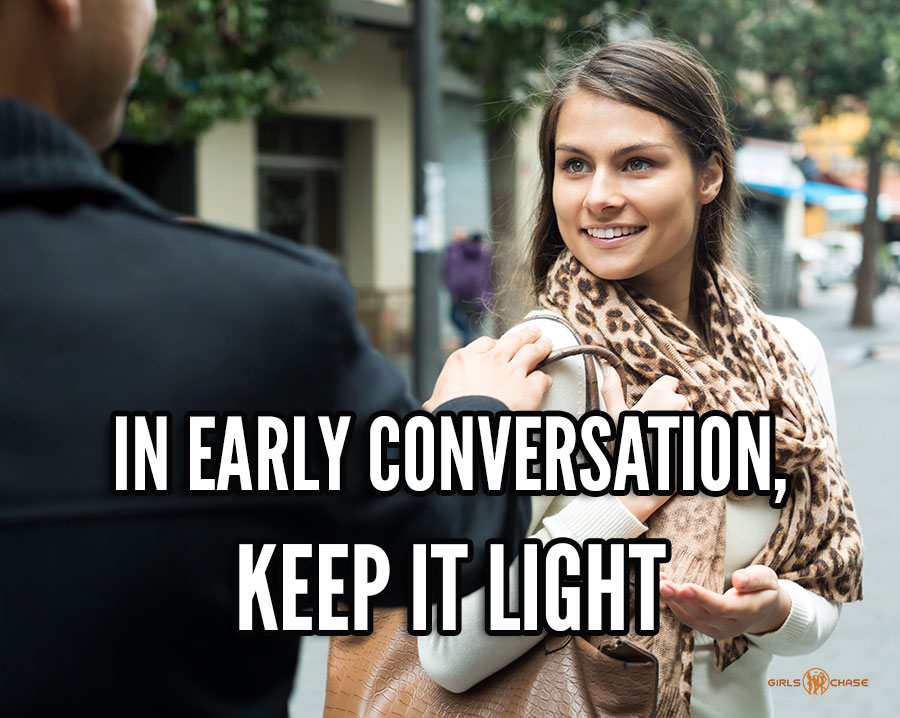 When you approach a new girl, what should you talk about? Deep topics… or light ones? The answer is: light conversation when you first talk to a girl, if you want success.
On my article "What an Average Girl's Dating History Looks Like" last year, reader 'Handome & Wealthy' commented:
Here's a quick Q on the part about not talking about yourself to a girl.

I do this a lot. My brand of game is the stong silent guy game. I've been told I'm "calm" "mysterious" "like a spy" and some girl even said I'm "distant" and "hard to get to know".

I'm still working on my calibration so I don't appear too detached.

But there's an issue I keep running into.

I meet girl. Hook. Then begin to deep dive without sharing much about myself. I'm careful not to go in too deep with the dives so the vibe is good. My conversations are interspered w/ a lot of flirting and mild cocky funny quips.

However after we part ways... the vibe changes. Changes bc the girl feels like she overshared and didnt get anything from me.

What goes here Chase? How do I stay detached without creating murky vibes after?
I referred him to my article on anchoring attraction, so that the emotions she feels in conversation with you don't evaporate once conversation ends.
But next I talked to him about something I see a lot of guys get wrong, especially guys who discover deep diving... which is to go straight into deep, contemplative conversation during that first initial interaction.
Early interactions should usually be fun, flirtatious, and light. You do not want them to be too heavy with meaty conversation and weighty emotions.
In today's article, I'll give you some tactics you can use to keep the initial interaction light and moving forward, without having to rely on deep dives (just yet).