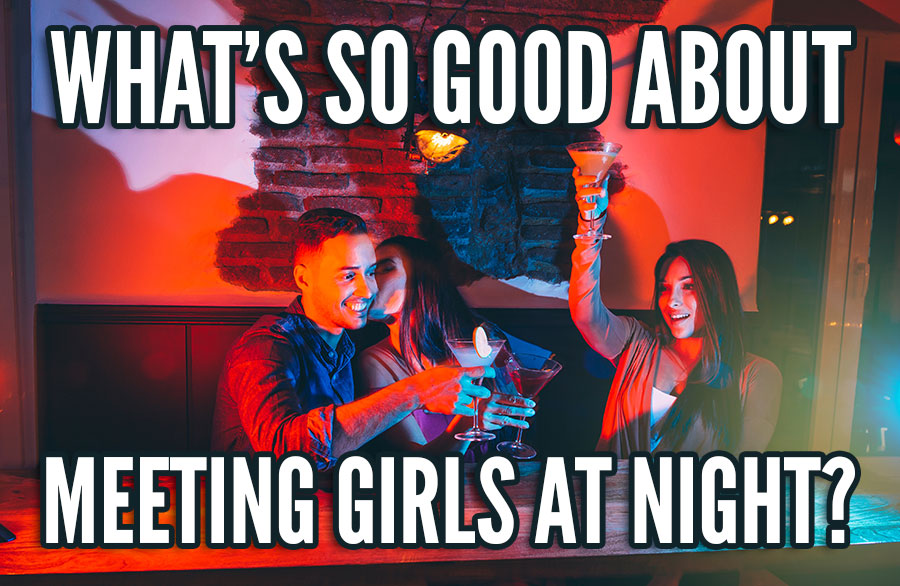 Night game doesn't always get a lot of love. But it has a lot of love to give. Here are 5 big benefits of night gaming… plus how night game differs from meeting girls by day.
Hey guys, and welcome back.
Considering night game is not getting much love lately, I am dedicating two posts to it to give it the love it merits. I want to convince those who aren't into it to give it a chance. Trust me; you are missing out—just AS MUCH as those night gamers who've never tried day game.
What is amazing about the field of seduction and pickup is that you have a vast library of knowledge, theories, techniques, and different playing grounds with different dynamics. Various "weapons" (seduction tools) work differently in certain scenarios, while new maps will give you a unique experience. This may confuse many, but the truth is, they are just different tools—similar to a video game where you can choose the weapons that fit you best!
This makes it all exciting and fun. I had a night game student who struggled and was getting demotivated. I told him, "Hey, why don't you try day game for a bit?" He was hesitant but eventually went for it. The change of scenery and dynamics gave him more results and made him excited again—soon, he became a better night gamer.
I see no reason why this shouldn't work the other way around. The true seducer is the guy who masters the trifecta: social circles, day game, and night game. An advanced guy will specialize in one field (or multiple). You are wrong if you think Hector Castillo, our social circle (and day game) expert, has never done night game and pulled from it. You are equally wrong if you think that Dan, our major day game expert, has never practiced night game.
Be open-minded. Try out things and give them a chance. Stubbornness never helped anyone in this field.
Here are more reasons why night game is amazing.