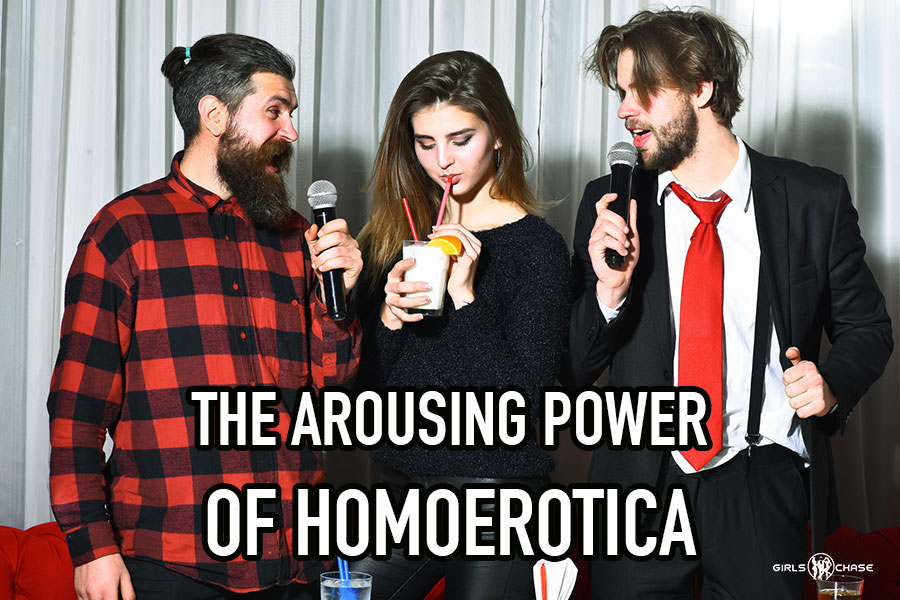 Homoerotic humor is a turn-on for women. How far must you take it (and must you be gay yourself) to reap its benefits?

As I recently caught up with a friend over the phone, he told me about a recent break-up with a girl. Apparently, he "accidentally" got into a relationship with her. This girl was quite hot and probably the prize in many a man's eye. The entire time he told me about how it happened and how it ended, neither of us could stop laughing.
Why?
Because he's gay.
Like, very, very gay. Nipple-piercings level gay.
You wouldn't think it when you first met him. He's a very dominant, tall, and muscular black guy who would give almost any natural or pickup artist I know a good run for his money. His social skills come from a variety of backgrounds. He was a college athlete who grew up and went to school in a very conservative, Southern town in the United States. Being black, he endured some racial tensions that minorities can pretty exclusively call their troubles. He's had guns pulled on him by cops for no reason and gotten into quite a few fights over the color of his skin.
Experiences like that will toughen you. Moreover, he had to hide the fact that he was gay and play it straight for most of his life. Being black was tough enough where he's from; if he'd come out of the closet, he would have found himself in a ridiculously difficult situation. So he put up the act, but being removed from genuine pleasure, his adversity was doubled.
Ironically, his emotional distance from his identity made him quite desirable to women. He didn't want to bang the girls he'd hit on and approached, and he'd often rebuff the advances of women. Not knowing he was gay, these women would wonder why he didn't want them.
So, they'd chase. They'd chase hard.
Girls waiting for him naked in his room, girls begging for him to impregnate them, groups of girls trying to gangbang him, etc.
He was truly unattainable, even with girlfriends that he eventually took to keep up his act. And even those girls would be left wondering why he didn't want to have sex with them.
For the women, his standards seemed so high, they couldn't even see the ceiling. This intrigued them.
So his skills with women grew, even though he didn't want them to. He learned how to make friends, seduce women, be the center of attention, all while he played in quite a decent athletic league (he was invited by a professional team of his sport to try out for a spot).
Dominant, competitive, socially attuned, friendly, fun…
But still gay.
He eventually did jump out of the closet and move to the city I met him in. We became the closest of friends and would often go out together, either in the straight parts of town or at the homo-hangouts.
And women were always drawn to him, especially when he told them he was gay.
Now, you may be wondering how he got this girlfriend?
He met her through one of his party social circles. She would always flirt with him, but being gay, he never took any of it too seriously. They'd party together and even sleep in the same bed together. Over time, he got the sense that maybe she wanted some of his chocolate. But, he wasn't too attracted… cuz, well, he likes dick.
Then one night, he got super drunk while out with her. When they returned to his apartment, they jumped into the bed together. While lying there and feeling a bit roused up but without any guys to fulfill himself with, he casually asked her if she wanted to fool around. She excitedly said yes. She then gave him the best head of his life (even better than any other guy, too, allegedly; he told me how ridiculous that is, because guys know what feels good, and therefore give epic blowjobs), and he, surprisingly, got hard. So, he smashed.
Strangely enough, he liked it. They kept smashing. Multiple times a day, multiple times a week.
He told her that this was only a fun, casual thing, because, uh, he's gay.
She agreed. All in good fun.
Of course, we know how that went, don't we? He lays the good dick, isn't emotionally needy in any way, and is having fun? The perfect concoction for cock addiction.
She got hella addicted. She would incessantly text him. They'd hangout all the time. Shag all the time. While out together, she would hold his hand and hang over him like a girlfriend. And once, when he inadvertently – and totally unintentionally – made her feel unloved, she tried to make him jealous by grinding on some other guy (which he found funny because he was more jealous of her grinding on the guy, not the guy for dry humping her).
That's when he finally realized how far he'd accidentally fallen into a relationship.
He eventually had to cut her off when she pushed for a relationship (and even had to swat off her attempts at reconciliation; e.g., "We can go back to just fucking, that's fine!").
Like I said, hilarious. I mean, I feel for the girl, but still funny as hell.
He went back to dudes and realized that he was still definitely gay.
But after hearing this story, I knew I had to finally write this article. Too good of a story.
What I'll cover here is why women find gay men attractive and how you can apply these traits and homoeroticism in general to your interactions with women… and men. (There was a somewhat relevant article posted way back in the day by a guest poster, Sarah Williams, that everyone hated for no reason at all. It was accurate and insightful. I call bitterness. Hopefully this goes better.)
Note: no, I'm not saying you should consider shagging dudes or becoming bisexual in any way. I'm just going to explain what's attractive about being flirty with other men (or intimate, if you choose to explore). And yes, while the increased acceptance and quantity of homosexuality in a society has been correlated with looser morals and, eventually, the fall of civilizations, it has been a part of successful and powerful human histories as well. From heroes like King David and Hercules to conquerors like Alexander the Great, male-to-male intimacy has been shown not to diminish one man's ambition or prowess. Even baller guys like James Dean were suspected of being bisexual. In many societies, homoeroticism (not necessarily speaking of male-to-male penetration) was largely accepted (e.g., Athens, Sparta, etc.) It didn't stop them from kicking ass on a spectacular scale. That said, I don't exactly expect the Manosphere-boys to pour through this one without a cringe or two.
So let me clarify: I am not promoting homosexuality (though neither am I condemning it), but I am lauding the seductive power of homoeroticism.
Let's get to it, shall we?