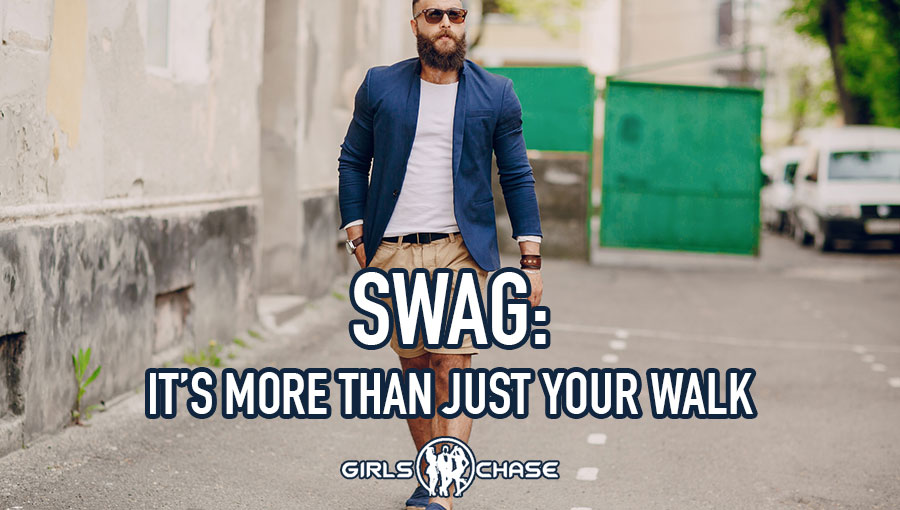 A studly swagger is more than just a walk. It's an entire way of being. And you've got choices. There are four (4) kinds of swag you can adopt: circumstantial, jerk, and more.

A man's swagger is his foundation. It is the gait of his being and reflects everything about him – how he sees the world, himself, and the relationship between the two.
Even when you are standing still, the way you walk is clear. Because the way you walk isn't always the way you move one leg in front of the other.
It's about how you stop and turn, how you grab things, the way you move your hands when you speak. It's the way you stand. It's the way you speak.
And in this article, we will discuss how to make your movement swagalicious.
Why? Because women pay attention.
I remember once at a party, the girlfriend of my fraternity brother told me as I walked up to her:
"Hector, I knew that was you I saw earlier!"
"How's that?" I replied.
"I saw you walking around the party earlier. The way you walk through a crowd is unmistakable."
"Explain."
"You..." she paused to think. "You look like you know what you're doing. You've been here before and know how it all works."
All I could do was smile. That was one of the greatest compliments I could be given.
Now, there are many flavors of swag. Let's begin with the most basic.