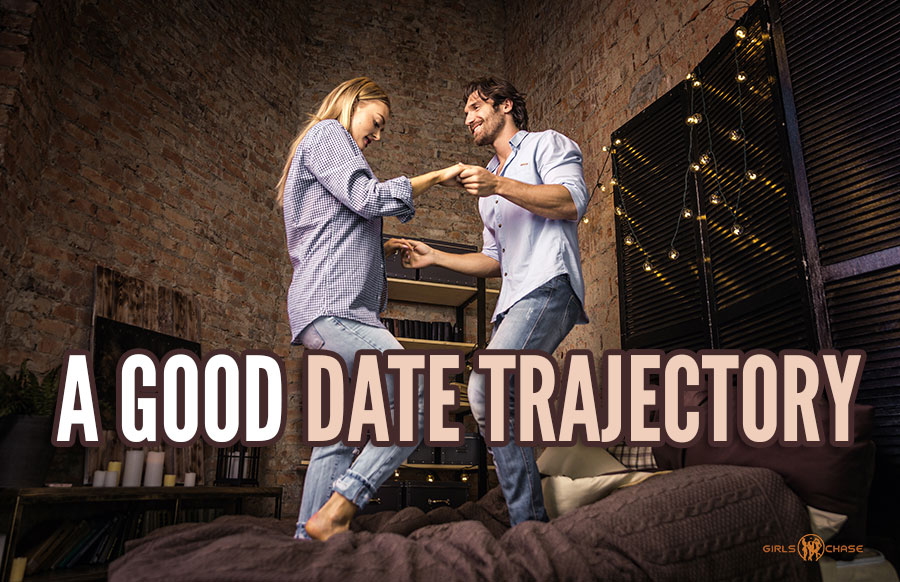 The trajectory your dates take determine how they end: as lovers or gone separate ways? This 7-step trajectory takes you through it: greeting, small talk, deep talk, + 4 more key steps.
A successful date has a particular trajectory.
If you look back on past successful dates of your own, you'll be able to feel it:
The initial connection, the easy conversation, followed by increasing closeness, touch, and amour.
By the time you end up alone at the end of things, intimacy is a foregone conclusion, the escalation to it little more than a formality.
What's responsible for such dulcet dates? Is it magic? An unpredictable wonderful connection?
While certain things outside your control do have an impact – from personality match to other factors below the level of conscious awareness – there is also a distinct way such dates proceed, that if you know it, you can often engineer.
This way is the date's trajectory; a good one of which leads you far more easily to fantastic fantasies with lovely gals.
In a few more days, we have a special sale for my course One Date & The Dating Artisan – along with the release of two limited edition "Date Flows." In these limited edition Date Flows (only available to One Date owners or buyers), you'll receive the most complete guides ever assembled to running perfect dates 1.) at home and 2.) outside walking.
To coincide with the release of these first two collectible "Date Flows", which'll only be available to buy or to claim during the "Summer of Lovelies" sale between July 16th and July 19th, I'm writing a series of pieces looking at how good dates are put together.
The first of these is this one – on date trajectories.