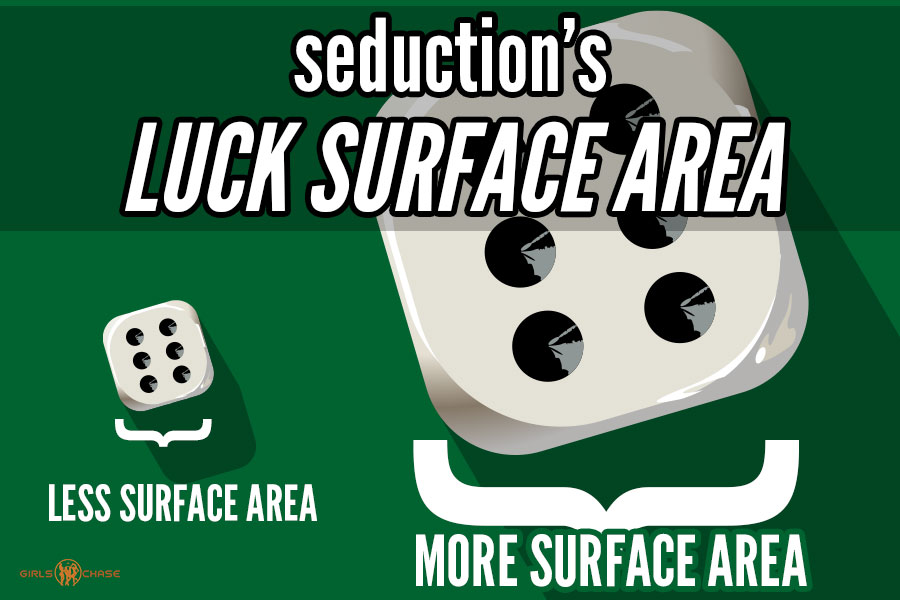 Your luck surface area is the amount you expose of yourself for "lucky events" to happen. Men who open themselves up to more seductive luck enjoy more seductive "lucky breaks."
Luck plays a role in everything. In seduction, your passive attractiveness (fundamentals) and skill with women and the mating process (game) have a huge impact on your success.
Nevertheless, there is still always going to be luck involved: you have to stumble into a girl you like, she has to be at least somewhat open to having something happening with you, she must be logistically available to have something happen, and you need to avoid any seduction-killing wild cards (and if you're fortunate, luck into some seduction-enhancing ones).
There are all manner of things that impact your "ability to be lucky":
Perhaps your favorite venue just shut down for repairs (luck = lowered)
Perhaps a friend texts to invite you to a wild, girl-filled after party (luck = raised)
Perhaps your wingman's out of town and you're not good at solo (luck = lowered)
Perhaps you get off at the wrong metro station and discover this one crawls with good-looking women (luck = raised)
But you don't really have control over random events like this… right?
As a matter of fact, there's a neat concept known as "luck surface area" that you may or may not have heard of.
This concept is simple: one can increase one's luck by increasing the 'surface area' one exposes for fortunate events to occur.
If that sounds abstract, worry not, for we're going to make it a lot more concrete.