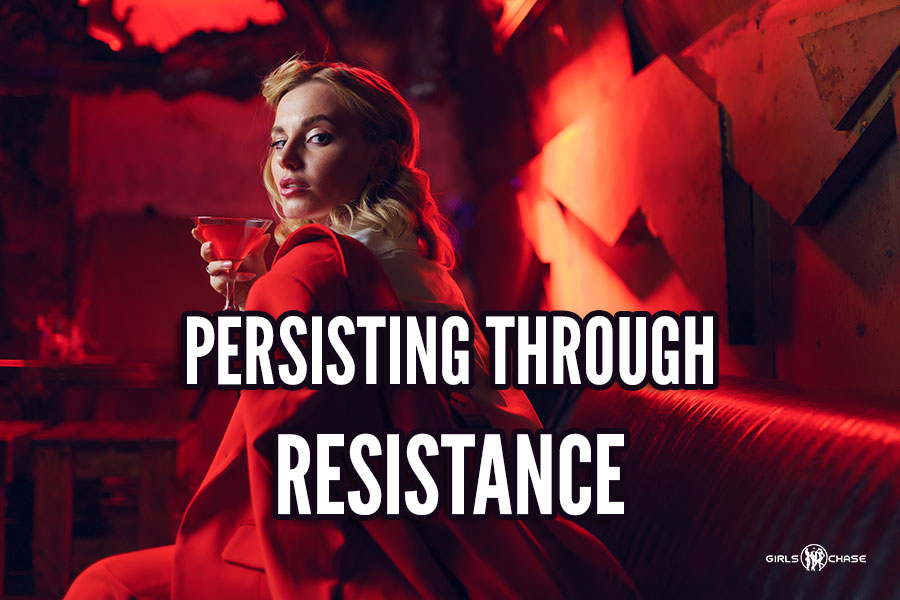 Women may resist a man's romantic advances due to three (3) different causes: low compliance, FSD, or ASC. Identify which your problem is to get things moving again.
Hey guys and welcome back.
Previously I discussed how to persist and calibrate your persistence. You've learned how to use the different forms of persistence and when to use them. Today I'll discuss how you can deal with resistance through persistence by persisting the right way.
You will typically have to persist when dealing with resistance. Persisting is a form of resistance, broken down into:
Lack of compliance – (or attraction, not to be confused with rejection). See this post for details. It goes over how to tell whether you are dealing with a form of resistance or an outright rejection.

Anti-Slut Defense (ASD) – her resistance against your sexual move. It's grounded in her fear of feeling or being perceived by others (you included) as a slut. See this post for more information.

Female State Control (FSC) – her defense mechanism against getting emotional (aroused) without feeling that this is a good choice for her. See this post.
Ideally, the key is to persist by increasing her compliance toward you. If you are using the passive and the passive-active form of persistence, which involve compliance building tools such as breaking rapport/disqualification and social proof and jealousy plots that deal with the cause of her resistance, you will skyrocket her level of full-blown compliance, making your persisted attempts more likely to work.
But how does one deal with the causes of resistance presented last time? This is what we'll discuss and clarify here.
I am not going to share anything new or groundbreaking. I am saying this now for transparency.
This post is a recap of previous posts and builds a bridge between different concepts to give you a clear idea of how everything fits together. It's crucial for full understanding and is often overlooked. Many guys ask me to write posts adding different concepts in context to provide information about how they all fit into the bigger scheme. This is one of those posts.
Today's post is for players of all levels, although the level of details may make it more suitable for intermediate and advanced players.
So first, a recap.