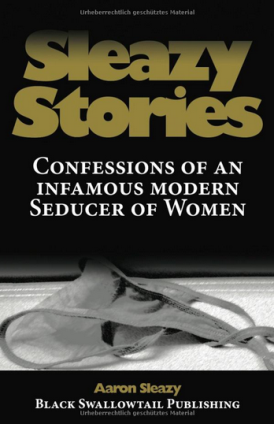 It's nice sometimes to take a step back from your usual repertoire and see how someone else does things. And so it was with reading Aaron Sleazy's book, Sleazy Stories: Confessions of an Infamous Modern Seducer of Women. I'm a nightclub guy, and Aaron's a nightclub guy; and we both of us like pulling off fast lays with minimal conversation whenever possible. But that's where the similarities end.
Sleazy Stories chronicles a single year of Aaron's experiences with women, from the beginning of 2008 to New Year's Eve of 2009. It was a year of big growth for him, and he details his advancement from a guy making out with women in nightclubs at the outset of the year to a guy getting public gratification from women in nightclubs by the end of it.
I'm usually an anti-making-out-in-the-nightclub guy; I had a friend recently who kept making out with girls in nightclubs and losing them, and I told him to stop making out with them and just invite every girl who seems ready enough to kiss him to instead come home with him. Sleazy is the polar opposite of me in that regard; he shows, quite illustratively, how a man can go from kissing women in the club to ending the night in a very satisfactory way.