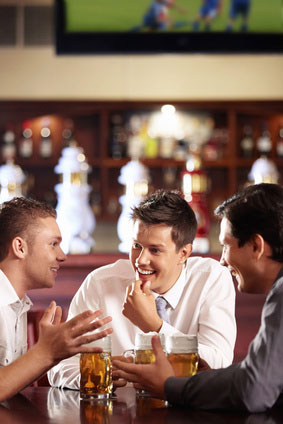 A friend of mine just asked me a question about guy talk; in other words, what he said was:
"

Chase, I've been learning to talk to girls for the better part of 2 years, and I think I've got a lot of it down at this point... but my question is, how do I talk to

guys

?

"
We'd been discussing a few of his quirks: despite me working with him somewhat, he still seems to have a level of tension around him that he often doesn't seem to let go. He always strikes me a though he's trying to make his conversation; trying to "be cool" or "be one of the guys."
And other people have told me the same thing about him.
So, I sat him down to talk about guy talk. It turned out that this friend of mine has what I call a "hierarchical view of the world" - a view I think most people share, but that I don't. What happens to people with hierarchical worldviews is this: they feel intimidated and nervous by those they view as "above" them in the hierarchy.
And thus, they get uncomfortable around men they perceive as "dominant men" or "alpha males."
And thus, like anytime someone gets nervous or uncomfortable, they make mistakes and screw it up.
They try too hard.
They come off insincere.
And as I talked to my friend, I racked my brain trying to figure out if there's a way you can even get around this. A hierarchical mindset is a tough nut to crack - I've tried and failed with friends before.
But if you're uncomfortable engaging in "guy talk" and talking to other guys, is there a way to change that and get good?