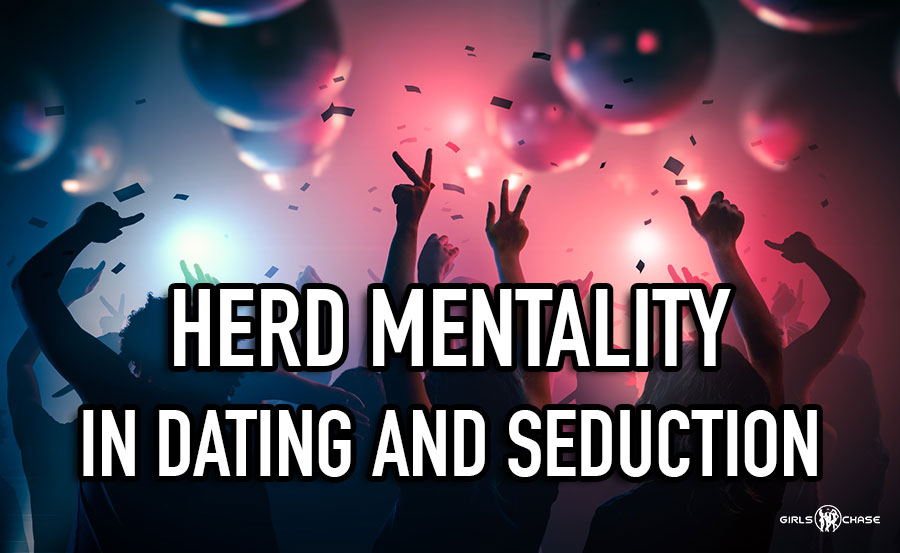 Despite our language and identities, people move in herds. You have three (3) tools to get the girl you want from her tribe: integration, separation, and absorption.

We think of ourselves as individuals. Separate, unique, we act entirely of our own volition.
Yet man is a herd animal. Cram him into a wall-to-wall, shoulder-to-shoulder crowded concert or train station, then spook the herd, and you kick off a stampede. People may die, crush others, or trample, as throngs of panicked individuals, each catching the sense of panic from the next, surge over and against each other for the exits. In the aftermath of some deadly stampedes, investigators can find no emergency and cannot even figure out what caused the panic.
Show a man a market craze that everyone is getting in on and watch him lose his mind. In China, peer-to-peer lending has exploded as the economy has declined, even though defaults on these loans are sky high and the prospect of getting a return is dim. A few months earlier in the West, a Bitcoin craze thundered across the market. It was unrelated to any improvement in the usability or acceptance of Bitcoin as a currency – in fact, over the past several years, Bitcoin has only grown worse as a currency. 100% of Bitcoin's increased valuation was due to market speculators buying up Bitcoin to cash in on the craze. Yet during Bitcoin fever, everyone was an optimist, telling friends, family members, and coworkers to "buy, buy, buy!" Today, five months after the crush began, the price of Bitcoin has come very close to where it was before the stampede ever began; in the process, thousands of people made fortunes, and thousands of others lost them (I personally know a few folks on both sides). Every bit of those gains and losses came at the expense or benefit of someone else gambling the other way.

(side note: fun dub of a Russian music video a friend of mine who was heavily invested in Bitcoin shared with me during the peak of the Bitcoin craze):
These, of course, are extreme scenarios.

And much of the time, even for people aware of human herd mentality, the concept gets peacefully tucked away into a kind of "only in extremes" awareness. Only in extreme situations, we tell ourselves, do humans behave in mindless, herd-like ways. The rest of the time, we are those unique, separate, totally consciously in-control individuals we tell ourselves we truly are.
However, this isn't how it works at all. Man, as a social animal, is every bit as groupish as ants, horses, biofilms, and wildebeest. More to the point for our purposes, if you want to peel a woman out of her group, or get her to do what you wish in public, an understanding of how grouping and herding works in the people you'd like to influence is key.