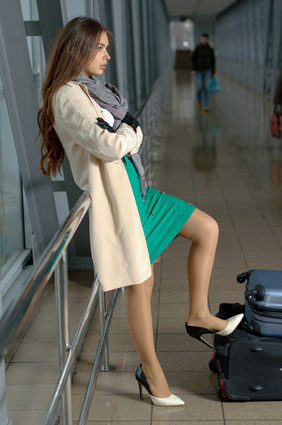 A month or so back, below my article "Tactics Tuesdays: Hugs, Handclasps, and Arm-on-Shoulders", a commenter named Magenta asked about how to pick up girls at the airport:
"

Hi Chase,

Can you do an article on Aiport game? Such as how do I approach/connect with women who are traveling to/from, waiting at the airport lounge, waiting in line for security checks, etc....type of conversation to have and figuring out logistics of what is possible/not possible.

Thanks!!

"
I'm a pretty big fan of any kind of transit game, as I've talked about before in "Meeting Women on Buses, Trains, and Airplanes." Transit has a lot of nice things going for it, including:
She's usually going to be by herself
She's in an 'active' or 'alert' mood because she's waiting for her conveyance
However, she's also sitting there with nothing to do while she waits
And, you have an instant social context, so speaking is low pressure

Airports offer the further plusses that she's on a big adventure, so likely to feel excited and perked up (unless this is yet another business trip she's made 1,000 times), and grant you an instant value boost – if you're traveling, whether for work or pleasure, she assumes you have money and are likely somewhat 'important'. You're also more likely to lead an interesting life. And, you get an instant commonality – you're both travelers, something that immediately separates you both from 'regular people' (you and her, against the world).
In this article, I'll talk about my approach to picking up girls in airports: preparation, execution, logistics, and whether to grab numbers or try for something then and there.