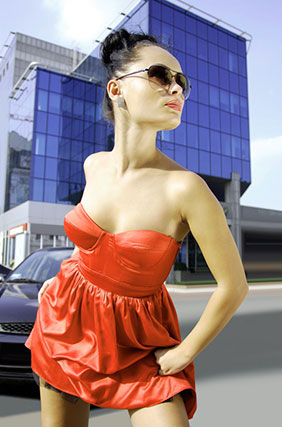 I recently completed an almost 2-hour interview with Glenn Pierce (formerly just Glenn P), a really sharp and talented guy who taught me a thing or two when I wanted to kick my daytime approaching up a notch back in early '07, for his upcoming interview series. While doing the interview - much of it something of a "how you got your start" type piece - we each shared stories of girls early on in our lives (both in junior high) who liked us, who were otherwise really cool girls, yet who, when we approached in awkward / socially unsavvy ways, threw us each under the bus socially, even as they still liked us.
When it happened to me, I immediately understood why it happened - why a girl who still liked me (she continued to flirt with me and give me hints and invitations for years after) - and same deal for Glenn... his girl still liked him (a friend of hers even told him so) - yet these girls so coolly and seemingly ruthlessly tossed us to the wolves, status-wise.
I think this is a thing a lot of guys don't get. Why would a girl do this? A girl who likes you - maybe she even likes you more than anybody else around her - yet she casts you aside.
Maybe you want to judge her. Maybe you want to say that clearly she's a petty person; she's weak; she cares too much what others think and not enough about what she wants.
Maybe you want to say that if she's not willing to take a risk to be with you, then who needs her?
Except this isn't the right approach. If you want success with women, you must have a mind for status - and you must have a mind for protecting and even enhancing the status of the women around you.