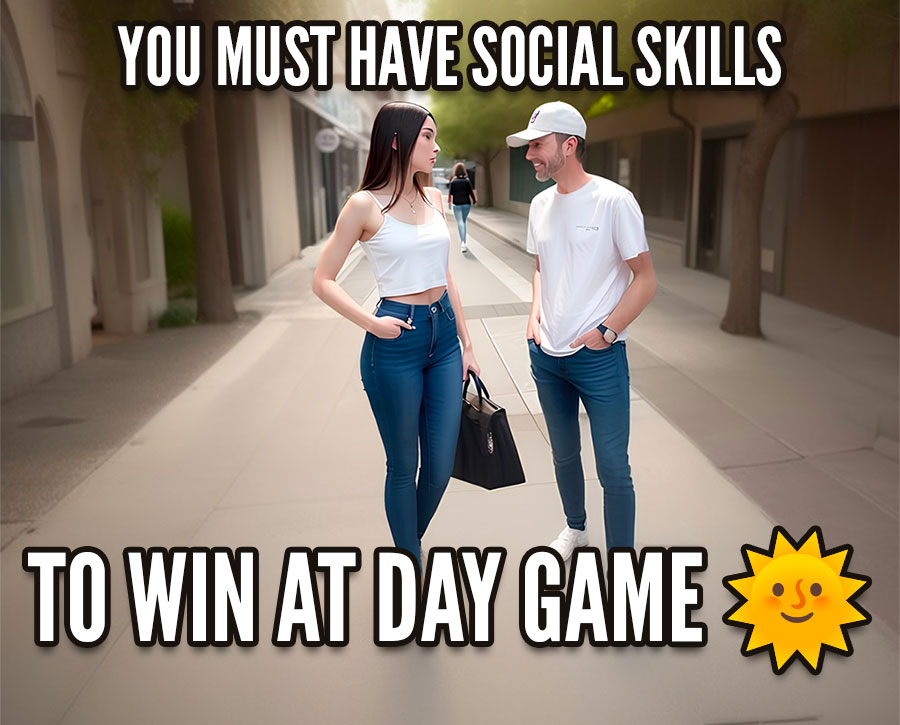 Many day game novices make mistakenly focus JUST on day game… without raising their general social skills up too. This is a big no-no for day game success!
Hey guys.
This post is for struggling beginners.
I have written many posts defending nightgame. Online and day game has become the most popular forms of seduction lately. I understand why online game has become so widespread. It seems easy, and if you struggle with approach anxiety, sitting at home swiping left and right removes some of the scariness of seduction.
You may have this perception that if you swipe through massive numbers of hot girls, one will eventually like you, and getting a date will be a piece of cake, and it will be an easy deal moving forward. But we know it's not quite that simple for most.
The problem is that dating apps primarily include men. Recently, I did an experiment on the Bumble dating app. I set my profile so that I was interested in both men and women.
Guess what happened? When I was ready to swipe, all I saw were guys, with a ratio of probably 90% men. It blew my mind! After a few hours, I had 53 likes. Next, I deselected that I was interested in men, and I only had three likes!
Those men are most likely bi or gay. They are a minority of men. And despite that, they made up 90% of my suggestions when I was about to swipe! So, imagine what it is like for straight guys, the majority. So finding women online is not ideal.
But what about day game? It's a legitimate form of game. Yes, I've had my fair share of daygame outings. It offers many benefits, like allowing you to pick up girls without having many distractions. You don't have to deal with the noise and the chaos so common in night game, also appealing.
You often interact one-on-one from the start—the meta in day game, going for single girls, not groups. It allows you to quickly build rapport and connect without distractions, with the intimacy of a one-on-one interaction, without interruptions from her friends. You won't have to isolate your girl from her group, which can be probelmatic. And you don't screw up your sleeping rhythm.
So, these are all good reasons, right? Just stick to day game.