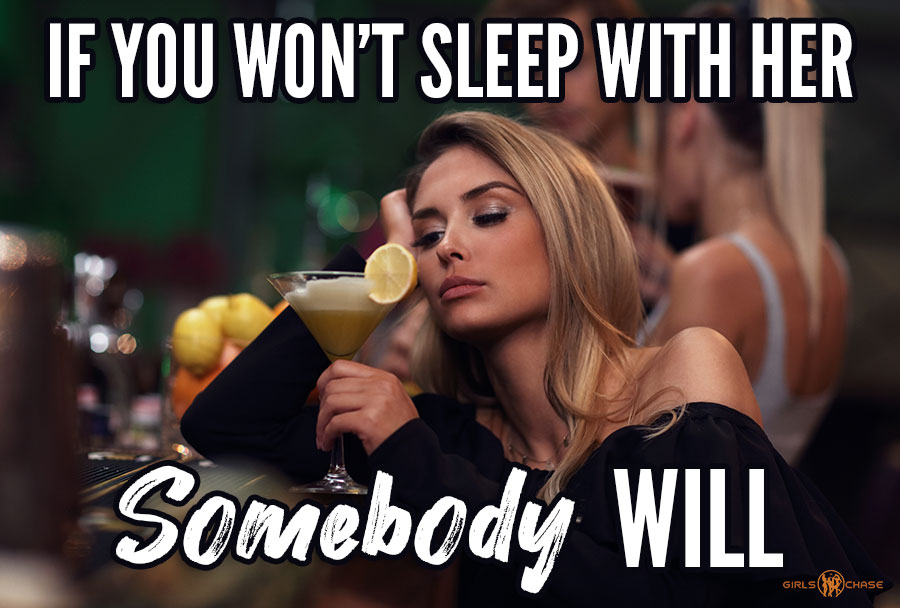 Sometimes guys get girls horny… then DON'T sleep with them. When you ditch a girl you've aroused though, either she'll be frustrated – or she'll get with someone else.
I've made this point again and again over the years, but I think it bears repeating as many times as possible.
If you're going to get a girl all horny then NOT sleep with her, some other guy WILL.
A guy on Reddit posts the following tale:
So I've gotten to know this one girl from my school in the last couple of months. She has always seemed interested in me, but no one had really ever made a big move. Last week we were at a party and things went really well. We ended up dancing and kissing for the better part of the night, and were just about to sleep together but couldn't find an empty room. We ended up talking on a sofa for some time before she went to sleep... or so she told me.

After this event she has been quite cold and distant, not at all showing signs of attraction or interest anymore. A friend of hers also later told me that she had slept with another guy later that night after we couldn't find an empty room.

This hurt quite a bit. By no means do I expect any exclusivity, we have just gotten to know each other, but after complimenting me all night and having so much fun together, to just immediately throw it away and sleep with someone else... I truly felt like she, just as myself, was really enjoying our time together.

What are your thoughts on this? Would you give her a chance, should she show signs of interest later on? Am I overreacting and letting my emotions get the best of me, or would you consider it disrespectful and not deal with that type of behavior?

Cheers!
This kind of thing is actually pretty common: if a girl is horny enough, if one guy spikes her buying temperature enough, but the first guy does not close, another guy with better instincts will step up to be "that guy" and give the girl what she needs.
It's common enough that in seduction, once you're relatively decent at picking up girls, you learn to put feelers out toward the end of the night for these poor girls who've had their buying temperatures spiked by other men, who were then ditched by the guy.
Usually the guy doesn't think of it as "ditching." He may sort of know he's giving up a lay, but he's hopeful he can just "come back to it later." Kind of like saving your save game, right? Just hit "save" on the girl, walk away, then try again later once you've had a chance to think about how to beat the final boss.
Girls aren't computer games, though. They are flesh-and-blood humans with wants and drives all their own. Most of the time they are not going to wait for you to figure out what to do.
If you get a girl all hot and bothered then CAN'T close, you should EXPECT that some other man WILL.