Going to take a dip into a moral gray area today, but will talk a bit about "karma" as I do so, too. And not the spiritual sort - that's neither here nor there, as far as I'm concerned. I'm far more interested in the practical variety.
Anyway, we've had some discussion lately about snagging girls from directly under their boyfriends' noses - one of our forum members who's been racking up a number of new girls in bed lately, NarrowJ, shared a recent report about taking a girl to bed in the house she stayed in with her (rather controlling and abusive) boyfriend, and a reader named Aaron recently wrote in with this question:
"

Hi Chase and friends at girlschase,

I was thinking an article on how to deal with the boyfriend himself in social situations would be great for an article, and would build on the shoulders of Chase's earlier article: "Girl Has a Boyfriend? 3 Things to Do, and 7 Things NOT to."

Imagine the following scenario: You know this girl from work or school. You like her. She likes you. You flirt with each other. The only problem? She has a long term boyfriend. Or alternatively, you meet a girl who has brought her boyfriend with her at a party.

Either way, a social situation arises in which she presents her boyfriend to you (for example at a party to test you, or out pure coincidence).

How do you handle the boyfriend? How do you demonstrate that you are a more dominant, superior, better man, and that she would be better off with you?

Hope you consider this!

Aaron"

"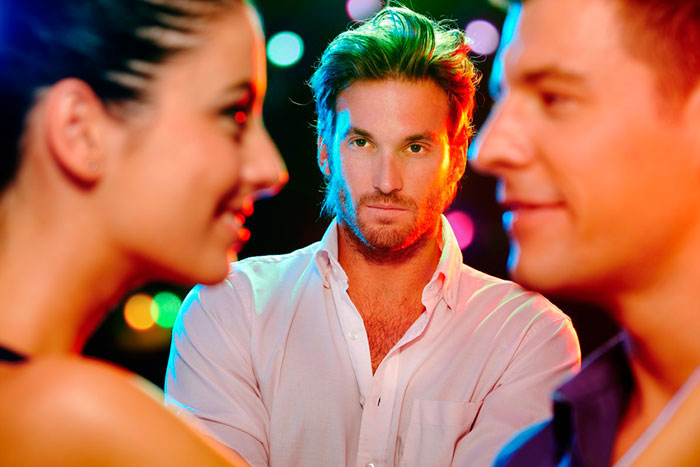 Is this possible to do? Sure. Is it something you can consistently pull off? ... well, let's just say take whatever your normal consistency is at picking up, and reduce that a fair bit because now you're trying to outcompete the girl's boyfriend; however, if you can pull this off with a girl who wants you to steal her from her man (we'll talk about these girls and why they want this in a bit), in this case you can actually achieve a higher degree of consistency at pulling... assuming you handle logistics properly.
But before we discuss doing this, let's talk a little about the scenario itself, and any potential moral implications... because I don't get my kicks making good people sob, and I hope you don't either.