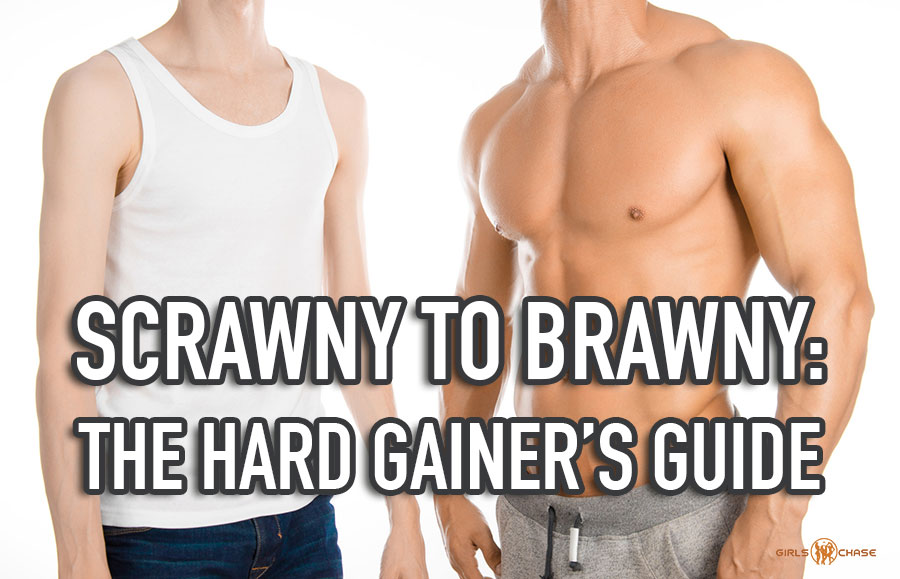 If it's hard for you to build muscle, this is the guide you want. The hard gainer's approach to going from scrawny to brawny, pretty darn fast.

I remember being in high school – oh, what an awkward time. I had just gone through puberty, my voice was beginning to get deeper, and I had a newfound infatuation with women. I was a pretty attractive kid, and quite a few girls were interested in me, but there was just one problem – I was what's known as a hard gainer.
Hard gainers are typically guys with a very fast metabolism who, no matter how much they eat, just cannot seem to put on any muscle. You go to the gym, spend HOURS working out, eat as much as you can stomach, and follow all the bodybuilding advice you get from the "experts." And what do you have to show for it? Some scrawny arms, tiny shoulders, and a flabby little gut.
I'm sure that a lot of guys can relate to this. You see the jacked dudes walking around at your local college campus, nightclubs, etc., and you wonder how in the hell they do it. "How does someone get 22-inch biceps without steroids?"
We know that being strong and in shape is an important factor when it comes to your fundamentals and generating physical attraction, but being able to sport BIG muscles is even better.
Like many reading this, I didn't have BIG muscles. I weighed a whopping 125 pounds soaking wet when I was 18 years old, and eventually I decided I'd had enough. Fast forward five years, and I'm a bulging behemoth coming in at 185 pounds and 6% body fat. So, whether you want to shred off those pounds of fat, put on some real muscle mass, or even just look a little bit better, it's all possible if you're willing to put in the work.
And for hard gainers like you and me, getting big muscles takes focused effort, which is why I've put this article together. I'm going to give you the vital information and advice you need to level the playing field on your way to real brawn.