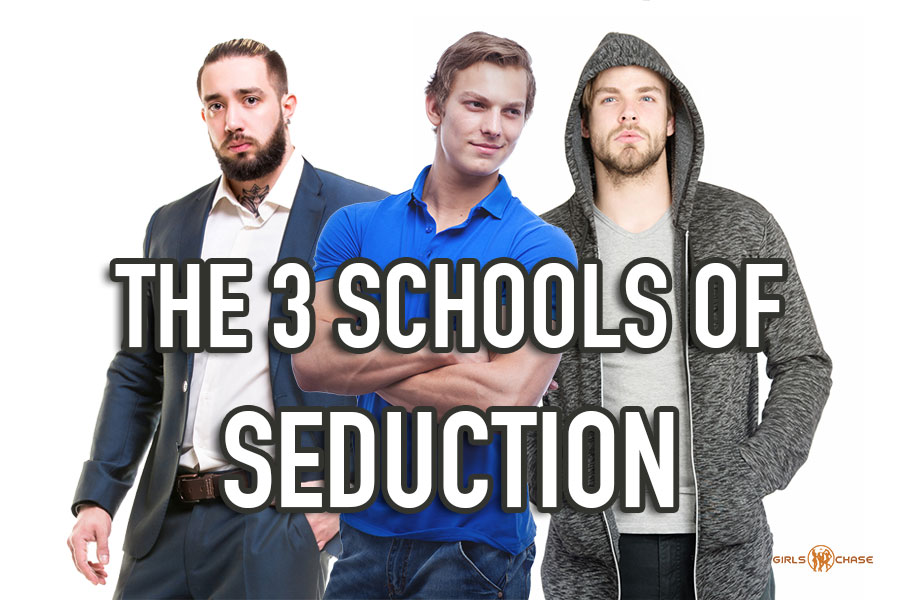 The way men practice (and teach) seduction can be split into three (3) distinct camps: the trio of screening, natural, and control game.

When I first discovered the existence of the pickup community and had my eyes opened to the objective truth that getting good with women was a skill – a skill that can be learned, improved upon, and of course, mastered – I was ecstatic, but I quickly became overwhelmed.
You see, it was quite easy to get overwhelmed, because like every student of the game who discovers this community, I immediately came face to face with the overwhelming quantity of dating advice, dogmas, and methods that had been complied by so many seducers over the years.
And what made things particularly confusing back then was that a lot of the advice and manuals on how to get good with girls seemed to be at odds with material from other sources. It wasn't uncommon for me to hear a group of seducers swear by one way of doing things ("always use the 3-second rule and strike up a conversation within three seconds of laying eyes on a girl"), then I'd find another group of seducers whose guidebooks sounded like they were in direct opposition to the ideas of the previous group ("scout your targets and position yourself well before you start a conversation").
Luckily, as I spent more time in the community trying out different forms of advice, improving my own skills with women, as well as having enlightening conversations with several different seducers and partaking in a number of seduction road trips where I'd journey out of town to meet up with other seducers so I could observe and seduce women side by side with them, I was able to learn a thing or two.
One of the things I learned – the topic of today's article – was that each and every one of the guides (or seduction manuals, if you will) can be grouped into 3 classes. Meaning that when you hear one seducer advise one thing, and another seducer advise something completely different, it does not necessarily mean that one is right and the other is wrong.
Instead, it most likely means that two groups of seducers who seem to be in disagreement with each other are in fact following separate seduction manuals – each of which are legit.
As you'll find out later in this article, certain classes do have conflicting ideas concerning the best way to seduce women. However, this knowledge of the 3 classes really helps to clear up a lot of the confusion that might arise when everyone seems to be contradicting each other. It's not a matter of which seducer is right or wrong, especially if both seducers are having success with women; rather, it's which class each seducer is operating under.
What's more is... once you are aware of these 3 rough categories, you can weigh their pros and cons, the goals of seducers whose methods fall under each category, and what your dating life could look like should you decide to follow the path outlined by each class – allowing you to move forward on your journey as a seducer with a lot more clarity.
Let's have a look at the 3 classes.