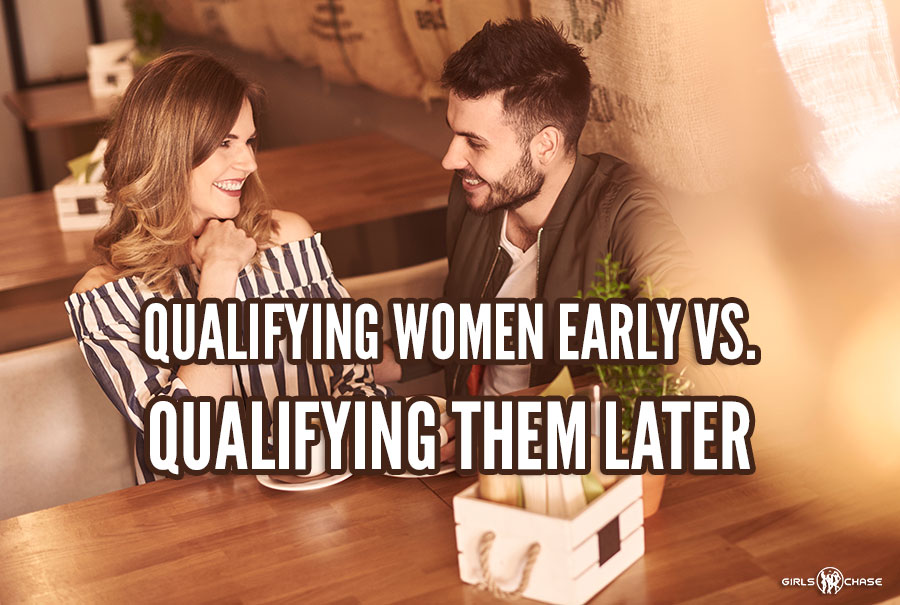 Qualifying a girl is a vital courtship tool. Yet, is it better to do it early, before she's gotten into it, or to wait until she's more invested?
Hey guys. Welcome back. Last time, I discussed qualification, what it was, and how it works. It's your to-the-point guide to qualification.
Here's a recap.
Qualification shows interest:
Without appearing needy and supplicating
Without losing value and frame
By increasing her comfort level
By making her backward-rationalize her attraction to you
By creating a deeper connection between you two
How do you accomplish this?
Have her qualify naturally by bringing up an interesting subject she can relate to, agree with, or share an experience with.
Use a qualifier to trigger qualification: "are you X?" Her positive response means she is qualifying.
Use an assumption: "you seem X." If she agrees and it is a positive assumption ("you seem like a caring person"), she is qualifying. If you make a negative assumption (although playful, like "you are trouble"), and she says no, she is qualifying.
Use disqualification: "You are sadly not X, so it will not work between us." If she disagrees, she is qualifying.
Non-verbally to qualify by mutual touch or hand holding.
You may qualify her, but you should also qualify back. This is the moment you show interest.
Express a positive attitude toward her qualification: "I love that you are X." Or "I am happy you are not X."
Spontaneously qualify by expressing an opinion, an experience, or a story that matches hers. Do not overdo it.
Qualification should go both ways. You are testing her compliance level while creating an excuse for why you like her. This is crucial.
Since qualification goes both ways, it creates mutuality and intimacy, which provides many benefits, including comfort, boosted compliance, and less resistance.
So today, let's discuss when you should qualify. We will begin by reviewing early game and two different schools of thought.