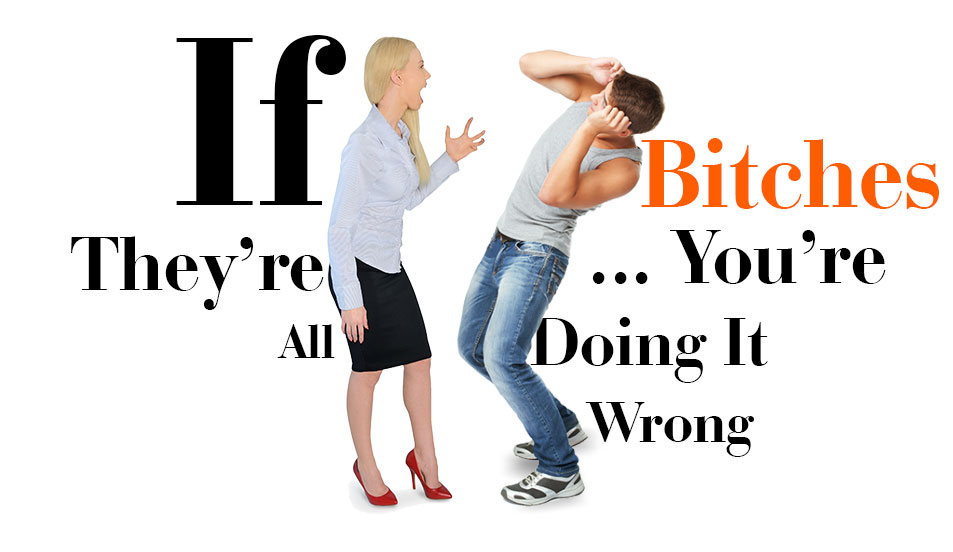 Does it seem like most girls are awful, horrid, mean-spirited bitches? If it does, it's a sign you're doing something wrong – and that's a good thing (it means you can fix it).
Does it seem to you that almost every girl you meet is just an unnecessarily mean person?
Do you ever find yourself wondering why so many girls are just horrid, ruthless bitches?
Commenting on my article that "Female Bad Behavior Is Often Defensive", Xander writes:
Ok. I agree if bad behavior is one-off interaction that doesn't mean anything. However, even in this case if that negative reaction is overly negative i.e. overly expressed toward guy (and most women do this at least where I live) that is also the sign that particular woman can be considered as bad person. Many guys (at least what I have seen) don't do overly annoying things with women and still get overly negative reactions from uninterested/unsure/insecure women.

Also, what I have seen is that the majority of women where I live rarely changes previously negative attitude toward guy. If she is negative during approach, initial interaction or later in courtship she stays that way no matter what guy will do. In live interactions they are rude, bitchy, aloof or disrespectful and it just increases no matter what new tech or moment guy will choose. In online/text interactions they ghost immediately after 2-3 messages, no matter how message is interesting, non-pushy, polite and easy to reply.
I feel sad whenever I read comments like these, for the person who writes them, because you know that person's dating life is hard.
I have read many, many comments by men talking about how horrible most women are. I have also read many, many analogous comments by women panning men (on various Reddit boards and what have you; here's an article about how horrid men are to women, with a bunch of women commenting their bad experiences).
If you take these comments at face value, both most men and most women are absolutely loathsome people: bad dates, bad lovers, and almost all men and women are totally undatable, unpleasant individuals.
It makes you wonder how the species perpetuates itself at all.
Of course, the reality is most men and most women are actually just fine, normal, nice, pleasant people... but that people who have continually negative experiences cause this in others, or misinterpret that from others, almost always without realizing they're causing it or misinterpreting it.