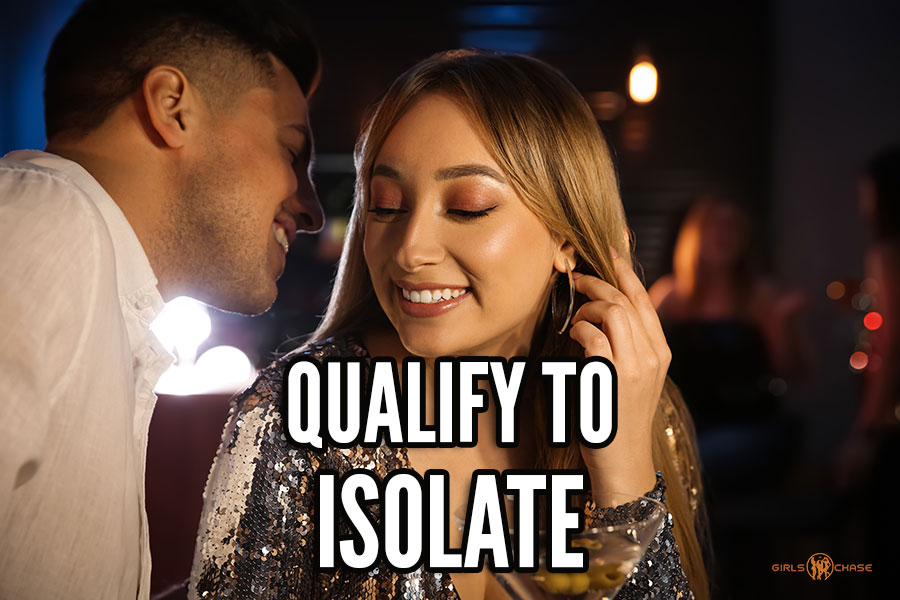 Want to make it even simpler to isolate a girl you've been chatting up? Here's all you have to do: qualify her first, THEN isolate her.
Hey guys. Welcome back to my series on isolation.
You already know that isolation is crucial when meeting girls in groups, typically in night game settings. Isolation makes the interaction and seduction easier. It generates more intimacy, facilitates rapport, builds connection, and helps to escalate the vibe, reducing resistance from your girl. On top of this, it also reduces being cockblocked. Isolation is essential.
In my first post, we discussed the basics of isolation and its benefits, isolation factors, and using "isolation requests." We also shared tips to increase your odds of succeeding, such as using seeding, plausible deniability, and reducing the pressure by letting her friends know where you are isolating your girl.
In my last post, the second post on isolation in this series, we went through social dynamics and how that plays into isolation: what makes it more difficult and easier, how to calibrate, and, more importantly, how to deal with challenging isolation situations.
Finally, we covered how important it is to win over the alpha girl when attempting to isolate. The alpha girl usually gets the final say on whether you get to isolate your girl (unless your target is the alpha girl). We suggested that it is wise to ask the alpha, in addition to your girl, whether you can isolate. We also discussed why doing this is often your best call, so if you are curious why, check my previous article.
Today, I want to share another technique that will increase your odds of isolating successfully: qualification. In addition to facilitating isolation, this technique provides many other benefits. I've mentioned these in my past posts on qualification, detailing how to qualify and why you should qualify. If you do not know how to qualify, consider this required reading for this post.
I will give a brief recap here, but that may not be enough if you are unfamiliar with the subject. You must familiarize yourself with this because it is a crucial and fundamental seduction technique.