It's not here yet - but it's ready to launch and due out in November.
Colt's much-awaited and blockbuster-effective guide to meeting, dating, and sleeping with girls off Tinder.
Not on our newsletter yet? Then hop on, and keep informed - because when it's coming out, we'll let you know - and we've got a few exclusive samples of what's in store for you there, too.
Sign up below, and get our free guide on texting while you wait.
Get Your FREE eBook on Texting Girls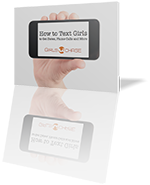 Sign up for our email insights series and get a copy of our popular ebook "How to Text Girls" FREE. Learn more ...