Social Skills 101: Reading and Using Body Language
This is the first official installment in my new series on social interactions. In case you're just tuning in, the series kicked off last week with "Social Skills 101: Pushing Past Your Comfort Zone." Now it's time for us to really get into some solid, practical tips and tidbits you can start using as soon as you finish this article... this time on body language.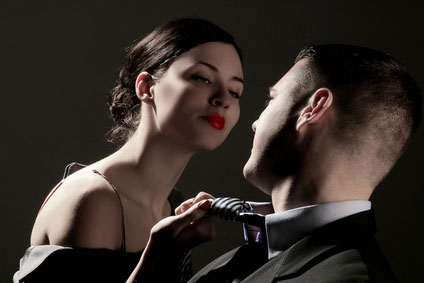 Chase just had a great post on putting together a sexy walk that went into detail on a very specific area of your body language (how you move through the world); and now I'm following it up with a broader-stroke post on general body language.
On this site, we often reference reading body language and using body language, and while it may not seem all that important, it in fact can make or break a pick up or general social interaction.

It can also get pretty complicated, so I wanted to get you an article on reading and using body language, and why it matters.
Here it is.
A Walk is Worth 1000 Words
Once you get your fundamentals down pat, it doesn't matter what you say to a girl when you walk you walk up to her. If you don't have your fundamentals down pat yet, here are some things that you can say to get you started.
What's interesting about social interactions is that what happens before you say anything is just as important. Many studies have concluded that about 80% of a person's first impression of you is made up in their mind before you open your mouth. Talk about pressure! So, if a girl isn't waiting for that "are you single?" line you're about to drop on her, what is she paying attention to?
Well, this:
Eye Contact – Western society values eye contact more than any other culture in the world. In many other cultures, maintaining eye contact can be seen as a sign of disrespect or even a threat (just as in the animal kingdom). But in our culture, eye contact is a sign of comfort, power and dominance.

People who look down at the ground when they walk or sit are perceived as removed from a situation or trying to hide their emotions. And people who look off to side as they walk or sit are seen as nervous, distracted or untrustworthy. BUT, people who look up as they walk or sit are seen as playful or thoughtful, and people who look directly at others are seen as in control. And all of this talk of walking leads me to my next point.

Your Walk – Besides eye contact, nothing tells more about you than the way you walk. Chase just covered this in great detail, but for the sake of completeness I'm reviewing the big-picture points here. In general while you walk you want to:
Look straight ahead and have your chin parallel to the ground

Have your back straight and chest slightly puffed out

Relax when as take your steps (rigid movements say "nervous")

Walk slowly
On that last point: I cannot emphasize this last point enough. I am now going to coin a term, and it's going to be one that you'll hear me use often on this site: Act Fast, Move Slowly.
What does this mean? It means when you're interacting with a girl, keep the interaction progressing toward taking her home with you (Act Fast). But when you're actually doing things – when you're walking with her, talking with her, or even getting sexual with her, keep a steady pace, because unless they absolutely have to be, powerful men are never in a rush (Move Slowly). So there it is, Act Fast, Move Slowly.
Your Arms – This is pretty basic, but never cross your arms. Crossed arms are a sign of being closed off from social interaction or being self-conscious. People who have their arms down (uncrossed) are signalling they are "open" and are welcoming conversation with other people. We'll discuss the importance of arms some more a bit later.
Your Smile – Remember mirror neurons? People project themselves the emotions that they see on your face. So if you walk around with a smile on your face, people will get a feeling of happiness from you and will be more likely to want you to come and talk to them.
Also, people who walk around smiling stand out because 95% of people in this world are dissatisfied with their life and they let it show. Those who smile communicate success and life satisfaction. And if you're not in the mood, the physical act of smiling sends endorphins to your brain and can actually put you in a good mood. If you want to go a step further and truly master your emotions, read about state independence and state control (Ricardus discusses this in-depth in his "Success Factor" series).
So there are the basics to using body language and reading it. If you keep these in mind while you're walking, people won't be able to help but gravitate toward you, and you'll be on your way to making a consistently good first impression. Body language is at the core of nonverbal attraction, and these tips are at the core of body language.

But now what about when you actually start the interaction? What do you do then, you say?
Using Body Language: The Dos
I'm glad you asked. Knowing how to properly use body language in your social interactions will catapult your success ratese forward, if simply because you will be triggering those mirror neurons in people and reassuring their subconsciouses that yes, you want to talk to them, and no, you are not crazy or weird or a threat.

The more you dive into research on reading body language, the more you'll realize this is a very deep field with a lot of nuance. I'm not trying to overwhelm you here, though... I only want to cover the most critical nuances that are going to give you the biggest gains.

Besides what's mentioned above, here are a few things you should do:
Always stand to someone's side for the first few minutes of a new interaction. Pointing your body directly at someone can be seen as aggressive or threatening, so always open from the side and then slowly point your body toward her as the interaction progresses.

Tilt your head to show sympathy. Tilting your head is a recognized sign of sympathy for serious situations, and playfulness for light situations, so definitely throw in a head tilt or two in your next interaction.

If you're interested, mirror her body language. Mirroring someone's body language is a clear sign of interest and subconscious compatibility, so try mirroring body language to solidify a connection.

Gesture with your hands and show your palms. Your hands and arms are incredibly important for your body language. People who talk with their hands seem more lively and engaging, and people who show their palms seem welcoming and warm. These are two things you want to go for in any interaction

When listening, place your hand slightly over your mouth. Ever notice how distinguished older gentlemen place their hands near their mouth with an intent look on their face while they're listening to someone? That is because this gesture communicates to someone that you are giving your undivided attention. And since most conversations involve people just waiting for their turn to talk, this can be a very powerful gesture.
Use just these five tips and the four body language adjustments from the section just before and you'll be more skilled and more effective at body language than 95% of the other men out there... you'll distinguish your self by your efficacy at using body language alone.
But of course, no list of "dos" would be complete without a sister list of...

Using Body Language: The Don'ts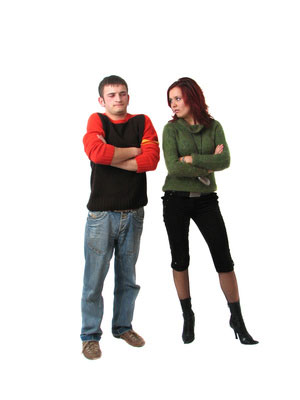 I don't want to overwhelm you with too much information, so let's limit our coverage to just a few of the most important "don'ts" for body language:
Don't close your hands or rub them together (unless you're cold). Rubbing your hands together is a sign of discomfort with a current situation and can be an easy tell that you're ready to hightail it out of a situation as fast as you can. Closing them is a sign of anger/frustration.

Don't drag your feet. Dragging your feet is a sign that you're bored with a situation

Don't make yourself seem smaller. Some people like to curl up when the sit or stand very rigid and thin when they talk. Remember: powerful men take up space (and if I haven't said that before, I'm saying it now). Take up as much space as you can and own a room.

Don't fidget. People with social control are as steady as a rock, so even if you're nervous, try be aware of keeping your body still and relaxed.

Simply by practicing not doing these things, you'll train your body to automatically knock it off and quit doing them. You might have to spend a month or so religiously monitoring your body language, but after a while everything you focus on becomes automatic.
Timing and Spacing
There are a lot of amazing things the human body can do (and no I don't mean that…at least not entirely). Some good examples of complete bodily mastery are gymnastics, dance, and martial arts.
What do these have to do with social interactions? All of these things have two things in common: timing and spacing. It's the key to mastering any of these skills.
If you can master your timing and spacing, you can turbo charge any of your pick ups or your social interactions.
Here are a couple examples of spacing:
Moving toward a girl when you're setting a frame. If you're setting a frame (especially a sexual frame or contentious frame) moving toward someone is a powerful way to cement to your frame. If you move toward someone while speaking and she doesn't move away (and if you've handled your fundamentals and sexy vibe, she won't), she is more likely to feel a higher level of comfort around you and accept your display of control.

Touching your feet to hers. Touching your feet to someone else's is almost a universal sign of flirtation. And if a girl taps her feet while you're making contact and flirting, it's a sign of nervous excitement. This can be a great way to test the waters and discreetly break the touch barrier.
Here are a couple examples of timing:
Touching someone when making an important point. Touch is important in any interaction, but when you choose to touch someone can be just as important as the contact. If you touch someone at the wrong times, you risk making them nervous or comfortable. A good rule of thumb is touching someone when you make an important point.

People are actually more likely to remember something you say if you touch them while you're saying, especially if it's a new person. Why? Because more adrenaline in our brain means clearer memory. New person + touch = more adrenaline. And more adrenaline means a strong and lasting memory, so pick your moments.

Using a bored look if a topic isn't forwarding the interaction. The bored look is the look where you lean back and stare off into space so that a girl will pull you back into an interaction with a better topic. This is a perfect example of the importance of timing. If she's sharing a cherished childhood memory with you and you throw on a bored look, it's probably game over. If she's talking about how long it took to get her car fixed, and you throw on the bored look and move the conversation to a sexual topic, it's probably game on.
A wise Korean friend of mine used to always say, "It's all about the timing – you have to think." This could not be more accurate. Learning when to touch during conversation will make your process that much more smooth.
More than half of communication is nonverbal communication, so once you get enough experience reading body language and using body language under your belt, timing and spacing will be second nature to you. Solid process + timing + spacing = success.
Wrapping Up: What to Watch For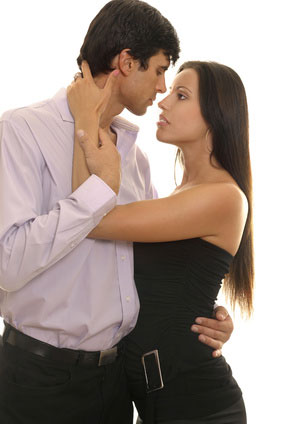 The two things that you want to watch for in social interactions are how you're using your own body language, and reading other people's body language. Your own you can control, and others' you can adjust to. If someone is doing anything on the "don'ts" list or not following the tips that I laid out in this post, chances are they are nervous and you'll have to work a bit harder to open them. If someone is open with their body, you can focus on deep diving and building a connection.
The next few times you go out – especially if you do it alone – take a few minutes to watch people and their body language. You'll pick up on cues of dominance and submission. Also, check out the post "How Girls Show Interest" for even more info on looking for reading body language cues.
There was a lot of info in this post, but if you remember to:
Handle Your Fundamentals

Act Fast, Move Slowly

Relax and Follow the Basic Dos and Don'ts

Take Advantage of Timing and Spacing
you'll be revving up your pick ups and social interactions in no time.
Stay tuned for the next post in the social series.
And in the meantime, get out there and speak some body language.
Carpe Diem,
Colt
Get Your FREE eBook on Texting Girls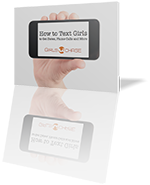 Sign up for our email insights series and get a copy of our popular ebook "How to Text Girls" FREE. Learn more ...
---


Trying to piece together a seduction strategy bit-by-bit, article-by-article, question-by-question? Stop killing yourself doing it the slow and difficult way - and get it all spelled out for you instead, in detail, in exactly the order you need to learn it... with homework, too.
With our complete mastery pick up package, you'll get our 406-page how-to eBook How to Make Girls Chase, our 63-minute long video Spellbinding: Get Her Talking, and 3 hours of audio training - all for less than the price of the book and video alone.
Quit banging your head against the wall - get it now, to speed your learning curve up dramatically... and start really getting the women you want to want you too. You can go right here to get started and be downloading your programs in minutes: How to Be a Pick Up Artist.
Related Articles from GirlsChase.com