How to Have a Sexy Walk That Drives Women Nuts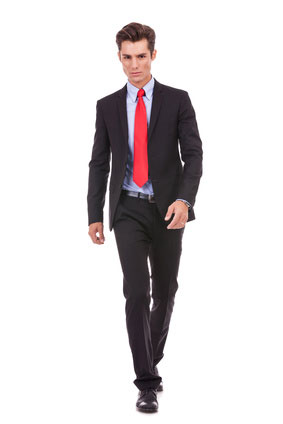 When I was 12 years old, I first started experimenting with my walk. I'd begun running social experiments a little earlier that year, and I figured I could tweak things about myself to give people the kind of impression I wanted to give them.
At first, I walked really fast. Everyone would comment on how fast I walked. I thought doing things quickly was good. But as I studied people more closely, I realized that slower was more powerful. So, 6 months after I started walking faster than anyone else, I slowed down... way down. Now everyone commented on how slow I walked... I walked slower than anyone else.
Over the years, I added pieces to my walk, refining and improving it: first to have a very powerful walk, then to have an intimidating walk.
It wasn't until my early 20s that I at last began developing a sexy walk, designed not to impress people, clear them out of my path on the street, or dissuade them from challenging me in bad parts of town, but, rather, to attract women.
On the article titled "Get a Girl Alone Today with These 7 Tips," Nick commented:
"

Hey Chase, great article by way.

I have bought your book and read up on your blog posts( having lots of success because of it) about how to have a powerful walk.
Although, I am not sure if I am being too try hard or being to subtle that it is unnoticeable. It would be great if sometime in the future you could put up a video demonstration or even list a few examples of actors in cinema who have a powerful walk.

Thank you

"
He's referring, of course, to the section of How to Make Girls Chase that discusses your walk. And Nick's right - something as nuanced as your walk needs video illustrations to show you how it's done.
And today's article is going to give you just that.

There are various aspects to your walk, and the good news is that most of what you do to make your walk powerful will also make it sexy. Evolutionarily speaking, women evolved to find the most powerful men the sexiest, and because of that, to female eyes, a powerful walk is a confident walk is a sexy walk.
But they're not completely one and the same. You can also have an intimidating walk, like I used to have, and it scares people away from you... they think you're a tough guy, a hood, or a hooligan. That's not the kind of walk you want to have to lure beautiful women.
You can think of the psychology behind a properly constructed sexy walk as, "I am the biggest, most powerful man around, and women cannot keep their eyes off of me."
The funny thing is, when people know they're being watched and their mate value is being assessed, they sexy up their walks automatically.
There's a wonderful video on How Stuff Works that illustrates this beautifully - I recommend you go check that out first, then head back here:

Science of Sex Appeal: A Sexy Walk
If you watched that video, you'll have noticed a couple of things:
The girls who know they're being rated on how sexy their walks are look really sexy

The guys who know they're being rated on how sexy their walks are look really confident
To a woman watching that video, those confident-looking men also look sexy, too. Those walks are attractive, captivating, and really get a girl's attention.
But how important is this really?
Super important!
Have you ever walked down a sidewalk and suddenly just had your attention riveted to some girl walking towards you - or even on the other side of the street? Every single time this happens, if you pay attention to it, you'll notice she has a smolderingly sexy walk.
And guess what?
You can have the same exact effect on women if you get your own sexy walk handled.
Because it stands out.
Because most guys aren't walking this way... they're too afraid to. Or they never think of it.
But now you're here, and I know you're thinking about it. So let's get you walking powerful, confident, and extremely sexy.
An Unexpected Compliment
Back when I was not yet at an "intermediate" level with pickup and seduction skills, I had to walk a very long way in very hot weather in some poorly fitting clothes (I hadn't yet upgraded my fashion sense), and I ended up with very sore, chafed thighs. It burned whenever my inner thighs touched in anyway... so, to allay the pain, I walked the rest of the way back with my thighs space far enough apart so that they wouldn't touch. It was a bit awkward to walk that way, but at least I wasn't in pain anymore.
On that particular day, I was meeting up with a girl I was seeing, and as I approached her on the street where she was waiting for me, her eyes popped out and, as I reached her, she blurted out, "Wow, very sexy walk!"

I assumed she was teasing me, and I said, "Right, sexy as hell," in a sarcastic tone.
And she said, "No, Chase, I mean it... you're walking very sexy!"
She wasn't the kind of girl who joked around, and I asked her one more time for clarification. "You're not serious, right? You think this walk is sexy? I'm walking this way because my legs hurt."
"Well it LOOKS very sexy," she said. She was dead serious.
And then I realized why.
Walking with your thighs spaced apart implies that there's some reason why your thighs can't be touching. And in primates walking upright, this means that what's between those thighs must be massive - in this case, testicles.
Walking with my thighs spread apart made it seem like I had very large testicles, which signals a very fertile, aggressive, and dominant man.
My chafed-thigh walk was making me look stronger, sexier, and manlier.
This was all at once bizarre, amusing, and very interesting to me. I'd accidentally stumbled on one of the components of a sexy walk... and because the rest of my walk had been mostly tweaked by that point, all those things together made me look very good.

If you know anything about old-time American cinema, you know the name John Wayne. He was one of the toughest, baddest, manliest actors in film. But where'd John Wayne learn all his mannerisms from?
Well, you might not believe it, but Wyatt Earp, in his later years, served as a consultant on some of the early Hollywood Western films. And while working on one such movie, a staff member named Marion Morrison served Earp coffee and chatted with him about being a lawman in the Old West.
As you might've guessed, Marion Morrison later assumed the stage name "John Wayne," and became probably the most famous actor in Western cinema, with a persona based squarely on that of Wyatt Earp, the legendary gunslinger and justice-bringer of the lawless American Frontier.
You can have a look at how John Wayne (and, we might imagine by extension, Wyatt Earp) used to walk:
That's your classic Gunslinger Walk. You'll notice the following:
Arms swaying
Slow movements
Exaggerated movements
Thighs spaced far apart
Good posture / straight back
No side-swaying

This is a very controlled, confident walk. It doesn't reek of sexiness, but there is sex appeal in its raw power. You might say that this is John Wayne's walk when he isn't walking at full tilt sexy (like in that video from How Stuff Works). If you take this walk, and throw in a bit more shoulder swaying, you have a very sexy Gunslinger Walk.
The Male Model Walk
There's another alternative to the Gunslinger Walk, and it's called the Male Model Walk. Have a look at this compilation of male models on the runway (and try and ignore the gay overtones, it's the best one I could find... while male modeling is a predominantly gay industry, women find the looks these guys have and their style of walk to generally be very attractive):
That's the Male Model Walk. If you're paying attention, you should've noted a lot of similarities between this walk and the Gunslinger Walk:
Arms swaying
Slow movements
Exaggerated movements
Thighs spaced far apart
Good posture / straight back
No side-swaying
The main difference between the two is that the Gunslinger Walk entails arm swinging that goes in front of the body. The Male Model Walk's arm swinging simply goes from front to back and back to front, not in front of the body at all, and it works better at a somewhat faster walking pace than the Gunslinger Walk, which borders on silly looking if done at too fast a walking pace.
How to Have a Sexy Walk and Turn Women's Heads
As you've picked up from the How Stuff Works video on sexy walks, and the videos on the Gunslinger Walk and the Male Model Walk, there are a number of components comprising a sexy walk that you can learn, emulate, and use yourself to transform your walk into one that women find positively alluring.
And don't worry, going out and getting your inner thighs chafed isn't going to be one of them.
Here, let's have a look at the primary aspects of what makes for a sexy walk, and how you can use them yourself to take your own walk (and the effect it has on the girls you meet) into the stratosphere.
Perfect posture. Everything in your nonverbals ties back to your posture, and your walk is no exception. You must walk with your back straight... the straighter it is, the more powerful, more confident, and more sexy you look to women.

And it isn't just your back, it's everything. Make sure your chest is pushed out and up, your shoulders are back, and chin is held parallel to the ground. The better a job you do with your posture, the better amplified are the impacts of all the other parts of your walk.

Slow walking speed. When you walk fast, you look hurried, rushed, and not-together. I've known people who told me you have to move fast... we live in a fast-paced world! Most of these people aren't millionaires, billionaires, or overly successful in any way, though. It's simply a mindset they adopted somewhere, assumed to be true, and followed as religion after that.


Some of the most accomplished, most successful people I've met move slowly and do things slowly. They take their time. They're careful. And because they're careful - because they never scramble or rush - they do things right the first time, and save themselves a lot of headaches and hassles that my more rushed friends encounter again and again, as they dash from place to place trying to put out fires and resolve problems that they only deal with because they did things rushed and sloppy the first time around.


Women are naturally attuned to this dichotomy: men who seem rushed are not in control of their lives, let alone anything else, while men who seem slow and controlled themselves are also in control of the rest of their lives.


When people comment on the speed of your walk, it should only ever be, "God, you walk so slow!" When you hear that, take it as a compliment.

Slow movement speed. Related to walking speed is movement speed. No jerking your head... no whipping your arms back and forth... no sudden turning, abrupt stopping, or explosive starting. Everything should be... smooth. Gradual. Controlled. But not artificial. If you look herky-jerky, you're doing it wrong - so slow down.

Ever see a really big, muscular, powerful man jerking around and looking, for all the world, like a little mouse in his movement speed? No... you just don't see that. It's because men who put the time into building their bodies that much have also studied how powerful men move (or they've come to it naturally), and they've realized that slow movements and the conservation of energy (see: Law of Least Effort) makes them look like the most dominant men possible.

Exaggerated movements. Did you notice in the How Stuff Works video the difference between the man walking normally and the man walking sexy? That's right... his movements were more exaggerated. His shoulders swaggered more... his arms had more sway. They were the same movements as the man walking normally, just more pronounced.

This is how you want to walk all the time. Why? Because it calls attention to you and puts you on display, which is what you want when you're out in public and could meet the girl of your dreams at any moment (without time to shift into a different walking mode). A sexy walk with exaggerated movements is peacocking for posture.


Arms swaying. Ever see someone doing the "stiff-arm walk?" That's the walk where someone walks along with their arms held straight down at his or her sides, never moving. It looks really awkward. Your arms should always be moving, in rhythm with your leg and body movements, and they should sway gracefully, as the arms of all the men in the videos above did.

Shoulders swaggering. You can't have a great walk without shoulder swagger. That's your shoulders moving up and down, opposite one another, as you walk. The shoulder on the side of your body that's stepping forward should move down, while the shoulder on the side of your body with the foot planted firmly on the ground should shift up as your other foot moves forward. Once your forward foot is firmly on the ground and your backward foot begins moving, your shoulders should change direction and begin moving the opposite way from how they were just moving... and just repeat until you stop walking.


Shoulder swagger should be exaggerated compared to how most men walk, but not SO exaggerated that you look like you just got released from prison or are walking up to someone you're going to deck in the face for wronging you somehow. There's a fine line between "sexy" and "intimidating" when it comes to shoulder swagger, and you'll want to mind that line. If you're not sure where it is, watch the videos above again to get a solid idea.

Thighs spaced far apart. It sounds childish, but women actually find it sexy when you walk with your legs farther apart. They don't actually THINK, "Wow, he must have incredibly giant testes," but subconsciously they find the walk more sexually enticing, even if they aren't quite sure why.


The simplest way to do this: don't let your thighs touch as you walk. It'll feel a little awkward at first, as though you're pushing your legs out of their sockets in your hips (you're not though), but you'll adapt to it quickly. A week or two of feeling funny while you walk... for a lifetime of looking sexy as hell. I think that's a fair trade.


Feet facing forward. Not everyone does this, but you'll notice that as a lot of men walk, their feet splay out to the sides. I'm not sure why this is, exactly; it used to happen to me too. Humans have evolved two different joint structures for ankles; the more primitive joint structure entails three joints within the ankle, making it easier to twist and turn your feet for climbing but not as efficient for walking, while other people have the more modern two-joint structure, that is less flexible for climbing, but better suited to walking. So it may be that those of us who splay our feet have the more primitive three-joint structure; I don't exactly know.


Because feet splaying to the side looks a little funny and affects how you walk somewhat, you'll want to get this handled. Similar to keeping your legs spaced a little farther apart, you'll need to spend a few weeks feeling funny as you keep your feet facing as forward as possible while you walk, but once it's handled, you'll just have to check back in on yourself every now and again to make sure you've kept it up, and, other than that, you'll now have a better-looking walk for life, making better, stronger, and sexier impressions on everyone you meet.

No side-swaying. This is one I only recently became aware of, when a black belt karate instructor friend of mine asked me to walk, and pointed out how I was swaying slightly from side to side as I walk. He noted that almost everyone does this, and it's a trait learned in early infancy to guard against falling: basically, you fall a little bit toward the side you're moving your foot on as a preventative measure to maintain balance in the event you slip.


But it makes you look less confident.

I'd had no idea I was doing this until he pointed it out. I immediately weeded this out of my walking style and straightened it out. You can best do this by paying attention to your head as you walk; does your head sway from side to side as you take each step? It shouldn't. Instead, keep it steady and pointing forward. The rest of your body will adjust for that. Still swagger your shoulders and sway your arms, but keep your head and torso held straight, instead of falling slightly from side to side as you walk.
If this is too much to do all at once, no problem - just work on a handful of these at a time. Your brain will learn that this is how it needs to walk going forwards once you've been actively changing your walking style for a few weeks or a month, and you can move onto adopting others of these components.
Benefits of a Strong, Confident, Sexy Walk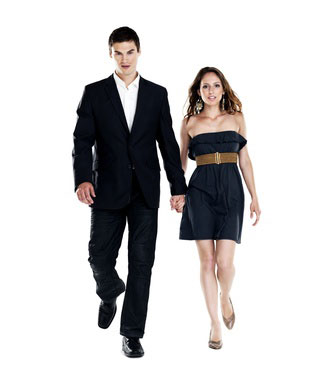 A great walk isn't just good for catching women's eyes.

It's also very useful for looking important, commanding respect from those around you, clearing a path for yourself on the sidewalk (except for a few men larger than you and looking for a challenge, most people will get out of your way on a sidewalk when you're walking this way, even most larger men who aren't looking to challenge you), and making a very strong first impression on a girl, whether you're approaching her on the street during day game or at a bar or a party, or even if she just sees you strutting around the halls at school or work or the local shopping mall.
A sexy walk is an important part of being a sexy man; it's an important part of having solid nonverbals; and, due to the feedback loop between emotions and the state of your physical body, a sexy walk even reinforces your confidence and makes you feel more sexy, powerful, and in-command.
Want a shortcut to more confidence, self-esteem, willpower, and feelings of sexiness?
Get your walk handled.
Both John Wayne and Wyatt Earp, I'm quite certain, would heartily approve.
Always,
Chase Amante
Get Your FREE eBook on Texting Girls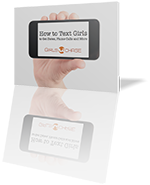 Sign up for our email insights series and get a copy of our popular ebook "How to Text Girls" FREE. Learn more ...
---


Trying to piece together a seduction strategy bit-by-bit, article-by-article, question-by-question? Stop killing yourself doing it the slow and difficult way - and get it all spelled out for you instead, in detail, in exactly the order you need to learn it... with homework, too.
With our complete mastery pick up package, you'll get our 406-page how-to eBook How to Make Girls Chase, our 63-minute long video Spellbinding: Get Her Talking, and 3 hours of audio training - all for less than the price of the book and video alone.
Quit banging your head against the wall - get it now, to speed your learning curve up dramatically... and start really getting the women you want to want you too. You can go right here to get started and be downloading your programs in minutes: How to Be a Pick Up Artist.
Related Articles from GirlsChase.com