Get a Girl Alone Today with These 7 Tips
Tell me if you've ever been here:
You've met a girl, and you really like her, and you can tell she really likes you, and maybe you even keep running into each other, and you really like each other every time you do and it never fades away... but for the life of you, you just can't ever get her alone with you!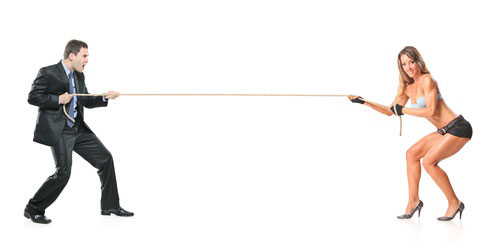 I know I ran into this plenty when I was cutting my teeth with women and dating - this maddening inability to get a girl alone. You end up feeling like the unluckiest man alive... so many women who like me! you think. But so impossible to ever get together with any of because I can't ever get them alone!
Today I'm going to give you 7 easy-to-use tips that are going to help you start getting girls alone with you right away. These are strategies you can use wherever you meet women - be that at bars, parties, shopping malls, the street, classrooms, or even at work.
You'll have to vary them up a bit depending on the environment you're in and where you know a girl from - but the point is, now you can do it.
And you won't have to spend another moment going crazy inside because you can't get a girl alone.
Step inside my tent and allow me to reveal these mysteries to you...
Girls Are JUST As Frustrated... But THEY Know Whom to Blame

You see that girl you like, and she likes you too, and there's that magic spark between you, but... it just never happens. The two of you never get any privacy, and nothing ever develops.
Guess what? Chances are, if that "spark" is really there, you're not the only one who's frustrated and annoyed - she is too!
Women get just as frustrated at nothing happening with them and a guy they like as men do at nothing happening with them and a girl they like. Especially if the girl thinks that maybe this guy is "fate" for her or "destiny" (and pretty much every single woman on Earth believes in fate and destiny, in my experience), but then fate and destiny never bring them together.
Just like you, women go home and curse the gods and wonder why oh why they can never seem to get that guy they really like.
But unlike men, women have another tendency that springs out of this frustration with not being able to get together with someone they like...
... they blame YOU!
That's right; if you never get a girl alone, and she wanted it as much as you did, she doesn't blame anyone else but you, and right she should. As discussed in the post on why most men can't get a girl, the thing standing in the way of most men isn't the lack of looks, or the lack of a giant bank account, or the lack of a great job or flashy car. Plenty of men throughout history have succeeded with beautiful, amazing women without any of those things (although they do help).
What impedes the success of most men isn't any of those - it's lack of action!
How many millions of dollars does a couch potato who spends his days watching TV movie marathons on cable and his nights playing massive multiplayer online games in the guide of an elf make? Zero, right?
Is that because he's dumb? Talentless? Not cut out for business?
No. He might be those things right now, but they're not what are holding him back - he could train himself up and get smart, talented, and armed with a razor-sharp business savvy.
What's really holding him back from becoming the next Silicon Valley success story is lack of action - the same thing that holds most men back from becoming dating success stories.
And women know this. And every time you fail to get a girl alone who likes you, she chalks it up to you being just another dating world couch potato and moves on.
She doesn't think about it exactly like this. She essentially can have one of several different thoughts about you and/or the situation:
"I guess he just doesn't really like me. Okay, who needs him?" This is where you've moved too slowly and the girl thinks it's because you actually don't like her or are playing games with her (which would also mean you don't actually like her all that much). She goes into auto-rejection, writes you off, and looks for a guy who does actually like her, instead.

"I guess it just isn't meant to be. Okay, well it's good I avoided that." Other times women will think that destiny has prevented them from ending up with a man who isn't a good fit. They then write the guy off forever ("If he was really the right guy, we'd have gotten together by now") and move on in search of a more suitable partner.

"I can't wait for him forever; too bad. I have too many great options!" This is the thought of a girl who kind of liked you, but who also has a lot of choice with men. Or she may not even think anything at all; she might just forget she ever had a crush on you and be on to the next man. Either way, she's gone, and you're back to square one.
This again highlights the need to move faster with women; you don't move fast, you get left eating other men's dust (the faster moving men, that is).
And the biggest component of moving faster? Taking action.
But how do you take action to get a girl alone with you when you're in a crowded place or a social situation?
We'll tackle that question next - but before we do, I want to review a few important considerations first.
Yes, Considerate Men DO Do Better with Women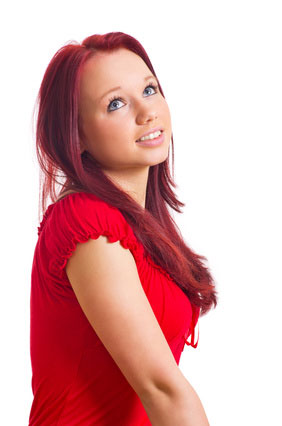 By considerate, of course, we mean considerate toward what women actually need... not considerate as in being a namby-pamby nice guy pushover.

Nice guys buy gifts for women, give them excessive compliments, and put them on pedestals.
Truly considerate men realize that garbage drives women NUTS. Instead, truly considerate men give women what they really want: intrigue... curiosity... an exciting experience... a taste of adventure... the thrill of seduction... and discretion, privacy, and the upholding of her reputation.
A nice guy wants to be around a woman and get EVERYONE to see it. He's marking his territory. And because of this, he FORCES a woman to move at glacial speed with him... if they get together, everybody's going to know it. So she can't take any risks here whatsoever. One mistake, and her reputation is in free fall.
A truly considerate man gives a woman space, discretion, and is largely uninvolved in her affairs... he makes it easy and risk-free for her to get together with him. She knows that if they become lovers, he can be her secret lover if she so chooses... and this gives her time to figure out how she feels about him without the pressure of her social circle.
Do you get the point we're driving at here?
"Nice guys" are, in actuality, not nice at all... they're not considerate of a woman's true emotions, they refuse to give her space and breathing room, and all they do is put pressure on women, all the time. Even when they're trying to act like they're NOT giving her pressure... they're laden with expectations about how things ought to go, and women sense this a mile away. It's burdensome.

Meanwhile, the sexy men that society usually labels as the "bad guys" actually give women what they want... which is why women keep picking them, and they keep getting girls.
Women have a number of concerns about being seen to go off together with a man, and if you want to get girls alone with any measure of consistency, you need to be very attuned to this and help them manage it.
The man who adroitly circumscribes problems that can impeded him and a girl getting together and helps women to circumscribe them is the one who most frequently ends up together with the women he likes.
Here's a list of the top problems a woman commonly runs into when she's thinking about dashing off into the night with that charming rogue she likes (you):
What will her friends think? Will they think she's easy for getting together with you? Or will they be disgusted at her choice of you, and she'll lose face among her circle? This is a very real risk for most women.

Will people assume it's serious? This point is related to the last one, in that the people around her are going to make a judgment call based on how serious they think you are about her. The more serious they think you are, the bigger a deal they're going to make it, and the more of a headache she's going to have later dealing with gossip and speculation.

Will you assume it's serious? If a woman's hooking up with you quickly - and oftentimes, if she's hooking up with you at all outside of a traditional dating context - she's not thinking of it as a serious affair. Really, she's not. And if she thinks you are... she knows she's going to have some heavy trouble on her hands real soon if she goes off with you.


Will people think she's easy? Again, this is related to the first point, and what the friends think of you. If she hooks up with you and you're just a regular guy, they're going to assume she's pretty easy - if some Regular Joe can get her, anyone can get her!

Will

you

think she's easy? Suddenly there she is, alone with this guy she's just met, and it's just the two of you there... what do you think about her? Do you think less of her because she's giving it up to you so quickly? Women are aware that many men don't respect women who sleep with them too fast, and they

do not

want to get together with a man who'll think poorly of them for it.


Will she look unserious / unprofessional? This is mainly a concern in the classroom or in the office, but it can come into play during social outings when a woman's out with classmates or coworkers, too. Women are merciless gossips, and there's nothing they like dishing on more than that girl who's hooking up with guys in class / the next cubicle over.

Are you going to go all the way? There's nothing a woman hates more than a fake-out. She may not know when she's leaving with you whether she wants to sleep with you or not (or she may have already decided she will), but the last thing she wants is to leave with you, decide she wants you to sleep with her, and then... you fail to deliver. You don't do the deed. Believe it or not, there are plenty of men out there who take girls home and then don't sleep with them, and women really, really don't want to risk the disappointment of ending up in the cold, passionless bed of one of those men.
Now, a note here: not every woman is going to have every one of these fears or concerns. Some might have all; some might just have some of them. A few (a very rare few) will have none of them.
But you are never going to know which girl has what fears until you know her a lot better than you will ever know her prior to sleeping with her... or perhaps ever.
A woman's not going to tell you whether she's mortally afraid of her reputation getting assassinated by her friends if she goes home with the wrong guy or not, and she won't give you any signals (aside from nervousness and hesitancy, but you'll only see these if you're already doing things wrong with her).
So, while a woman may not necessarily have every one of these concerns, approach each woman as if she comes equipped with all of them. That's the best way for you to maximize your odds of getting a girl alone when you like her; by dotting all the "i"s and crossing all the "t"s.
Now let's talk about how you dot those "i"s and cross those "t"s.
Get a Girl Alone: 7 Vital Tips
I'm going to go back through that list of fears and concerns we just went through, and this time instead of explaining what each of them is, I'm going to fit you with a strategy to use to combat those fears or avoid them altogether, so you can get a girl alone whenever you feel like it (instead of only when you get lucky).
Let's proceed.
What will her friends think? Here's a truth you might be surprised by: most friends are fine with their girlfriend hooking up with a guy... if the guy is sexy enough! Basically, if her girlfriends would hook up with you in a heartbeat, they're not going to judge her an ounce for hooking up with you either. This is another reason why it's so important to be a sexual man with a sexy vibe. You clear so many birds with a single stone by being sexy it's a wonder more men don't get resolved and get this down.


Will people assume it's serious? If you've been hanging around her a lot... putting a lot of time and effort into things with her... hanging out with her friends excessively... if it seems like you really, really want to get with her... her friends are going to assume that if the two of you get together, it's SERIOUS! This makes it a big deal, and means they'll put the pressure on her, and she doesn't want that. If you haven't already done so, read "The Secret to Hooking Up with Friends." You must remain on the periphery of her attention and her circle, until you're ready to "strike."

Will you assume it's serious? Again, if you've been chasing after her for a long time, investing a lot of time and attention into trying to make headway with her, and otherwise breaking a mighty sweat trying to make her yours, she's going to assume you're really serious about her. That means a messy situation if she decides she doesn't want something really serious with you... and for her, it's too early to tell that. Solution? Mind the Law of Least Effort and sprezzatura, and make sure she's investing more time, energy, and effort into things than you are.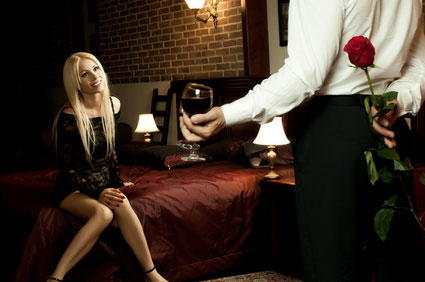 Will people think she's easy? This is another place where being sexy does all the hard work for you. If you're a man that NO woman could resist, surely no one will begrudge HER for not being able to resist you, right? The sexier you are, the more permission women will give themselves to get together with you... so get sexy!

The other consideration here is that you want to make things as discreet as possible for her... obviously, you wouldn't ask her to come home with you right in front of her friends, but you've got to be very attuned to her circumstances and not push her or rush her or ask her or say or do anything revealing in front of people who know her. Make your intentions clear - that you want to invite her home - then let her handle the logistics with her friends. If she likes you, and she wants to be alone with you, she'll have a much better clue how to get herself out of there discreetly than you will.


Will

you

think she's easy? This is mainly related to screening and

qualifying women

. If a woman feels properly screened / qualified - e.g., if she feels like you're genuine a choosy guy and that you've found out some important stuff about her and give her the stamp of approval - this won't be a problem.

It's only if she's afraid you know nothing about her that a fear of you thinking she's easy surfaces.

In addition to regular screening and qualifying, you can employ

deep diving

here to get to know a lot about her in a hurry and make her feel qualified by default (if you do a good job getting to know all about her, that is).


Will she look unserious / unprofessional? This one's a very valid concern in a classroom or professional setting. Unless you're in a very small school or a very small office, you're probably (probably) not going to get a girl alone with you somewhere at school or work (don't let me stop you from trying though, if you think you can sort out the logistics of it!). For that reason, point 6 here ends up being similar to point 2 - if people around you have picked up on the flirting, banter, and small talk, they're going to know the two of you have a thing for each other... which makes it serious.

Women will frequently shy away from something serious happening at school or at work, because of the effect it can have on them there if things blow up in their faces. So don't spend too much time flirting or bantering - if you like a girl in class or at work, get a phone number from her as soon as you meet her, so you can meet up with her later, alone... without the prying eyes of classmates or coworkers. Then be very neutral with her in class / at work. Don't let people see that there's something going on there (lest you want the kind of pressure put on you that can very well derail you from getting a girl in bed you like).


Are you going to go all the way? Yet again, we circle back to being a sexy, sensual man as a crucial determinant of your ability to get a girl alone with you. If you're sexy, women will simply assume you'll go all the way with them. If you're not that sexy yet, you need to do your best to make it clear from your verbal dialogue with them that you're a guy who puts out, so use chase framing liberally... but there's no real substitute for a sexual vibe, so make sure you get that handled.

The less sexy a man is, the less confident a girl will be that he'll deliver the goods; the more sexy he is, the more confident she is that he'll get her what she wants and the less she'll spend time fretting about this or wavering on whether to go somewhere alone with him.
If you follow these 7 tips, you'll be able to disarm or sidestep women's fears and concerns and be able to get a girl alone with you almost on command.
Work on your sexiness, work on being considerate about what really matters to women (not what nice guys think matters), and work on not putting too much effort into a girl until you're ready to make a move and take her as yours.
Oh, and, of course, work on making yourself into the kind of guy that her friends will say, "Well of COURSE she hooked up with him - I would've done the same exact thing!"
At that point, you'll have more women dragging you off to go be somewhere alone together than you'll be able to beat off with a stick... and that's a wonderful position to be in.
Talk to you again soon,
Chase

Get Your FREE eBook on Texting Girls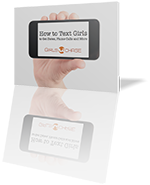 Sign up for our email insights series and get a copy of our popular ebook "How to Text Girls" FREE. Learn more ...
---


Trying to piece together a seduction strategy bit-by-bit, article-by-article, question-by-question? Stop killing yourself doing it the slow and difficult way - and get it all spelled out for you instead, in detail, in exactly the order you need to learn it... with homework, too.
With our complete mastery pick up package, you'll get our 406-page how-to eBook How to Make Girls Chase, our 63-minute long video Spellbinding: Get Her Talking, and 3 hours of audio training - all for less than the price of the book and video alone.
Quit banging your head against the wall - get it now, to speed your learning curve up dramatically... and start really getting the women you want to want you too. You can go right here to get started and be downloading your programs in minutes: How to Be a Pick Up Artist.
Related Articles from GirlsChase.com