Peacocking: Now Scientifically Proven To Get You Girls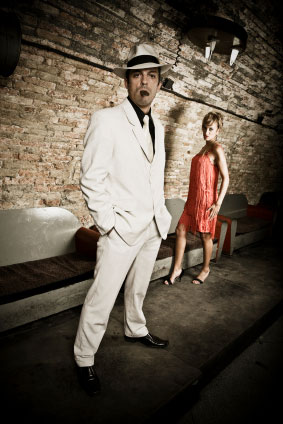 Who would've thought scientists'd ever get around to proving something like this?
A decade and a half ago, I found that if I wore outrageously cool and different clothes, I attracted a lot of attention to myself. When I later took on a tougher persona in university, I took to wearing a lot of (what I'd now describe as really tacky) gold jewelry all over: big chunky gold rings with huge fake diamonds, gold necklaces, a really flashy gold cubic zirconium-studded bracelet that people would stop me to comment on and more than a few bouncers and DJs tried to buy off me or barter for.
I wouldn't be caught dead in that getup these days, mainly because I have a very different image now, but it got me attention, and what I did with that attention was up to me.
And what else I found was that it caught a lot of women's attention. And I couldn't prove it, but they seemed a lot more interested in me than most of the other averagely-attired guys in my classes.
When I found seduction a little later on, I learned about a guy who called himself Mystery and touted something he referred to as Peacock Theory: that if you dressed ostentatiously, you'd draw women to you like moths to a flame.
Well, as it turns out, Mystery and I (and everyone from goths to punks to hipsters to hoodrats) were right: peacocking makes women want to hook up with you.
Because now, academic research supports it. To quote Ron Burgundy, it's science.
Peacocking and Porsches
I've long been kind of hard on Porsche drivers, ever since learning of a 2004 study in Berlin that found that Porsche drivers have the least sex per week (BMW drivers, for the record, ranked first).
But maybe the reason the Porsche owners bought their flashy rides in the first place was to let women know they were on the prowl.
One fascinating finding from that research on peacocking linked to earlier, by Jill Sundie of the University of Texas at San Antonio and others:
"Three experiments demonstrated that conspicuous consumption is driven by men who are following a lower investment (vs. higher investment) mating strategy and is triggered specifically by short-term (vs. long-term) mating motives."
In other words, their research showed that people who buy big, flashy things are usually men who are less interested in investing a great deal in women and more interested in casual sex.
Which is of course what a student of the social arts would expect, but the researchers did a bang up job in more or less proving this to in fact be the case.
What was more interesting to me, however, was this result [emphasis mine]:
"A fourth experiment showed that observers interpret such signals accurately, with women perceiving men who conspicuously consume as being interested in short-term mating. Furthermore, conspicuous purchasing enhanced men's desirability as a short-term (but not as a long-term) mate."
In laymen's terms, they found that others' views of men peacocking are that the peacocks are interested in casual flings.
And, they found that peacocking DOES indeed make men more desirable for flings!
How crazy is that? Science just proved peacocking works.
Showing off conspicuously makes you a more attractive option for fast, no-strings hook ups.
Now that we know it works though, we've got to separate the signal from the noise. And by that I mean we want to get to the bottom of what kind of peacocking you ought to be doing, exactly, to further your results with the opposite sex.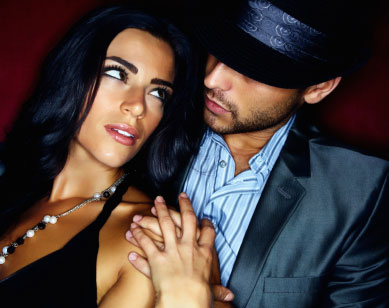 How to Peacock: Good Ideas and Bad Ones
Well, you could always go get a big, fuzzy hat.
Failing that, there are all kinds of good ideas for peacocking:
Trendy clothes and accessories: get something noteworthy to wear around your neck, for instance. I sport a Tibetan mandella pendant; really cool, unique, and meaningful, and eye-catching without being over-the-top.
Coats: particularly, with fur, when you can find it. Field-tested and guaranteed to get girls attracted. Why this is, I don't know, but women just seem to love men in fur-lined garments.
Suits: pick out a really cool-looking suit from a magazine and have it tailor-made for you if you can have that done affordably somewhere nearby. I had an ultra-modern suit custom made based on a Gucci picked out of a magazine, for a lot less than a Gucci would cost; it gets rave reviews every time I wear it out, and fits like a dream.
Pants: I haven't gone this route myself, but I've known guys who've tried brightly colored pants, and pants that are leather or vinyl. Not quite my style, but you might take it for a test drive if you're looking for something flashy. Jeans are also a good choice; either go designer, for name recognition, or at least get designer-styled jeans with the seam on the outside of each pant leg folded in rather than left on the outside.
Hats: hats are good. I used to sport a fedora; these days I wear a smaller, inspector-style hat when I wear one (which isn't terribly often, recently). But hats impact attention and attraction a lot, you'll find. Girls dig 'em.
Shoes: your choices for peacocking with shoes are generally limited to two options: lifts or cowboy boots? Me, I prefer the latter; the former is a little too... well... dorky for me. But I don't want to impose my own opinions and preconceptions on you!
Note that generally speaking, while peacocking is mostly a good thing, you do want to avoid going to excess. A little peacocking makes you look classy and stylish. Too much peacocking though makes a man look like ridiculous and tryhard.
And women don't get excited about getting together with ridiculous, tryhard guys. They want their men to appear effortless.
So, wearing a really neat custom-made suit jacket with designer jeans, cowboy boots, and a slick dress shirt with a few buttons opened to reveal a unique pendant or necklace is fine and dandy and that's one style that I've sported personally on many an occasion.
But, wearing lifts, vinyl pants, a leather jacket with zippers all over it, sunglasses, and a sparkly shirt is probably going to be way too much just about anywhere. It'll get attention... but not sexual attention.
And that's one of the secrets of how to peacock right: your peacocking should be sexy.
Not silly.
Sexy requires a sense of style. Fashion sense. It requires a man to be able to put an outfit together, and not simply throw the brightest, flashiest elements he can find together and hope to maximize his ability to attract attention.
Men who want babes drive Porsches, not souped-up Honda Civics with logo stickers and aftermarket tail fins.
This fact escaped a lot of the early guys in the seduction community as they chased reactions instead of results. They got so caught up in the attention they were receiving that they didn't stop to question if it was the right kind of attention.
Not all attention is created equal. The king and the court jester both get a lot of attention... but only one of them is able to throw his weight around and get what he wants.
Thoughts On "Cool" vs. "Outrageous"
I'd say there are ultimately two schools of thought on peacocking: the "cool" school, and the "outrageous" school.
Outrageous is all about what we just talked about above that those early pick up guys did: maximizing attention by being completely outlandish. Dress like you're from Mars -- goggles, fuzzy hats, and black nail polish, that sort of thing -- and women will flock to you like pigeons flock to statues in the park, goes the thinking.
And it does generate attention. But so do horrible car accidents on the side of the road.
On the other hand, there's the cool school... dress really unique, really cool, and catch women's eyes with your signature awesome style.
Just giving this a few seconds' thought, it's clear which is more likely to result in guys getting girls into bed.
Kind of a no-brainer, right?
You want to look cool, charming, and appealing because you want women to see you as a sexy man. That's what gets you the kind of attention you want, and that's what gets women into your bed.
If you've been wearing average clothes, for sure you should upgrade and invest in some cool clothes that are different and attention-grabbing. Women respond to it. But if by any chance you've been going overboard, think sexy -- not silly. Your results, I'm quite certain, will start climbing the instant you make the switch.
Cheers,
Chase
Get Your FREE eBook on Texting Girls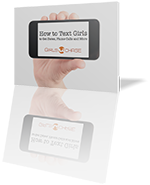 Sign up for our email insights series and get a copy of our popular ebook "How to Text Girls" FREE. Learn more ...
---


Trying to piece together a seduction strategy bit-by-bit, article-by-article, question-by-question? Stop killing yourself doing it the slow and difficult way - and get it all spelled out for you instead, in detail, in exactly the order you need to learn it... with homework, too.
With our complete mastery pick up package, you'll get our 406-page how-to eBook How to Make Girls Chase, our 63-minute long video Spellbinding: Get Her Talking, and 3 hours of audio training - all for less than the price of the book and video alone.
Quit banging your head against the wall - get it now, to speed your learning curve up dramatically... and start really getting the women you want to want you too. You can go right here to get started and be downloading your programs in minutes: How to Be a Pick Up Artist.
Related Articles from GirlsChase.com