Her Ex-Boyfriend's Still in the Picture: What to Do?
A commenter on "Why Chasing Women Doesn't Work" writes:
"

just over a two months ago i was intruduced to a girl by a couple i know, started off texting and getting to know each other. when we first met it was fantastic, got along great , we have met up every weekend since. As we have got to know each other a bit more and opened up to each other, she has a few issues with one of her ex partners who she left for stealing from her. (she was engaged to him )

she is in the process of talking to him again and getting her stuff back, but now i feel on the outer with her , hardly talks to me ect. i feel ive done somthing wrong i dunno, it all started great ,told each other how we feel , she stated she isnt ready for a relationship 'just yet', which i respect and kinda understand. I dont no if i should keep trying to talk to her or just give her a break and wait till she gets in touch with me .

"
Now, for this commenter's situation specifically of course, the problem's compounded by a lack of moving fast enough and attraction expiring. Those will cause the slow death of a potential relationship every time, ex-boyfriend or not.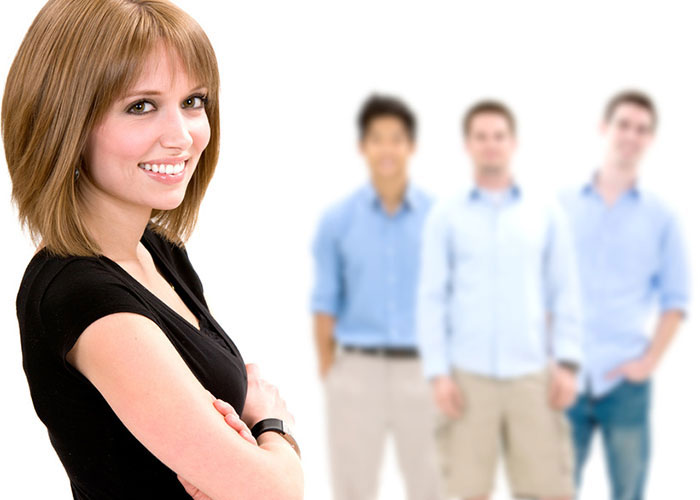 But when her ex-boyfriend is in the picture, this is particularly exacerbated - because everything you have the might be good with her is less good, and everything that isn't the best gets worse.
Ex-boyfriends, in any way, shape, or form, are invariably bad news for any kind of relationship you want to get going with girls.

I generally advocate being non-jealous, non-judgmental, and jealousy-free with the women in your life. And if you aren't there internally yet, you still want to do your best to keep up appearances - your internals will catch up with your externals eventually.
But when a girl's got her ex-boyfriend around in any capacity whatsoever, that's one of those times you really want your alarm bells to start going off, big time.
Not out of jealousy, mind you, nor possessiveness; but out of plain old regular danger awareness.
You Never Really Fall Completely Out of Love

If you think back about ex-girlfriends you've had - or even girls you just had crushes on, flings with, hooked up with, or had an infatuation with - you'll almost certainly feel at least a twang of emotion.
There's still something there.
And if given the chance, you might very well take those girls back to bed again. You might even take them as girlfriends again.
It might not be the best idea.
You might very well be aware that you ought to replace them, not chase them.
But, given the right circumstances and scenarios in your life and theirs, you might still do it anyway.
That's because you never really fall out of love. Not completely, anyway. But there's another side to that too: our predilection as human beings to look back on the past through rose-colored glasses.
Women work exactly the same as men do in this regard, and a woman's as liable as a man is to look back on a partner she split up with after extensive fighting and drama and eventually throwing her hands up and giving up on the relationship and remember much more of the good things than she does the bad.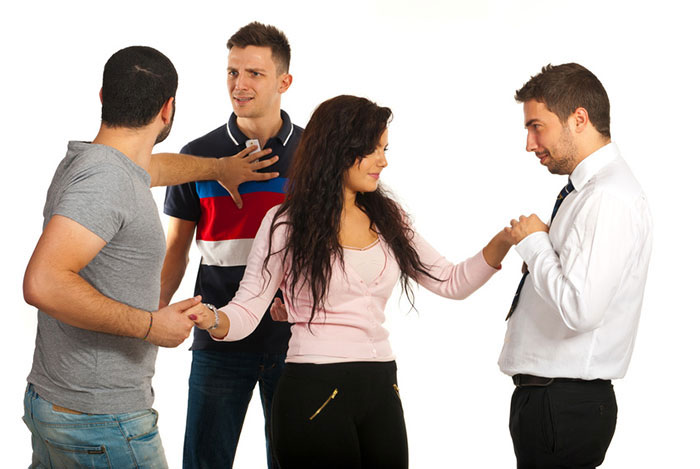 There's also a certain "known quantity" aspect to this - a man is known to her; he's not a stranger. She knows what she's getting with him, and what to expect. And if at some point she begins to miss this, she knows exactly where she can go to get it.
The Setting of Precedent
I'm not really into kinky sex all that much - exhibitionism, unusual positions, role-playing, any of that - but I do some of it at the start of every relationship. And I'm really a pretty nice guy by default - a little inconsiderate, perhaps, but more because I'm busy than that I don't care - but at the start of every relationship, I'm a lot more of an asshole than I need to be.
Why's this? Because I want to be the hardest, toughest, manliest, most sex-crazy man she's been with. I want that precedent.
Because with every girl you have as a girlfriend, you're either the slickest, hardest, sexiest, baddest hunk of man she's ever had... or you're not.
And if you're not, well... you'd better hope the guy that is doesn't set his sights on his ex - and your current - again, because he'll set a fire in her loins that you simply cannot set.
I was out once at a rooftop lounge with a friend of mine in Los Angeles. This friend had something of a thing for Japanese women, and we happened to meet a pair there and got to talking with them. The girl he was talking to was covered in tattoos, and when he and I were talking later he mentioned the fact, and then mentioned that in Japan, women really don't like getting tattoos, and that for a girl to be that tattooed up, she must have had a Yakuza boyfriend - members of the Asian mafia will make their girlfriends get tattooed, something that marks them as outsiders to society, and undesirable to the majority of men, as a way of marking their territory... a means of staking their ownership.
"I pity whatever guy ends up being that girl's husband," my friend said. "She's never going to be as invested in anyone as she is in her mafia ex-boyfriend."
Drama and fighting and problems in a relationship are turmoil and hell when you go through them, but the more drama a woman goes through with a man and still stays with him, the more invested in him and committed to him she becomes, and the more important to her he becomes and the larger his significance in her life becomes.
Whenever you meet a girl who tells you she fought with her ex incessantly, it isn't just a sign that she's almost certainly going to be quite the drama queen if you ever get together... it's also a sign that she still harbors deep, profound emotions toward this man.
Because of this:
If a man isn't worth the drama, a woman will leave him once it starts
Likewise, if she stays with him

despite

drama, she'll reason he must be worth it
This reasoning is not a logical conclusion. Rather, it's a powerful, deep emotional one - one she has no control over, that is completely illogical and irrational and viscerally compelling.
If he was the sexiest, baddest bad boy of her life, or she fought with him incessantly and had big blow ups and scads of drama but they still stayed together a while anyway - or both - he'll occupy a special place in her heart - and a special place in her sexual fantasies and dreams, more or less forever.
Even if she does the breaking up, he ends up being, to some extent, "the one that got away," or, "the one she could not tame."
How'd you like to go up against that?

We just talked about women's need for different kinds of friends in the piece on female friends - there are friends women have to provide security, friends they have for social elevation, friends who are close friends of theirs, and friends who are potential mates - the love interests of the friend stable.
An ex-boyfriend who's still in the picture provides three of these needs:
He's insurance against her ending up alone (security)
He's someone she has a close, intimate relationship with (close friend)
And he's someone she's already had a romantic and sexual relationship with, and will, given the right circumstance, be open to having one with again (potential mate)
The only one ex-boyfriends (usually) don't qualify under is social elevation - although sometimes girls will use their ex-boyfriends as stepping stones to find new boyfriends through the man's social circle, so on occasion they can be.
But what's it really mean if she's letting the guy hang around?
Why She's Keeping Her Ex-Boyfriend Around
If a girl's keeping her ex-boyfriend around, it's not because she can't make any other friends. And it's not because they had such a great relationship as partners that they ought to just keep on having that relationship as "just friends" once they're no longer together.
No - she's keeping him there for a very specific set of reasons:
She doesn't want to let him go. This may be because she knows he's still really devoted to her, and he's a very nice back up plan to have. If nothing else works out and she can't find a better guy, well, she's always got him to go back to. Or, it may be because he made such an indelible impression on her that she doesn't really believe she can find someone better than him - rather, she's just playing the field and biding her time, hoping he'll come around and realize he's meant to be with her.

She isn't really committed to finding a replacement. When a girl's made up her mind that she is absolutely finding someone better than her ex-boyfriend, she'll drop him like a sack of rocks and start hitting the dating scene like nobody's business. I've never seen a girl truly committed to replacing her ex who also kept that ex on speed dial. Just doesn't happen. You can dwell in the past, or get working on the future - but you can only pick one.

She thinks no one else really measures up. This one's the scariest one for you if you like a girl and she's keeping her ex-boyfriend around - she may be comparing you to him, and finding all the places you aren't exactly like him (and holding them against you). Sure, if you use one specific person as an absolute metric for perfection, you'll never find anyone else who's quite the same - except for that one specific person, that is.
It's really not because "they have such a great connection that she just doesn't want to let him go."
She keeps him there because she thinks she might want to get together with him again at some point.
How Does Her Ex-Boyfriend Impact YOU?
There are a couple of ways a girl's ex-boyfriend still being in the picture affects you, getting-together-wise:
Your time horizon for sleeping with her gets chopped. However quickly he slept with her, you need to sleep with her the same or faster. That means, if he slept with her on two dates, you'd better do it by Date #2 at the absolute latest - or else for the rest of her life, she will know deep in her loins that he was more of a man than you will ever be, no matter what else you ever do with her to prove otherwise. Like our commenter at the beginning of the article - moving fast is more vital with a girl with an ex-boyfriend kept close to her heart than almost any other kind of girl.


Your escalation windows get smaller and margin for error reduced. Because she feels like she doesn't really need another man - after all, her ex-boyfriend is still around - how long she'll wait for you to pick up on her signs and take action drops dramatically. Attraction expires very fast with girls still in contact with their ex-boyfriends - they have zero real need for a replacement, and grow tired quickly of the dating game with men who can't act on their signals with great haste.


Your need for sprezzatura shoots up. There's one man in her life she already likes - her ex-boyfriend - and he isn't trying very hard to win her back. You get compared directly against him - thus, if you appear to be working harder to land her than he is - this guy who may not even be pursuing her at all anymore - you lose points and look weaker and less attractive by comparison.

... and there are also some ways that the ex-boyfriend being in the picture affects you, relationship-wise, too:
She never fully commits to the relationship. So long as a girlfriend of yours remains close with her ex-boyfriend, you're dealing with a girl who's one foot in, one foot out of your relationship. She'll tell you she's fully committed if you ask, but what you want to pay attention to are her actions, not her words - and her actions will show you she isn't quite as affectionate as other women you've dated are, she isn't quite as ready to cast her lot in with you as wholeheartedly as other girlfriends you've had have been, and she isn't nearly as prepared to say, "Screw everyone and everything else - I'm with you!" How can she - she is still, at least to some extent, devoted to another man.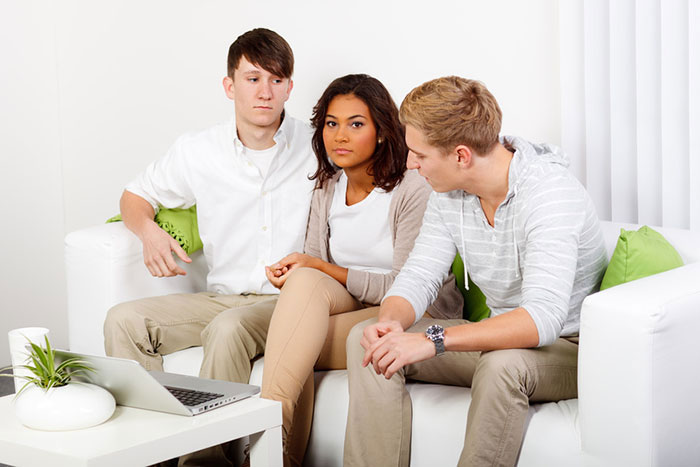 She's difficult to maintain relationship control over. So long as a woman feels like you don't have an out - she's the only girl you're spending time with - but she does, she'll tend to view the dynamic between you and her as you being more committed to the relationship than she is. And that simply does not change, no matter how dominant a man you are, how calm, cool, and collected you remain, or how much relationship experience you bring to the table. Her spending time with another man she's had a sexual and romantic relationship with and you not spending time with another woman you've had a sexual and romantic relationship with immediately puts her in a position of dominance in the relationship. Additionally, women know that men don't want their girlfriends spending time with other men, no matter how nonchalant their boyfriends are - doing so is a blatant signal that, "I call the shots here and we do what I want, not you."

She's a substantial infidelity risk. You can take every precaution to prevent cheating in the world, but if you're letting a girlfriend spend time with her ex-boyfriend you might as well save your effort and go play a video game or something instead. I can't tell you how many women I've heard rail to high heaven about how insulted they are that their man would possibly not trust them with their ex-boyfriends, and how many women I've heard meekly admit how bad they feel about yelling at their boyfriends to stop being so worried because nothing would ever happen with their ex-boyfriends, and then they slept with the guys again. Everybody thinks she's a saint until she actually does a deed.
Ex-boyfriends introduce a whole lot of trickiness into the world for you, and if you want women who are still involved with their ex-boyfriends in one capacity or another, you need to make certain you realize this going in.
How to Handle Girls with Ex-Boyfriends
The answer here is not, "Go beat the guy up," nor is it, "Tell him to stay away from your girl," nor, "Tell your girl to knock off contacting him." Both her and him are two separate people whom you can't expect to change, and who have a relationship between the two of them that they'll resent you sticking your nose into, even if that affects you.
Rather, the answer is, "Know what you're getting into, and make your peace with what you'll need to do and be prepared to tolerate, or don't get into it."
Sometime back, I started dating a girl who was fairly close to an ex-boyfriend of hers. Men had been wining and dining her for years but she'd turned down every single one of them. At one point her ex-boyfriend came to visit her from the city he was in, and they slept together; other than that one time with him though, she hadn't slept with a guy between breaking up with him and getting together with me.
When I met her, I had an instinct that I needed to land her very fast if I had any shot of landing her at all. I didn't know she had an ex-boyfriend she was still in touch with at the time - I could just sense the need for urgency with her, more so than with most women. So I did. But throughout the first 6 months of the relationship or so, she never fully committed to it - she was always one foot outside the relationship, and I was her secret lover.
I was fine with that, though - my philosophy these days is, I'd much rather not make a girl fall in love. I'd rather keep her emotions as neutral as possible. I used to go for wild crazy love, but you break a few girls' hearts and it wears on you a little bit. I'd rather reduce the odds I break more hearts as much as possible, and that means not letting women feel as powerfully toward me. This girl in particular, I thought she was fantastic, but I was also fine with her leaving if she felt she needed to leave - my focus the past few years has been business projects, and relationships aren't a huge concern right now.
Eventually she did end up telling the ex-boyfriend she had a new boyfriend, and he got upset and cut contact with her because he'd been courting her for marriage and felt like he'd been wasting his time, and that was that. After that happened, you could see the change in her toward me - less aloof, less ready to leave at a moment's notice, much more invested in the relationship.
My advice to you if you're facing a situation with a girl who's in close contact with her ex-boyfriend is this:

Don't get involved with her if you're going to fall in love. If you're already very experienced with women and you're able to have relationships without them becoming the big emotional roller coasters they are for most people, you'll be fine; you know how to not fall in love and you won't take it personal if she isn't 100% committed to your relationship. If that isn't you though, you're going to end up going crazy over this girl who's crazy over someone else - be warned.

If you do get involved, be comfortable with her leaving. You need to assume that at some point there's a relatively reasonable chance she picks up and goes back to him - that might be because he's sexier than you, or it might be because he makes her feel more safe and secure than you do. It can happen whether you're a nice guy or a sexy man; depending on where she is in life, she'll want one thing more than another.

If you're already involved, make your peace with the fact that she isn't 100% yours, or set her free to go chase down that ex-boyfriend at full tilt. You can hope she cuts things off with him eventually, or that he does with her, but much of the time that doesn't happen - she won't cut things off with him unless you find a way to do a better job fulfilling whatever need he fulfills than he does, whether that's wild, crazy, manly sexiness (and sex), or safety and security. And even if you do, unless you do it in a very natural, Law of Least Effort sort of way, she'll pick up on you catering to her in the relationship and it'll damage attraction... bad for you... good for her ex-boyfriend.
It's okay to date girls still spending time talking or chatting or hanging out with their ex-boyfriends, but only so long as you aren't really looking for anything super serious. If you are, steer clear.
And if you have a girl who starts talking to her ex-boyfriend after being with you for a while and never having been in touch with him... well, just consider that a vote of "no confidence" in your relationship, and start preparing your exit strategy. She's already in the process of courting other options - perhaps you ought to be as well.
'Til next time,
Chase
Get Your FREE eBook on Texting Girls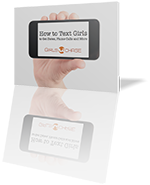 Sign up for our email insights series and get a copy of our popular ebook "How to Text Girls" FREE. Learn more ...
---


Trying to piece together a seduction strategy bit-by-bit, article-by-article, question-by-question? Stop killing yourself doing it the slow and difficult way - and get it all spelled out for you instead, in detail, in exactly the order you need to learn it... with homework, too.
With our complete mastery pick up package, you'll get our 406-page how-to eBook How to Make Girls Chase, our 63-minute long video Spellbinding: Get Her Talking, and 3 hours of audio training - all for less than the price of the book and video alone.
Quit banging your head against the wall - get it now, to speed your learning curve up dramatically... and start really getting the women you want to want you too. You can go right here to get started and be downloading your programs in minutes: How to Be a Pick Up Artist.
Related Articles from GirlsChase.com