Get Rock-Solid Frame Control with the Women You Like, Guaranteed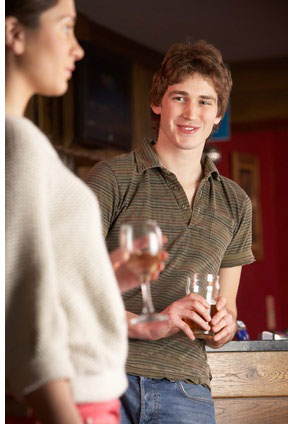 Frame control is an incredibly necessary thing for you to master, both internally and externally, for finding success with women. Guys that have it get their way with girls. Guy who don't get steamrolled by girls. You see it go both ways every day.
If it feels like an intangible topic, it isn't. Rather than going into specific definitions (we'll get into that in a bit), let me give you some examples of what we're talking about. A guy's got control of the frame when he:
Gets a girl who's hemming and hawing to stop doing that and come with him


Takes a girl who's trying to act coy and aloof and excites and intrigues her enough to make her chase him


Nimbly deflects jealous friends trying to derail or interfere with his progress with their cute friend


Shrugs off women's attempts to throw him off-balance, by being overtly sexual or overly rude, and remains calm, in control, and attractive
On the other hand, a guy's relinquished control of the frame when he:
Buckles to a woman's insistent demands


Revokes his request for a woman to comply with his desires before she's done so


Allows others to interrupt or derail him


Gets flustered and off-balanced by a woman's tests
The average woman tends to be much more talented at frame control than the average man. And here's why that's not good for the average man:
Frame control is how you lead decisively, remain calm and attractive, and above all, get what you want.
If you aren't able to control the frame, you aren't able to get what you want with women, and women don't want men who can't get what they want. It's a cruel world, but without frame control, women will push and push a man -- right up until they push him out of contention for them.
What are "Frames?"
Wikipedia defines a frame (as used in the social sciences) as
"... a schema of interpretation — that is, a collection of anecdotes and stereotypes—that individuals rely on to understand and respond to events."
In other words, a frame is a way of seeing the world.
If you're a tattoo artist, you may have the frame that you are the most talented tattoo artist in the world. You don't just ink people... you create works of art.
That's a frame. That's a way of seeing things and interpreting the world.
What happens every day in your life, however, is that your frames are constantly encountering the frames of others -- and, like survival of the fittest, the strongest frame usually wins the day.
The rawest example might be two guys who meet in the street, each thinking he's bigger and badder than the other. The two of them posture, stare each other down, and growl a bit. Finally, one of them gives in and walks away.
His frame just broke to the other man's.
The man who lost walks away defeated, his frame broken. The man who won gets to keep his frame intact, and all feels right with the world.
Another example might be a girl telling you she doesn't sleep with a man on the first date. She keeps telling you this; you keep pushing for the close. Eventually, one of your frames will break; either you'll give up trying to sleep with her on the first date (your frame breaks), or she'll give up trying to wait and she'll sleep with you (her frame breaks).
In the pick up community, these encounters are called "frame battles;" I prefer to call them "frame encounters." The term "battle" paints situations like this as inherently confrontational -- one of the major problems with general pick up community dogma (most of it treats seduction as an adversarial relationship with a woman, when in fact it functions much better when treated as a cooperative enterprise where you and a woman seduce one another together).
So for the purposes of this post, I'll be talking about frame encounters -- how you should act in them, what you can expect to happen, and how you can retain frame control and have things work out, for both you and the girl.
Understanding Frame Encounters
Why do frames clash? Well, in fact, it's usually because of differing expectations among the parties involved.
Here's what I mean:
A woman thinks you'd make an excellent boyfriend, only for you to start moving faster than she'd expect a boyfriend candidate would or should


You've had a great but friendly and platonic conversation or even relationship with a girl, then suddenly try and take things romantic or sexual


A girl you've been seeing casually views you as purely a casual lover, but then you begin acting possessive toward her and treating her like a jealous boyfriend would
Expectations strongly influence frames.
The problem that most guys run into, then, is that the expectations they set do not match the actions they later take -- prompting frame encounters. Here's a typical scenario:
Let's say Chuck meets Lindsay, a really cute girl, at a party one night. Chuck likes Lindsay a lot, but he isn't sure the right things to do, so he keeps things friendly and neutral so as not to scare Lindsay off. Consequently, Lindsay comes to view Chuck as just a friend, and comes to expect him to act as such.

But Chuck grows bolder, and as time passes he begins trying to push for things. He asks Lindsay to meet up with him for dinner; Lindsay politely declines and suggests they do something together with friends.

Then, Chuck gets a little too drunk at the next party, and he tries to get Lindsay to give him a kiss. "But we're friends!" Lindsay exclaims. Chuck can't believe it; how can she only think of him as just a friend?
That's the kind of thing the pick up community would refer to a frame battle, but it's actually just an encounter of different frames based on different expectations resulting from a lack of proper expectation setting from the beginning.
Chuck set the wrong expectations with Lindsay from the start, so she came to view him in a way that was different than how he thought she should view him.
Then, when he tried to act along the way he actually felt -- and the way he thought she should view him -- what he found was that she pushed back against this, not feeling the same way or thinking he should act the way he was at all.
Frame differences therefore don't come, too often, from irreconcilable differences between the sexes; they most often come from a failure to properly communicate the right expectations from the outset.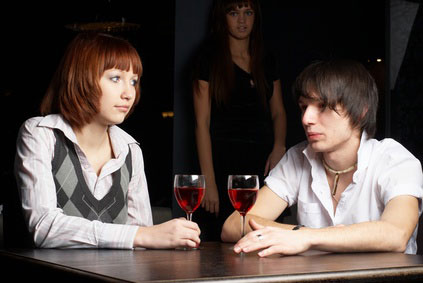 Frame Control and Expectations
If I told you I was going to tell you how to become a business owner and make all the money of your dreams for just $20, and you agreed, and then I said, "Okay. Now if you'll just give me my $50, we can get started," you'd balk and tell me, rightly, that we agreed to $20.
Now, had I told you it was going to be $50 from the outset, it probably wouldn't have been a problem -- you like me, and you trust I can teach you how to make a lot of money, and that's certainly worth a paltry $50 -- or you would have at least asked yourself if you were willing to spend $50 to learn how to make all the money of your dreams.
It's when those expectations got shifted on you that you pushed back.
At that point, you're either going to refuse to pay $50, and I give you those secrets for $20, and your frame emerges victorious in the encounter; you're going to concede and pay the $50, and my frame wins; or neither of us will budge and we'll each go our separate ways without money or secrets changing hands.
But, here's the thing: the outcome that you simply pay the $50 is going to be far, far higher the vast majority of the time if I just tell you the price I want from beginning and don't try changing it to something else later.
There ends up being two sides to frame control:
Your degree of proper expectation setting


Her degree of understanding expectations
You will sometimes meet people who are, either through inexperience or through having their heads in the clouds or through sheer force of will, no matter how well you set expectations from the outset, still going to try and funnel you into a certain category. That's like the girl desperate for a boyfriend who expects that every man who talks to her -- no matter how clear he is about not being relationship material -- is a potential white knight come to save her from singledom, or the man in a similar position who believes that every attractive woman who bats an eyelash at him is a potential soul mate.
Those are the people who are far to the extreme on #2. You can't do much to control these people's expectations; you've just got to be very good at frame control (more on that below).
But, for the majority of people, if you do a good job with #1 you'll have far fewer frame encounters because you'll both be on the same page.
This is why you'll notice that skilled seducers make it very clear what they're about to women very early on -- they come across highly sexual, with a high value and demand on their time, and sometimes gentle but always quite firm.
They don't want women thinking they're like other men who're going to wait around and chase women forever in the firm hope that something -- anything -- might happen. They're a valued commodity, and they'll be gone if things don't go the way they expect them to.
Because of this, women know what they're about, and they either go along with it, knowing full well the price of admission (the person who agrees to pay $50 from the outset), or they walk away, not being interested in the offer (the person who thinks $50 is too steep a price for a lifetime of boundless financial resources).
Thing is, when you're attractive and sexy and you're upfront about what you've got to offer, there are a lot of women who won't want to walk away.
That's how you minimize frame encounters, and how you minimize the work you have to do to move a seduction forward; by focusing on setting the right expectations from the outset with things like:
That sets the frame that you're a sexual, confident man who's screening her hard; if she sticks around, she's automatically accepted your frame.
That's why setting the right expectations from the beginning is so powerful. Otherwise, she'll decide on her own frame, which, if you were moving slowly and acting platonic, isn't going to be the frame you want her to have you in at all.
Using Frame Control to Change Minds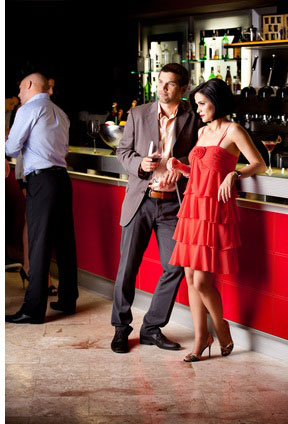 Early on though, you're likely going to be having one frame encounter after another, because you haven't learned yet how to properly set the right frames and expectations from the outset, and because you'll be making mistakes and predisposing women toward setting different frames about you than would be ideal.
For instance, the guy who's too much of a nice guy is going to find that trying anything romantic or sexual with a girl is going to lead to a frame encounter. It isn't how girls see him, and he'll have his work cut out for him any time he tries to break out of that box.
Some examples include:
"I like you, Frank... but as a friend."


"I couldn't date you, Tim -- it'd be weird! You're like my brother!"


"Wait... why do you want to hang out just us?"
On the other hand, the guy who's too much of a bad boy is going to find that women are distrustful of him and may at times not go to bed with him as quickly as he'd like or not want to engage in a relationship with him because he feels unsafe -- and any attempt by him to seem a little safe leads to a frame encounter.
Some examples include:
"Ray, you're fun, but you're all about sex and I need something real."


"I really like being with you, Chris, but we can't do this forever."


"Sorry, you're not my type. You're just too wild for me."
For either of these guys, it's too late to go back and set expectations properly.
That means, they're going to have to do some fire fighting.
It's always much better to not have to fight fires in the first place -- that's setting expectations properly. Proportionate to the time you invest in perfecting it, you'll get so many more returns out of working on coming across the right way than you will out of learning how to fix things when you've mucked up.
But you'll still muck it up here and there, no matter how good at expectation setting you get, so ultimately, you'll have to know this. So here's how you use frame control to change women's minds:
Getting Investment and Moving Things Forward
This is for generally getting investment from women and moving the interaction forward with them -- even when they push back and give you a little resistance.
Know what you want to accomplish. One of the principle places most men falter in frame control is not knowing what, exactly, it is they're trying to accomplish. It's like the guy who asks a girl to dance with him, and she declines; why was he asking her to dance? If he doesn't know, he isn't going to have any idea how to push for it properly or how to sell her on dancing with him.

Know why you want to do something -- is it to cheer her up? To move things forward with her? To get to know her better? You need to know the "why" behind your actions before you can do anything else.


Communicate to her what you want to accomplish. When she pushes back, that's because in her frame the thing that you're attempting to do doesn't make sense. So, you need to show her why it does. You might say something like:

• "Come with me; I'm going to cheer you up."
• "Let's go; we're heading somewhere quieter so we can talk."
• "You do want to go out with me, because you'll genuinely enjoy it. Come."

By helping her to understand that complying with you will lead her toward something good and positive that she will value, you make it much more likely that she'll consent.


Back off fast and casual, or persist to the end. When you try and get a girl to invest, or try to move things forward with her, and she resists and you have a frame encounter, you need to decided right away if you're going to casually brush it off, or if you're going to persist to the bitter end.

You can't halfway persist -- you can't ask her a few times, then give up, then go back to just hanging out with her, because she out-framed you and now views herself as more dominant than you are (murder for attraction). You've got to either ask once, then casually drop it and get another form of investment that's just caught your attention or that you just remembered to ask her about (ideally cutting off her decline in the middle), or you've got to persist until she agrees or you give up and walk away.

An example of each:



Rapid back off and diverting to alternate investment:

Guy: Let's grab a drink at the bar.
Gal: I'm not a drinker. I just-
Guy: Wait, I almost forgot. You were going to show me your new phone?

Persist to the end:

Guy: Let's grab a drink at the bar.
Gal: I'm not a drinker I just-
Guy: All right, I'm going to get a drink, and you can come with me and talk.
Gal: I'm fine right here.
Guy: You'll be more fine if we're hanging out and talking. Let's go.

Needless to say, the guy comes off a lot stronger in the second example, so you should always trend toward persisting whenever possible. Only back off if you sense it's an absolute lost cause from the very beginning (in which case, it'd have been better had you not asked, however).


Do NOT bring up the frame encounter. Regardless whose frame took precedence. If hers won, she'll feel dominant over you and attraction declines. If yours won, she'll feel beaten and want to slink off and lick her wounds. Once you've gotten her to comply with your wishes, leave it alone and never bring it up again.


Reward her. Make sure she feels extra good for complying with you. That doesn't mean rub it in -- resist the urge to ask her if she isn't glad now that she went with you (violates #4 above). Instead, just focus on her a lot more, deep dive her well and build a strong emotional connection, and be physically closer to her and more affectionate. She should feel like complying with you has moved things forward -- which it has.


Don't ask for too much for no reason. I almost didn't include this one, because I don't want guys saying, "Well, I don't want to invite her home, because maybe that'd be asking for too much," -- no. I don't mean "fail to get the girl so as not to ask for too much," I mean don't ask her to put in large amounts of effort with little incentive.

So, if she isn't in a dancing mood, don't bust your butt trying to get her on the dance floor, because it doesn't really move the interaction forward much (best thing it does for you is up her investment a bit for doing something she didn't want to do just because you asked -- but if she isn't heavily rewarded for that, you risk auto-rejection). And if she isn't a walker, don't ask for her to go for a walk around the block with you when you met her in a coffee shop (instead, chill at the coffee shop a while, then take her home or grab her phone number and arrange to meet her later).

Basically, avoid anything where a girl's wondering, "What's the point? Why am I wasting my time doing this?" unless you have a very good reason for it. This goes back to #1 -- know what you want to accomplish.
Frame control can work wonders for getting what you want. Basically, for frame control where you're putting yourself out there to get a girl to do or say something, you typically want the right expectations from the outset, and you typically want to persist and make sure she feels rewarded for complying afterward.
Deflecting Active Frame Control Attempts
For frame control where the girl's putting herself out there to test you, just toss it back to her. You can answer any testing / frame control style question with, "What makes you say that?" or "Why do you think so?" or "Why so interested?" and now she's backpedaling and qualifying her test. And you don't even ever have to respond -- a thoughtful "Hmm," or an intriguing, "I suppose, if you say so then..." to whatever she says after you put the spotlight back on her is going to end the topic almost every time.
There's one other variation of frame control, of, "Whose opinion is correct?" The rules for this variation are slightly different, and I'll detail them below.
Sometimes you'll find yourself in a discussion where both you and a girl are insisting you're each right. For instance, she might be saying that she thinks it's unfair for men to date younger women, while you're telling her fair has nothing to do with it, that's just the way of things.
The rules of proper frame control here are:
State your case clearly (why are you right?)
Come across impartially (not emotional or invested in being correct)
Shrug off further debate and move on
Using the example above, you'd end up in a discussion that looked like this:
Girl: I think it's totally unfair that older men can date younger women and that's considered okay, but that it's considered gross for older women to date younger men.

Guy: But there's no such thing in the world as "fair." There's just the way the world is, and that's that. The younger a woman is, the more children she can bear a man, and the healthier those children will be, so of course men are biologically more attracted to younger and healthier mates.

Girl: But older women can have children too!

Guy: Yeah, well. I don't make the rules, so don't blame me. Blame Mother Nature; she's cold and uncaring, and anything but fair. She just cares about what works best for survival of the species, and all else be damned. Why do you bring this up?
There, the guy:
States his case clearly ("This is why things are the way they are")
Comes across impartial ("Hey, I didn't make the rules -- blame Mother Nature")
Shrugs off further debate ("I'm not the one who decided all this") and moves on
He's likely to emerge with the victorious frame here; at the very least, they've achieved an understanding (her position: it isn't fair; his position: that's just life, and life isn't fair).
This is much better than the deferential male who bows his head and says, "You're right! It isn't fair! Let's change the world so women can date younger men!" when really this isn't his cause, there's nothing he can do about it, and it has nothing to do with moving the interaction forward. Instead, you want to come to an understanding, and limit future debate on unproductive topics.
Ultimately, frame control isn't hard, and it can be summed up with these several rules of thumb:
If she's testing you, ask her why she thinks so, then give her a vague response in a sexy voice after she tells you ("Yeah, maybe I'm like that... I haven't really thought about it too much. How about you?")


If you're asking her for investment or to move things forward and she's resisting, make sure you know what you're trying to accomplish, tell her why it'll be good for her, and then persist in making it happen and reward her afterward


If she's disagreeing with you on some kind of unproductive topic, reach an understanding by coming across clear and impartial, and then end further debate by disavowing any desire to try and change the way things are or taking a similar tack
You'll be shrugging off tests and reframing situations and behavior from ornery women like it's your job in zero time flat. The next time you start feeling like your frame is being tested, don't panic; just follow the steps above, and you'll have the ship righted before you know it, sailing on your way to tranquil waters with some beautiful new girl.
Talk to you soon.
Always,
Chase Amante
Get Your FREE eBook on Texting Girls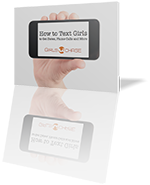 Sign up for our email insights series and get a copy of our popular ebook "How to Text Girls" FREE. Learn more ...
---


Trying to piece together a seduction strategy bit-by-bit, article-by-article, question-by-question? Stop killing yourself doing it the slow and difficult way - and get it all spelled out for you instead, in detail, in exactly the order you need to learn it... with homework, too.
With our complete mastery pick up package, you'll get our 406-page how-to eBook How to Make Girls Chase, our 63-minute long video Spellbinding: Get Her Talking, and 3 hours of audio training - all for less than the price of the book and video alone.
Quit banging your head against the wall - get it now, to speed your learning curve up dramatically... and start really getting the women you want to want you too. You can go right here to get started and be downloading your programs in minutes: How to Be a Pick Up Artist.
Related Articles from GirlsChase.com