Why "Fun" is a Seduction Killer
When a lot of guys plan dates, they seem to plan them with an attempt to address one specific concern:
How can I make this date fun?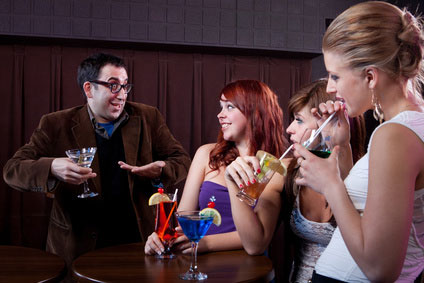 The fear seems to be that if the date isn't fun, a girl won't want to go. And how can you move things forward with a girl who doesn't want to go out with you?
I spent a lot of time trying to figure out and plan "fun" dates early on in my seduction career. I tried to be inventive, and innovative, and come up with engaging, exciting activities that my dates would not have experienced before.
The result? I was continually baffled by the fact that the women I ended up getting intimate to or getting close to intimacy with were the ones I had very boring, casual dates with, while the super fun dates at best led to the girl wanting to see me again another time – but not get together with me that time. I couldn't figure out why the dates I put the most work into structuring creatively and inventively turned out to be flops when it came to converting dates into intimate liaisons. I knew I was doing something wrong, but I just couldn't figure out what it was.
The turning point came when a buddy pointed out that I was overcomplicating my dates. "I just have girls come over to my place to hang out," he told me. "Then we hook up." Another buddy told me he did the same thing. I decided I ought to try that. So I did, and wouldn't you know it – it worked. I had girls come over to hang out, and voila, we'd get together more often than not.
Eventually I concluded that low-stress dates – like the Easy Dates I discussed in the post on Date Templates – were the best setup for achieving intimacy with a woman. Provided she was already interested enough to be comfortable relaxing with me in my apartment, all I had to do was have her come over, get her interested enough while we were there, and make a move. Boom – things would turn physical.
~~~~~~~~~~
That still didn't answer the question for me back then though: why didn't fun dates work for seduction? It seemed counterintuitive: show a girl a great time, and she should be very attracted to you – after all, you're giving her a ton of positive emotions. She should think, "Wow, this is more fun than I've had with anyone in a long time. I'd like to have even more fun with him!" and it'd be easy from there.
Except it doesn't work that way.
What I finally realized was it was all a combination of Law of Least Effort stuff, Value Compensation stuff (haven't written a post on that last yet, but one's in the works), and the Boyfriend Dilemma, mixed in with a healthy dose of adding too many steps to the date.
So think about it like this: you plan out a great, super fun date with you and this cute new girl you've met. The two of you are going to head to the amusement park, ride the water slide like you did when you were both kids, grab some cotton candy, go have a great meal at this really gnarly, different little restaurant near your place with its own cool vibe, and finally hit your place up for a nightcap to top off the evening. Of course, you get back there after your amazing date, pull your girl in for a passionate kiss, and it's close curtains, fade to black. The perfect ending to a perfect date.
But it pretty much never, ever ends that way. It almost always goess off-track. And here's how each of those things we just mentioned above contributes in its own way to knocking your best lain plans off course:
The Boyfriend Dilemma: a guy running his dates like this has just shown a woman that he's capable of giving her an absolutely amazing time. Think she's going to want to risk sacrificing a potentially incredible and rewarding long-term relationship with a man like that by getting physical with him too fast? Not likely.
Value Compensation and the Law of Least Effort: if a guy is working this hard to set up an amazing date… why does he feel like he needs to do this? While she enjoys the date, and appreciates it, there's at least a part of a woman's brain that's asking itself, "Hey, I've dated other guys who didn't feel like they had to work this hard to impress me… what's wrong with this guy that he has to?"
Adding Too Many Steps: finally, there are just too many places in here the date can go off-track. What if after the theme park, the girl is absolutely exhausted and decides she wants to take off? What if she has other plans that night she hasn't told him about, and after a few hours being out and about, she needs to book it? What does he do if after dinner she says she really enjoyed the date, thanks him, gives him a kiss on the cheek, and heads over to her car and drives home? Just too many transition periods and other places things can go awry jumbled into this well-organized mess of a date. This is a very difficult date to manage – needlessly difficult, in fact.
Because of all this, what you ultimately find is that the simplest dates you can put together are very often the best dates you can put together. If you check out the post on Date Templates linked to above, give a quick read-through of the date ideas listed there – you'll notice they're all simple, straightforward, and unimpressive in design and scope. There's a very good reason for this:
You don't ever want the focus to be on the date itself. You want the focus to be on you and your date spending time together.
The Danger of Putting the Focus on the Date
Social learners often oversell their dates to try to "win" their women over into going on the date with them. "Let's go do XYZ – it'll be awesome!"
They're trying to sell a super fun date. But that's not what they should be selling.
A woman who's sold on a super fun date will come out purely to enjoy the activity. Some beginning students of the social arts will find this the easiest, least assuming way of meeting up with girls, because the "date" can allegedly be about doing something completely harmless and un-date-like – such as playing tennis or relaxing at the beach. But because he's done such a good job of misrepresenting his intentions by overselling the date itself, a woman's far more likely to be there to enjoy the activity instead of specifically to spend time with him, and she's far more likely to be less attracted to him because of that, and to feel less of a social obligation to become involved with him romantically or physically.
If, on the other hand, a man tells a woman to come over to his place and hang out, it's far more direct, and a woman may be safe in assuming his intentions are more romantic and more sexual than the intentions of the guy who's inviting her to go to a theme park are. She also views the man who's putting more of an emphasis on them doing something together just to do something together, vs. the man who's putting more of an emphasis on the activity itself, as a more confident, straightforward man, and one more worthy of her romantic and physical affection.
A woman brings very different expectations to a date where she's going to be hanging out with you at your house than she does to a date where she's going to be doing a fun activity with a guy. They're just different scenarios.
And, really, think about it. If your goal is to get intimate with a girl as quickly as possible, how does doing some super fun thing help you more than doing something relaxed where the two of you can get to know each other with minimal distractions or interruptions?
"Fun" is a seduction killer. Seductive guys know that – and they limit the woman's "fun" to the kind of fun that women have just being with them. Spending time with you should be all the fun a woman needs.
If you've been focused on overly complex, overly thought-out "fun" dates, maybe now's the time to scrap them and find something a lot more… sexy. Bet the girls you date will appreciate it – and so will you.
Always,
Chase
Get Your FREE eBook on Texting Girls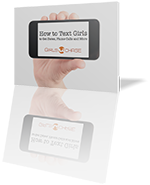 Sign up for our email insights series and get a copy of our popular ebook "How to Text Girls" FREE. Learn more ...
---


Trying to piece together a seduction strategy bit-by-bit, article-by-article, question-by-question? Stop killing yourself doing it the slow and difficult way - and get it all spelled out for you instead, in detail, in exactly the order you need to learn it... with homework, too.
With our complete mastery pick up package, you'll get our 406-page how-to eBook How to Make Girls Chase, our 63-minute long video Spellbinding: Get Her Talking, and 3 hours of audio training - all for less than the price of the book and video alone.
Quit banging your head against the wall - get it now, to speed your learning curve up dramatically... and start really getting the women you want to want you too. You can go right here to get started and be downloading your programs in minutes: How to Be a Pick Up Artist.
Related Articles from GirlsChase.com