The Seduction Sensei Conversation Series With Chase Amante...
"How To Easily Tune In On, Tap Into,
And Listen To Real Guys' Problems
With Women Get Solved By A Man
Who's Found Women's Secrets—
And Actually Listen To Me Teach
Real Guys Like You Exactly How
To Succeed With Women—
All From The Comfort Of
Your Computer, iPod,
Or Smart Phone..."
Now You Can Listen To A Man Who's Mastered Women And Dating As He Trains Real Men To Achieve Incredible Success...
Dear Friend,
Have you ever felt like other men know something about women you just don't?
Like as if they've figured out some kind of SECRET INFORMATION about women that allows them to do so much better than you do... and you just wished you knew what it was?
You've seen men hitting it off with women minutes after meeting them. Probably LOTS of times. Maybe at parties or social events. Maybe they were even friends of yours. They just walked up, started talking to the girl, and within minutes she was laughing and chatting away with them... maybe she even went HOME with them.
And you just shook your head and wondered what it was they knew that you didn't.
You knew it wasn't that they were rich. They weren't.
And it wasn't that they were particularly good-looking; they weren't that either.
There was something else going on. Something they knew that made them successful.
Wouldn't you love to know how these guys were making it WORK?
What if you had your very own coach... a sensei... a guy JUST LIKE one of these guys, who knew what they knew about women and used that knowledge to get CRAZY SUCCESS with the opposite sex... who could pass all those secrets onto you?
Wouldn't you love to listen to such a man answer the questions you have about women and have him detail exactly how to get the same success those other guys get?
 
Learning From Real World Examples
Is Absolutely Crucial
If I promised you I was going to teach you how to be a world-class scuba diver, and then I proceeded to give you a one-shot lecture on scuba gear and diving technique and what to watch out for when underwater, and then I took your money, kicked you out of the boat, and told you to go do good, how far do you think you'd get?
Would you maybe even be a little MAD that all I did was cover the basics with you and let you go?
You'd probably have a lot of questions.
You'd probably want clarification on things you ran into.
You'd probably need refreshers and reminders and someone to help you get refocused on the right things as you sought to become a better diver.
You'd probably need a TEACHER. Not someone who just told you what to do once and then told you to go do good, but someone who was there with you, CONTINUOUSLY as you improved, providing coaching, guidance, and support.
A sensei, if you will. A scuba sensei.
Well, dating and seduction is EXACTLY THE SAME.
You won't get good with women from a single skim through a book... not even a single skimming of my book How to Make Girls Chase (you need to actually get out there and do the homeworks in the book).
You won't get good with women from one view of an audio or video series.
You won't get good with women out of just one phone coaching session, or weekend workshop, or 1-on-1 training.
You need a CONTINUING influence to keep you on track. Every great athlete, musician, politician -- you name it -- has had great coaches and great teams of people around him HELPING him to improve. He didn't do it on his own.
And just like those other folks who made it big, if you want to achieve TRUE SUCCESS with women -- and especially if you want to achieve that success FAST -- you need someone there to help you along the way, to answer your questions, and to provide a light in the darkness.
You don't need a scuba sensei. You need a seduction sensei.
 
Finding Someone To Learn How To Succeed With Women From Isn't Easy
There's an old saying I like a lot. It goes like this: "When the student is ready, the master will appear."
Thing is... well... there are a LOT of men out there who'd like to learn how to be good with women. A LOT more of them, in fact, than there are men who already have the skill down and could teach them.
And most of those guys who know how to do well with women... well, the best they can do at explaining what they do is to say, "You just go talk to girls, and then make something happen."
They can't train you to do what they do because they don't know HOW to train you to do what they do.
They just know how to DO it.
And of the guys who DO know how to get crazy success with women, and who DO know how to teach what they do... how much time would you guess any one of them has to devote to the LEGIONS of men who'd love to pick his brain and learn from him?
No matter how kind and charitable a guy he might be, how much time do you realisitcally think he can take from his job -- from his friends and family -- from all the WOMEN he's seeing -- to stop and train the guys who'd like his help?
Right. Not a whole lot. He's only got so much time in a day... and there are HORDES of men who'd like to have his help if they could get it. And he's got his own life to live.
How then does a regular guy get access to that kind of a teacher?
How does a normal guy off the street get answers to the questions that are puzzling him, insights into the things he doesn't understand, and access to those little flashes of inspiration it would've taken him YEARS to arrive at on his own...
... WITHOUT already being close friends with someone who's achieved levels of success above and beyond with women and dating?
How's a guy to pull that off?
 
How To Get Continual Coaching—
And Learn To Succeed FAST
What if I told you that I knew a way for you to get some of the STICKIEST questions about women and dating answered?
And what if I told you it was me -- PERSONALLY -- who would be answering those questions and presenting the battle-tested solutions I've spent 6 YEARS devising?
And what if I even told you we could SAVE and RECORD the question-and-answer sessions I hold with real guys with real questions about women so you could play them back and listen to them and learn from them as MUCH as you wanted?
Well, as a matter of fact, I've set it up for you to be able to do exactly that.
Announcing My Seduction Sensei Conversation Series
I've spent a great deal of time coaching guys over the phone and in-person, and let me tell you... no matter how great an ebook, DVD series, or any other product I or any other guy comes out with is... there's STILL no better way to learn fast than plainly and simply GETTING YOUR QUESTIONS ANSWERED and getting insights and advice from a guy who's BEEN THERE.
No two ways about it.
And when you can't be there yourself -- when you can't or aren't in a position to shell out the BIG BUCKS for getting in-person training in-person -- the next best thing you can do, of course, is LISTEN IN on live training.
And I'll tell you one thing: NO HOLDS ARE BARRED!
I give my students -- and my listeners -- a crash course in seduction every time.
And that includes everything from the most CUTTING EDGE, newest, most TRAILBLAZING stuff around -- to the most solidly fundamental, common sense type stuff that guys nevertheless JUST DON'T SEE.
I begin your audio series with TJ, a guy who's moderately experienced in the game. Here are just a few of the secrets we discuss:
How to troubleshoot deep conversation with women (when you keep messing up)
How to jazz up your eye contact and voice to the hilt (so she won't be able to look away)
How to overcome resistance to kissing (and stop trying to plan the "perfect" first kiss)
How to shoot down "let's just be friends" (and NEVER end up in the friend zone again)
Why being funny is not what gets you girls (and what actually does get them)
And... that's just the tip of the iceberg.
These conversations are going to provide you limitless tools, resources, words and examples you can use EVERY day with ANY woman of your choosing. I talk with guys who are just starting out on their journeys of improving with women, guys who've been at it for years, and everyone in between -- and because of that, you don't just get a small sampling of the total spectrum of knowledge.
YOU GET THE WHOLE SPECTRUM.
You're going to get such a wide variety of diverse, useful material to start using with women right away your head will spin.
In other words, each conversation is new, fresh, and filled to the brim with sharp, fascinating, PRACTICAL info.
Stuff you can put into practice immediately.
And on top of that, each conversation is a lot of fun, too, and we always come out of it with some really dynamite stuff.
 
Each month for six months from late 2011 to early 2012 I put out a new edition in the conversation series with guys with various new and diverse questions about meeting and succeeding with women.
I initially only opened the opportunity to listen in up to a limited group of select men... and now I want YOU to be among them, listening to the best of these tips, tactics and techniques to ELECTRIFY your results with women.
Bet you think that'll cost you an arm and a leg though, don't you?
Well... I'm here to tell you it just ain't so.
What would you say if instead I told you it was only sixty dollars?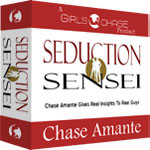 When you purchase my Seduction Sensei Conversations package, I'm going to send you four professionally edited and narrated interviews via direct digital download for only $59.98.
I'm so confidant you're going to love these conversations that I'm even going to make them INSTANTLY available to you to download upon signing up. If you love them (which you will), keep this package, use it, and enjoy it to the max.
If you get these conversations and find that for any reason you DON'T love this package and get INSTANT returns out of the ideas and concepts and techniques you learn, you can cancel and the conversations stay yours, FREE, simply for taking them for a test drive. I'll say that again... you get to keep your copy of the conversations... even if you decide this program isn't for you.
That's at least an 80 dollar value (that's what we sold these for originally), and just for trying this program out you get it for more than a quarter off -- and this unique 25% off offer is only available with your purchase right now.
My Watertight, Unbreakable
100% Guarantee
I know you probably want to take things for a test drive before you buy. I'm the same way and I wouldn't expect you to be any different.
So here's what I offer you:
Purchase my conversation package. Let me send you these conversations AT 25% OFF as my thank you to you for signing up. Listen to them from start to finish, and take up to 30 days to go over the material in-depth.
If you're anything short of INCREDIBLY HAPPY with the program, just write me within 30 days and you can KEEP your four conversations, you get your $59.98 BACK, and you don't pay a single CENT. You heard right, I said if you're not positively enthusiastic about it, you can keep it -- no questions asked.
That's about as good of a try-it-before-you-buy-it offer there is. I'm THAT confident you're going to love this.
Quick? Sure is. (fast purchase & instant delivery)
Risk free? Most definitely. (refund for any reason you're unsatisfied)
Easy? You bet. (digital download you can listen to on your computer, MP3 player, or smart phone)
Hell of a value? YES!
Just click the link below to buy now.
Your Friend,

Chase Amante
As always, if you have any questions to ask me about this program, you can contact me by clicking here [2] and I'll see to it you get answer soon.
Sample Some Of What You'll Get...
You can listen below to a few samples of what you'll receive
with your first month's download.
Why Fun Dates Often Backfire - 1min 19sec
How To Get Women Attracted... By Talking Less - 2min 59sec
Using Time Limits To Get Better With Women Faster - 1min 10sec
P.S. I'll run through this again... You buy online with your credit card or PayPal account now. You'll get your four conversations for just $59.98 to download instantly, right away.

If you're anything short of delighted with what you listen to, you can get a refund and keep your bonus conversation free of charge just for trying this program out. This is your opportunity to hear one of the most talented dating and relating minds in the world cracking the problems of regular guys out there dealing with regular women. Buy now so you don't miss any of it!