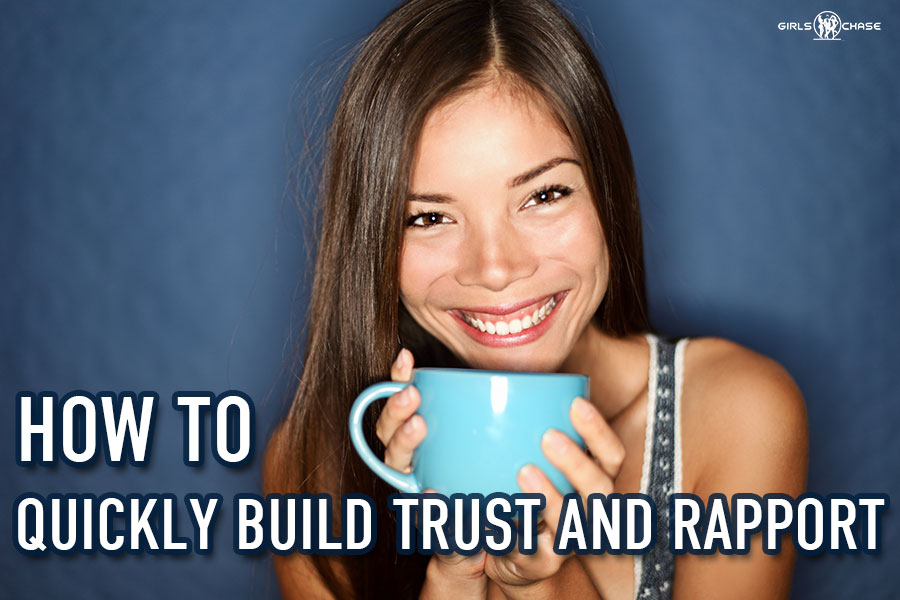 You can throw a seduction into overdrive by building rapport and trust with your girl. To quickly build rapport and trust, use contrasting and listing.
Rapport is something I've touched on before. It's that nice, warm feeling you get just by being around a close friend you share some commonalities with, or a workplace colleague you'd trust enough to share the more personal aspects of your life. It comes from being understood by another person, someone who can communicate with you in just the right way, the way you like.
Charismatic seducers – confident and attractive men who ooze warmth – tend to build immense amounts of rapport at breakneck speed with the women they meet and seduce. They know how to talk to girls in a way that makes them feel understood quickly, and with great communication skills, the rapport builds faster and deeper, until she starts feeling like she can trust them.
These men will meet attractive women via day game, night game, social circles, or pretty much any room they step into. They'll be able to turn a causal, five-minute chat into a deep, fascinating baring of souls, an intimate conversation that can stretch out over long periods. They will often end up back at his or her place, getting even more intimate – this time in the physical sense.
As I mentioned in my previous article on rapport, the more rapport you can build, the more she will feel like she can trust you. Trust and rapport are directly correlated with one another.
The women I meet often tell me some of their deep, dark secrets and remark that they're surprised they're telling me this… before going ahead and telling me anyway.
I've had women share their sexual fantasies, as well as intimate thoughts and experiences they've had, things they aren't even comfortable sharing with some of their female friends, most of the men they meet, and even their boyfriends. These are women I have met via cold approach. I made them trust me, and you can learn how to do it, too!
It's a great ability to have. Think about it – if a woman you cold approach trusts you enough to share some deep, personal aspects of her life with you, she's obviously going to trust you enough to give you her phone number. She'll trust you enough to meet up later for a date, and she's not going to feel weird about going back to your place.
In my previous article, I shared some tips and techniques you can use to start building rapport in your day-game conversations with women. Think of that article as a primer. If you haven't read it already, I'd recommend taking some time to go over it before continuing.
In this article, I'll be sharing even more techniques you can use in day game or pretty much anywhere you might find an attractive woman worth talking to.