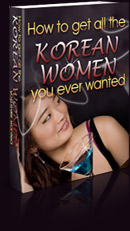 01

My buddy BlueMystery, whom I had a blast partying with over in Seoul a year ago, has finally put down all the knowledge and skill he's accumulated meeting and dating women over there into a comprehensive ebook.

And it's a great, solid book, too. Having helped proofread the first version, I can attest the time and dedication that Blue put into strapping together a quality product. The sections on inner game and figuring out what you really want from a woman are fantastic and are applicable to ANY kind of girl, actually, and the suggestion that you pull up roots and MOVE to where the kind of women you want live is... well, not something you here from a lot of folks, but it's great advice and quite refreshing.
About the Author: Chase Amante
Chase woke up one day in 2004 tired of being alone. So, he set to work and read every book he could find, studied every teacher he could meet, and talked to every girl he could talk to to figure out dating. After four years, scads of lays, and many great girlfriends (plus plenty of failures along the way), he launched this website. He will teach you everything he knows about girls in one single program in his One Date System.