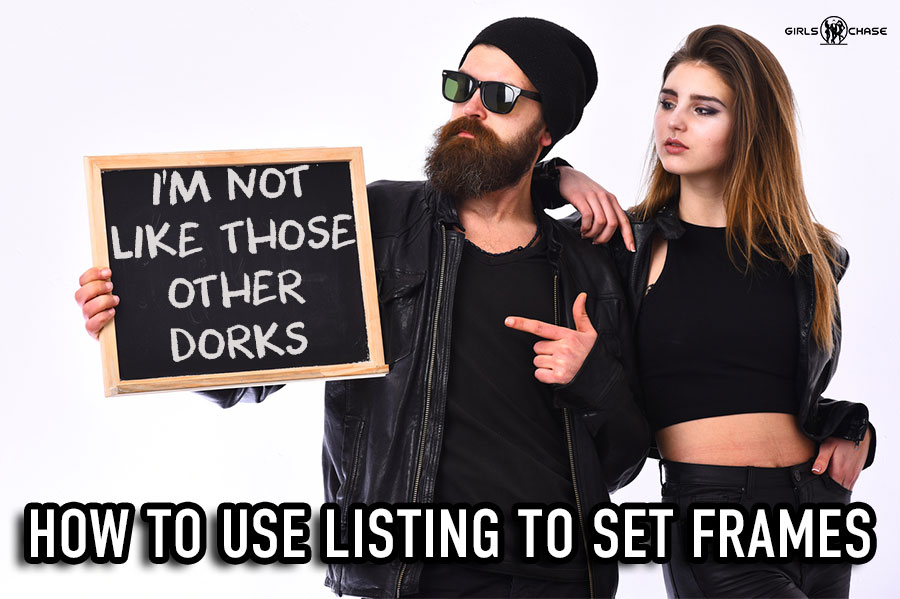 Frame control is a master weapon in seduction. And "listing" is a great way to set frames with a girl by making you stand out as someone she'd love to have sex with.
We've been talking a lot about frame control lately, and I'd like to chime in with a specific technique I've found quite handy for setting frames. Namely, LISTING.
As a seducer, there are many frame control techniques and tactics at your disposal to aid you when it comes to getting girls. You can use these techniques to direct the flow of your conversations.
Some are persuasion tactics and specific techniques to set and solidify certain frames in your seductions. Sexual frames can benefit you by giving your interactions with women an exuberant air of sexuality that can ramp up her lust for you.
There are even ways you can use frame control to talk your way into higher levels of compliance with the girls you meet. These enable you to move fast, isolate her quickly, or even take her home just minutes after approaching. In fact, there are dozens of frame control techniques you can learn to help you with each and every one of these things.
And while it's generally recommended that a seducer on the path toward mastery should expand his toolbox as much as possible, he should also learn as many of these techniques as he can to develop a varied arsenal and complete skill set. This is especially true for seducers who subscribe to the controller class. But unless that seducer is already at the advanced level in his journey, then this is a task that could be rather overwhelming.
Like I mentioned earlier, there are many, many frame control techniques out there, and after I took the time to learn and internalize a good chunk of them, I noticed that a number of these techniques are unfortunately quite complicated.
Faced with the task of learning all of these cutting-edge yet highly complicated techniques, it would be very easy for many students of the game to fall into information overload. It's not difficult to end up confused and overwhelmed with the sheer number and complexity of these tactics.
But what if there was such a thing as a multipurpose frame control technique?
What if there were some extremely versatile techniques you could master that would enable you to enjoy several benefits that come with great frame control? So instead of having to learn dozens of different techniques, you could just learn a handful. After all, it's easier to master one well-rounded method and make it a part of you first than to struggle while trying to learn nine or ten specific ones. Plus, once you've mastered one of these techniques and reached the point where you can use it naturally with unconscious competence – you can always come back and learn another.
The good news is these techniques do exist. And some of them are easy to learn and use.
In this article, we're going to discuss one of these multipurpose frame control techniques. Listing is a technique I regularly use in the field because of its potency. By using listing, I was able to bed a number of pretty girls last year.
In this article, I'll explain what listing is and how to use it. Then I'll give some examples of how you can use this technique to accomplish a variety of important actions when it comes to getting girls. Listing can help you get better frame control and enjoy more success as a seducer.