Why She Doesn't Need an "Instant Date"
I've had a few guys ask me recently about the instant date, one of which is a comment I address further on down in this post.
And the point I've been making here repeatedly is… instant dates are good where applicable.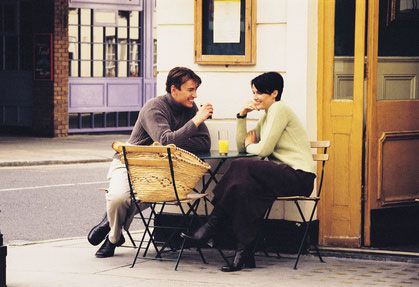 But you don't need them to pick up girls.
Let me start at the beginning though.

Remember the post on getting your sexy vibe, where on the day I had a date with the virgin, but she had to leave early because her brother needed a ride?
Well, the good thing about dating multiple women is that you're never empty-handed… no matter what happens.
And after the first girl had left, I found myself alone in my apartment, and not yet ready for my evening to be over… chatting to some of my girls on Facebook, to see who would be up for some spontaneous naughtiness.
The first girl to bite was one I actually hadn't met in over a year… and that's another great thing about the ideal relationship.
You can stay friends with your girls forever.
There is no need for "closure" if you stop seeing each other… there is no breaking up. You can pick up right where you left off any time… I've sometimes even done this as much as six years later.
There is also no fighting, bickering or drama, so even when you're not sleeping with each other because she has a boyfriend at the moment, you will likely be friends for life… and when she's single again, she might come over for a night.
But most importantly, there are no hard feelings anywhere… since the very foundation of the relationship was honesty and transparency, no one ever gets hurt and your girls will always be happy to see you, wherever and whenever you might run into them.
And the final benefit… if a date goes nowhere, you have someone to call. ☺
A Day in the Life of a Seducer – Part VII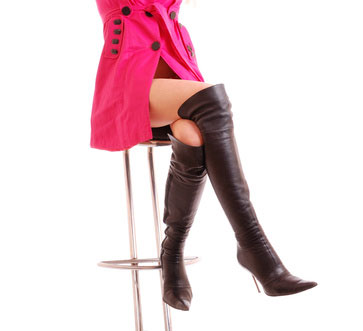 She arrived at my apartment in dead-sexy boots above her knees and a black coat.
Once inside my room, as she was sitting on my bed, I positioned myself behind her, slowly kissed her neck and then took off her coat... only to find that she wasn't wearing anything underneath.
No underwear… no bra… NOTHING.
Only the coat and the boots...
HOT!
(If you're a girl reading this, and you're looking for a way to surprise the guy you're dating… try it! It certainly got my attention!).
This was even more exciting because her body just kept getting better and better… I don't think she does anything in life other than her studies, clubbing every night and hitting the gym HARD every evening.
Except for the weekends… judging from her sexy bikini marks!
But don't worry, this post isn't purely motivational… I have more in mind for today's lesson than just painting a vision of what your life will be like once you gain mastery in this skill.

As always with these day-in-the-life posts, there are going to be practical takeaways and tips you can use TODAY to improve your dating life…
So let's get into it: here's how I met this girl.
Boots on the Ground
I approached 11 girls that day… and the reason why I still know not only the exact number but also the exact way every interaction unfolded is because I keep a journal. I highly recommend you do the same… all the people I consider to be the best with women were in the habit of journaling about every time they went out, and about every approach they made… at the very least while they were still learning.
Be honest – write about failures and successes, about the plateau-leaps we discussed in "How to Seduce Women" as well as the setbacks. It will help you to analyze your progress and find patterns, as well as to reinforce everything you did right.

At one point in my studies and analyses I even noticed a shocking correlation: the more pages someone had written in his journal, the better he ended up getting with women… absolutely proportional.
Back when I learned how to meet women, I was studying blogs like this one, and reading the posts of accomplished seducers just as you are doing now… but I always found it hard to imagine what their lives really looked like.
If I was to meet one of these guys and we were to go out and chat up chicks together… how successful are they really? How often do they strike out? And when they do succeed, how does it all go down?
Well, if you and I had met up in person the day I met the boots-and-coat girl… and if we had hit the streets together to pick up on babes together, this is what you would have witnessed:
(Feel free to skip this bit if you have several hundred approaches under your belt already - you won't find anything earth-shattering here in that case.)
The 1st approach went pretty well, but up-close the girl looked really young and turned out to be 16 when I asked.

Throw the little fish back in the water my friend – as I mentioned, we have all kinds of awesome stuff for sale here but get-out-of-jailfree cards like in Monopoly aren't in the catalog.

The 2nd girl I talked to was not interested in me. Shocking, I know… hey, not every girl has good taste! ;)

The 3rd girl didn't seem to be interested either. She said she was in a rush and kept walking. That's fine… all good. The day is young.

The 4th girl I approached was on her way to a class, but only in town for one more night. We exchanged numbers, and I ended up meeting her later that night (no instant date, notice) and sleeping with her before she flew out – but she's not the girl this report is about, so I'll tell you more about her another time. Though one takeaway is that girls who are traveling or on vacation are always a lot more open to affairs, as they don't have to worry about social repercussions - see the post on beach pickup for more on this.

I walked into a busy subway station and approached a girl standing right next to the gate. She looked as if she was waiting for someone, and that turned out to be true – just as I was about to take her number, her boyfriend showed up. That's why you should never keep your girl waiting… you never know if a Chase or a Ricardus is around. ;)

The next girl left the subway as I approached her, and she had a really tired and grumpy look on her face. I approached her anyway, because if a girl is hot, I'm game to try and lighten her up… but she ignored me completely. It happens... don't stress it. It's about her, not about you.

Next, I approached a stunning black girl – she was a lawyer and on her way to work, so all we had time for was swapping digits. This number also never went anywhere… I recommend you review the article on how to make her want you, where we talk about "filling and emptying the funnel" if you don't already have it top-of-mind.

The 8th girl I talked to that day was as sexy as they come… tears in her pants, and a busty rack in a low cut shirt… but when I approached her, she said she was married.

I went back to the streets, and saw a girl at a bus stop glance in my general direction twice… so I went and chatted her up. I wasn't sure if she'd actually been looking at me or if that had just been a coincidence, but I started the conversation by accusing her of checking me out anyway… that went quite well, and so we exchanged numbers... though once again, for the sake of full transparency on this blog and to cut all and any hype you see out there – nothing came of this number either and I never saw her again.

Approach #10 was a girl whom I could have sworn was a professional model, but alas, she just worked at the post office. Fascinating, those girls who are beautiful but don't really know how much power that gives them.

And the last approach was the one from the scene above with the boots and the coat… her first comment when I approached her was that I come across like somebody who's totally loaded… not because I was wearing expensive clothes that day, but because my vibe was carefree, I wasn't stressed or rushed like all the other cubicle busy bees, and I had the time and the nerve to stop a girl in the middle of the street, in the middle of the day.
That, by the way, is why The Success Factor works… attraction is quintessentially based on social status, and that status is communicated in your vibe, in a million subtle ways.
Somebody Post This on the Failblog!
Damn, Ricardus… that's a lot of rejections, boyfriends, flakey numbers and husbands in the picture!
Yup, it is…
I never promised that you could walk up to five girls and make all five of them your girlfriends.
I'm not an illusionist in a hat… and it is therefore not my intention to sell you an illusion!
However, while you cannot get any hot girl you want at will, there is something else that you can do, and that is just as good: you can get as many hot girls as you want at will.
At the end of the day (not actually the end of THAT day, but metaphorically), I still got into sexual relationships with two out of the eleven girls I approached.
Somebody call the suicide prevention line… not!
In fact, this afternoon was above average!
If on any given day that you do approaches you can just meet ONE girl who will end up being (one of) your girlfriend(s), you're doing pretty good…
…do the math! That means if you went out every day, you would sleep with 3,650 women in the next decade.
The red pill or the blue pill, Neo? I'll take both… the red pill to wake up from the dream and begin designing your reality… and then the blue one for stamina!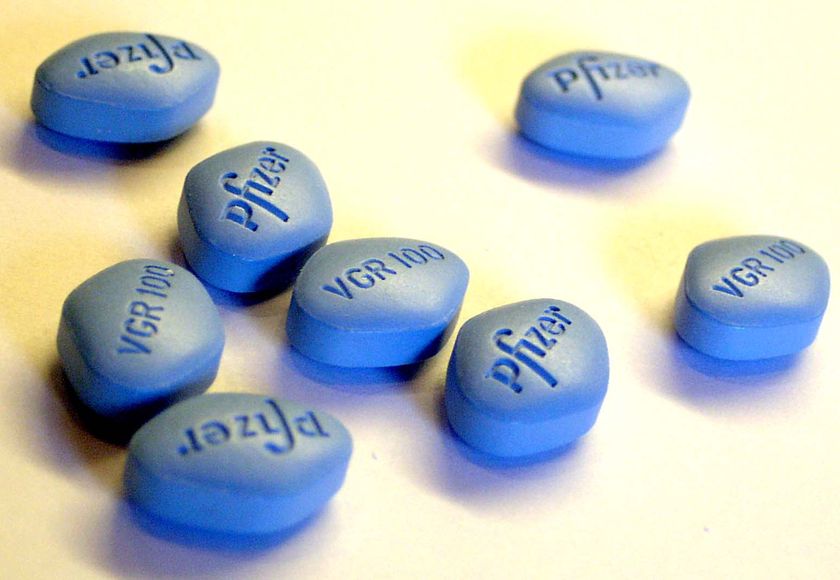 You're starting to see how inconsequential rejections really are. They mean absolutely NOTHING… so long as you get a certain percentage of your interactions to go somewhere.
Then it's just a matter of
Gradually tweaking (see: "Seduce Her Every Time") your vibe, presentation and your skills little by little to improve that percentage, and

Doing enough approaches to get as many dates as you like – having a different date every night is no problem if you just do the math and then do the approaches.
When She DOES Need an Instant Date
In the post about the sexy vibe and the virgin, Prince commented on instant dates:
"Great posts man, keep it up!

I have noticed neither you or Chase have made an article on 'Instant dates' and what you are think about them. And some of your blog entries contradict each other...

e.g. Law of least effect is good, but when you apply that to texting a girl you only interacted with for 5 minutes on the street and you try to organise a date straight away in the first text or so... could be problematic?

Could you PLEASE do an in depth article on day game and flake prevention, because a lot of people say it's a numbers game... but the pros know that you have to build a really strong connection in your interactions, so instead of a numbers game it becomes something else.

Girls hand out their numbers like candy these days! And if you think about it, a girl who is approached by a confident, sexy guy etc. will give her number out because it has rarely or never happened to her and is caught up in the moment... which would/could easily lead to a flake especially with beautiful women who have many men that they could easily date from their social circle and what not.

Also I think Chase mentioned that keeping an interaction short VS long was the way to go... but then there are instant dates which supposedly reduce the flake rate for daygame. In a short time frame can you build a really solid connection? I strongly agree it is detrimental to be Mr. Funny pants, super exciting etc. when approaching. I'm really calm myself and am into the whole vibes thing too.

Honestly, it will be much appreciated if you gave your insights to what I have mentioned above in a blog entry.

Regards,

Prince "

Prince… that's an excellent question. I don't think there is anyone who doesn't go through the phase you're currently struggling with… you get a ton of phone numbers, and while your friends are impressed, you know that you might as well have no numbers at all because none of these girls are picking up your calls!
Check out this article about the topic if you haven't yet: "What to Text Girls to Get DATES."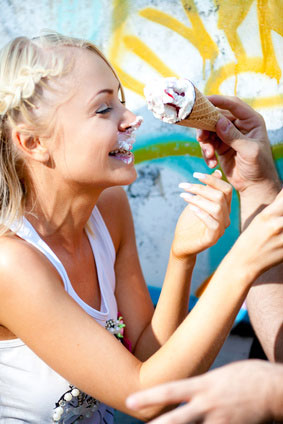 That said, a couple of years ago, some of us dating coaches (I'm thinking of two of my colleagues in particular) stopped taking girls on instant dates. Their reasoning was simple: a short interaction will make her more curious and intrigued… she will be more curious to find out more.
I have a slightly different take on this – as there are really three scenarios:
She doesn't have a lot of time when you approach her, she's on her way somewhere and busy. This is going to happen in 90% of cases during the day, so you don't even have to worry about an instant date. Verdict: no instant date.


She has 30 minutes, maybe an hour, to spend with you. In that case, I agree with the theory that an instant date, while building a certain connection with the girl, will greatly reduce the mystery and intrigue you can build with a quick, powerful approach. I never do instant dates in this situation anymore – ever. Verdict: again, no instant date.


If I find out that she has 3-4 hours on her hands or more, then I will take her on an instant date… and afterwards, back to my place. See "Day Pick Up" for more on that one. Verdict: finally – instant date!

You might've noticed that none of those girls I met earlier I took on an instant date – not even the two I later slept with.
But wait Ricardus, you might be saying… what is an instant date? And how do I pull it off?
An instant date is any time you take a girl you've just met and go on a little date, right there.
Simple.
You could take a girl you've met on the street or in a bookstore or grocery store or mall and go to:
A coffee shop
An ice cream parlor
A park bench
A picnic
The beach
The boardwalk
A café
A restaurant
A bar
Window-shopping in the mall

… or almost anything else you can imagine.
All you need, really, is for her to have some time free, and for you to get her to come with you. That's an instant date.

So as you can see, it depends mostly on her logistics – something you want to ask her about pretty soon after the approach. This is one of your first big way points, and it allows you to make an informed decision on how to proceed.
The Best Thing a Man Can Do for His Health
In my last post, "Dating Tales," I talked about male brain chemistry and how it relates to a man's dating abundance… and about how men who don't have a lot of options in women easily fall in love and even develop obsessions and depression.
On the other hand, once you get to a point where what we talked about above in this post sounds not only plausible but very familiar, you will experience the opposite of this phenomenon… and knowing that you are currently dating a good dozen girls, all of whom are hotter than the girls you were wishing you could get back in high school, you will be on a constant natural high.
An abundance of women you're intimately involved with is THE healthiest thing for the male brain chemistry… and other seducers I know confirm this.
You will always be glowing and smiling.
You will walk through your days with a spontaneous energy.
If you could master... and I'm talking about truly master... one skill in this life, what would it be?
Kung Fu?
The guitar?
Ikebana?
How about approaching the hottest girls you see downtown, taking them on an instant date then and there or grabbing their number and talking to them later, and finally taking them home for steaming hot sex…
Sign ME up for that one.
Onward and upward,
Ricardus
Get Your FREE eBook on Texting Girls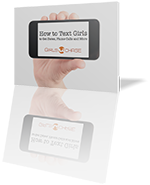 Sign up for our email insights series and get a copy of our popular ebook "How to Text Girls" FREE. Learn more ...
---


Trying to piece together a seduction strategy bit-by-bit, article-by-article, question-by-question? Stop killing yourself doing it the slow and difficult way - and get it all spelled out for you instead, in detail, in exactly the order you need to learn it... with homework, too.
With our complete mastery pick up package, you'll get our 406-page how-to eBook How to Make Girls Chase, our 63-minute long video Spellbinding: Get Her Talking, and 3 hours of audio training - all for less than the price of the book and video alone.
Quit banging your head against the wall - get it now, to speed your learning curve up dramatically... and start really getting the women you want to want you too. You can go right here to get started and be downloading your programs in minutes: How to Be a Pick Up Artist.
Related Articles from GirlsChase.com