What to Do with Your Girlfriend on Valentine's Day
This is part of a two-part series on Valentine's Day I'm releasing this year since we haven't really gone into the subject in any great depth before. Today's is "What to Do with Your Girlfriend on Valentine's Day," for all the attached beaus out there, and, early Thursday morning, I'll release, "How to Pick Up a Girl on Valentine's Day," for the gents who are single and looking.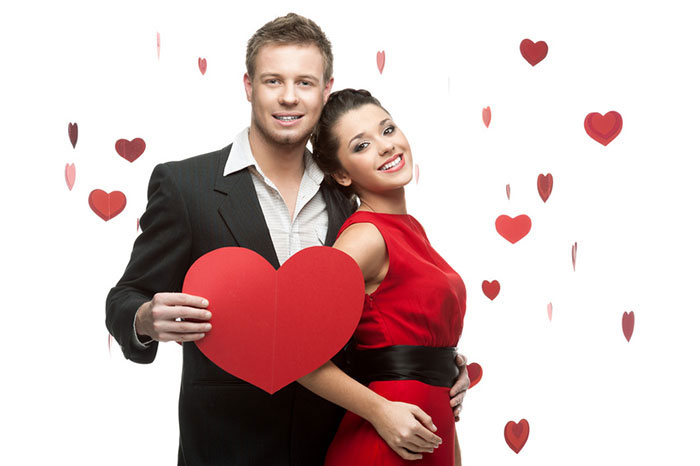 I want to start this series with what Valentine's Day is in the West these days, and what it means to women, and why you should care about that.
After we cover that aspect of it, we'll have a look at how to treat the holiday if you're already in a relationship (or relationships!), and how to tackle it if you aren't.
Here we go.

A brief history lesson first.

There are no recorded ties between Valentine's Day and love or romance prior to Geoffrey Chaucer's Parlement of Foules in 1382, in which the poet mentions birds mating on the holiday. It was generally seen as mid-February that birds began mating as spring began appearing.
In the Middle Ages a tradition (condemned by the Church) appeared in Europe of men drawing women's names from jars on Valentine's Day to select a random sex partner. A little later, the holiday morphed from being one of casual sex to one of romance, and letter-writing and poetry on Valentine's became popular... by the end of the 18th century, there were books with Valentine's Day lovers' poems for men who lacked the creativity to come up with their own.
In early 19th century England, paper Valentine's Day cards became immensely popular, and in 1847 an American woman named Esther Howland began to mass produce valentines for an American public, and the holiday soon became the commercialized holiday it is in the English-speaking world now... setting the tone for the commercialization of other holidays soon thereafter.

What Valentine's Day Means Today
Valentine's Day has shifted into something of a reminder for single women in the West of their success or failure at landing a committed boyfriend. Emotions generally work out like this:

A woman in a committed long-term relationship who's been in that relationship for sometime hardly notices Valentine's Day, most of the time. "Oh, Valentine's Day?" she'll think. "That's nice. I hope Bruce gets me some flowers and chocolates this year."

A woman who's just started a relationship relatively recently feels a great deal of pressure around Valentine's Day, oftentimes. "Oh my," she'll think, "is Kevin going to get me something really special for Valentine's? Or, is there a chance he doesn't want to do anything at all?" For her, the day is something of a validation (or not) of how "real" (or not) her relationship is. An underwhelming Valentine's Day can sometimes even lead to depression and breakups, if it's taken as a sign that the male of the partnership isn't nearly as committed to that partnership as she'd thought or hoped or desired.

A woman who's single on Valentine's Day feels anything from sadness and loneliness and depression to indignation and resentment at the holiday and a desire to push it away and tell the world how much she doesn't need either it OR relationships (usually depending on which of the four kinds of girls she is... soft feels sad, strong gets angry). Either way, she has a negative emotional reaction to the holiday that's nested in her feeling alone on a day that, culturally, she's supposed to be sharing with a loyal, devoted male.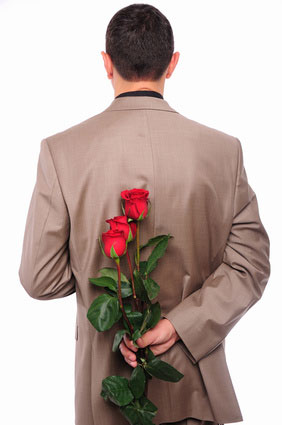 Valentine's is a heavily woman-centric holiday. Everything is in pinks, purples, and reds not because those are "the colors of love," but because they're colors that women tend to like and respond to more than men (there's actually research showing that female infants have a stronger preference for pink than male infants do... go figure).
And, the net effect of the holiday is that it puts pressure on women to be in committed relationships.
Societies that are more commitment-centric than Western culture often have ways of seconding this holiday motion. For instance, in China, Valentine's Day is celebrated as in the West... but so too is another holiday, called "Singles' Day," celebrated on November 11th (11/11... all "ones" in the date). My understanding is it began as a purely commercial holiday (stores wanting another excuse to sell more cards and gifts), but it became a cultural fixture because Chinese put so much pressure on singles to marry quickly. The effect of it is that people in relationships don't even notice, but singles on singles day (especially the women) just end up feeling "singled out," lonely, and depressed.
These are cultural tools for pressuring women into committed relationships. In that way, Valentine's Day is something of an artifact from bygone days when it was culturally acceptable (and encouraged) in the West for parents and other older, experienced individuals to instruct their daughters that they needed to get serious and get committed before their looks began to fade and all the good men available to them got snapped up by someone else.
And even though this is now politically incorrect to say, and women are taught, cruelly and misleadingly (in the name of "freedom and equality"), that just like men they have "all the time in the world," they still hear the ticking of their biological clocks and see the wrinkles forming on their faces as they grow older, and notice the decline in the quality of their dating options as they pass certain milestones in age, and the holiday serves as something of a harsh reminder of the fact that pretending the world is a way does not actually make it that way.
You might call Valentine's Day one of the few remaining cultural relics that snaps women back to reality from the modern hustle and bustle of flashing lights and non-stop news and music and controversy and 24/7 on-demand workplace availability of the modern world and forces them to take a look at what really matters, biologically-speaking: their progress toward finding and securing a mate with whom they can raise a family.
And, like any time you are rudely snapped out of a busy and engaging fantasy and plunged back down into a harsh, cruel reality, it frequently isn't pleasant.
A Sudden Spike in Emotions
The ability to be in a committed long-term relationship with a desirable, subjectively "high quality" partner is something that feels more out-of-their-hands than in-their-control for most people, simply because most never learn how to find the right girl or guy, and most never learn how to build a relationship. It either "just happens," or it doesn't.
And control has everything to do with emotions:
The more in your control something feels, the less emotionally it affects you either way, because you know that you can go out and change it to how you want it more or less at your leisure; meanwhile,

The less in your control something feels, the more powerful the emotions you feel around it - you feel heartbroken, bitter, depressed, or crushed when you don't have it or can't get it, and ecstatic, euphoric, uplifted, and like the luckiest person in the world when you do have it or get it.
For most men, sex is like this.
For most women, relationships are like this.
There are women out there with abundance mindsets - these are the women who have enough women around them constantly that they never really want for a relationship if they need it. However, I've never met nor heard of a woman with absolute abundance, simply because the normal female strategy for having access to men interested in relationships is keeping a collection of men around her in orbit, but the kinds of men women really want to date never hang around them in orbit. Thus, you'll find women who have ready access relationships, but virtually none who have ready access to relationships with men they deem high quality.
So, when I say that Valentine's Day is a holiday that affects single and newly-dating women powerfully nearly across the board, I mean it.
Most women will try to brush it off like they don't care, presenting a tough exterior to the outside world... and then they retreat home to their apartments and bury themselves in a tubful of ice cream.
Just because you don't see it doesn't mean the emotion isn't there.

Because it's a day she's likely got a lot of (hidden, probably) emotions swirling about regarding, Valentine's Day is one you want to approach with a certain eye to the effects of how you go about it.
If you've been in a committed relationship for a while (that is, more than a year... i.e., you've already celebrated Valentine's at least once before already), the holiday really isn't much of a big deal. You can get your girl:
Flowers and chocolates
A nice cooked dinner (cooked by you)
Some kind of memorable, creative gift
Nothing, and just spend the day talking and relaxing with her
I actually like flowers and chocolates here, despite the fact that it's cliché; while normally I'd tell you to avoid clichés like the plague, in this case, doing something that tells her you put some effort into it while not making it a big deal and not really caring a whole heck of a lot actually communicates a very decent message ("I remembered, I know it's kind of important to you, so here's a token message to show you I care, but also this isn't a big deal to me").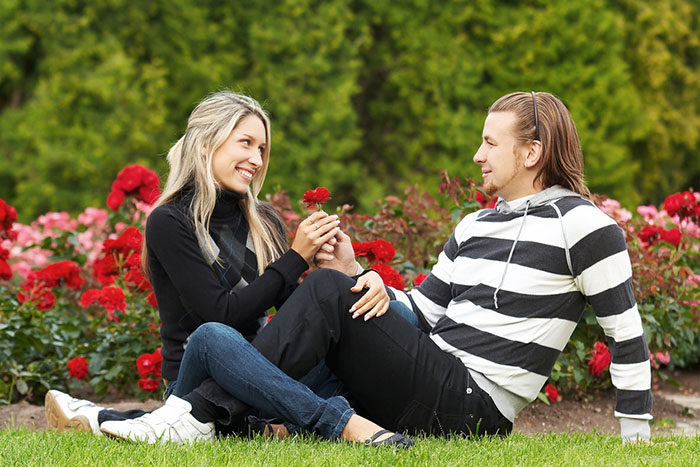 You can also skip holidays altogether if you tell girlfriends from the start that you do not celebrate holidays. I had a friend who used to tell women from the very beginning that he did not celebrate holidays, and objected to the very idea of them, and would instead play video games on a holiday and not see anyone (this, incidentally, made it much easier for him to juggle dating multiple women in committed relationships; I'll tell you why in a moment).
However, if you do not entirely abstain from the holidays, you're more or less obligated to do SOMETHING with girls on this day.
Otherwise, you can find yourself in for a butting of heads.
Below, we'll have a look at a couple of scenarios: what to do with a woman you're only casually seeing... and what to do with a woman you're seeing seriously, when the relationship is still relatively new.

Valentine's Day: No Love for the Uncommitted
Many a casual sexual relationship has ended not long after Valentine's Day, for the reason that the male (rightly) did not see his casual partner on the holiday (so as not to give her the wrong idea), and the female (introspectively) decided that this casual relationship she was in was wasting her time and distracting her from her newly-remembered goal of finding the man of her dreams.
Valentine's Day frequently has that effect on uncommitted partnerships.
So, should you see a casual partner on the holiday then, to make sure she doesn't leave?
Dear God, no. If you do that, you've effectively elevated a girl in one fell swoop from casual partner to serious girlfriend. It's quite an upgrade... and probably wasn't what you intended to do.
Prepare yourself for a lot of headaches, a lot more drama, and either a reining in of your freedoms or an explosive breakup that never should've needed to happen that way a little farther on down the road.
Unfortunately, there's no 100% solution to handling Valentine's Day in uncommitted relationships. It's going to occur on February 14th, she's going to reflect on her current relationships (and feel bad that they aren't a committed relationship with a dream guy), and she's going to question whether she should be in them or they're just proving a distraction.
If you're in a casual relationship on Valentine's Day, do not:
Call her
Text her
Invite her to come over
Invite yourself over to her place
Send her flowers
Send her a gift
Send her an email
Correspond with her or contact her in

any

way
... from Valentine's Day itself until at least two days after the holiday has ended.
What you're doing here is basically making your footprint as tiny as possible and removing anything within your control that may cause her an emotional response.
She may still have one anyway. You may contact her a few days after Valentine's, only to find her in a funk and in no mood to come see you... or telling you she needs to figure out what she wants with her life or what she's doing with herself. That happens sometimes.
The only thing you can do to semi-avoid this (short of upgrading her to "girlfriend" status and seeing her on V-Day) is seeing her the night before Valentine's Day... and giving her some really great sex. If she's just had a round of good, satisfying sex the night before, she's often going to be too relaxed and too satisfied to let Valentine's get to her all that much. While all her single friends are moping and weeping, she'll shrug and go about her business.

What to Do with Your Girlfriend on Valentine's Day
Now, let's say you're in a relatively new relationship - and this is your first Valentine's Day together.
If it's been less than a month since you started seeing each other, unless you got off to a very fast start, you're in the clear; you probably don't need to spend Valentine's together, assuming the relationship still isn't well defined and the two of you aren't yet treating one another like boyfriend-girlfriend.
Any other set of circumstances, though, and you need to do something "meaningful" on the holiday.
Why? Can't you just skip it? And what if your girl has told you that it's okay... it's not really a big deal to her?
Yeah, don't buy it. If you listen to that, you're on a freight train heading off a cliff. Don't be silly, now.
When a girl tells you, "It's okay, it's not really a big deal to me," what this actually means is either:
She wants to play it down so that when you do something, she'll know it's real and from you, and not because she pushed you to do it, and/or

She's caught up in the hubbub of her daily life or not very in touch with her emotions (if she's a more logical type), and won't realize this is going to matter to her... until it does, and she finds herself sitting there moping and tearing through a tub of ice cream regardless of whether she thought it would matter to her before or not.
So what happens if you have a girlfriend, and you don't see her for Valentine's Day?
Well, this happens:
She sits at home, alone, by herself

She wonders why, if she has a boyfriend, she is by herself on a day when boyfriends and girlfriends spend time together in happiness and love

She reasons that this relationship is not actually a "real" one

She begins to write you off, see your words and actions as an attempt to deceive her into hanging around in a relationship that isn't taking her where she wants to go, and gradually pull more and more away
Don't want that to happen? Then don't leave your girlfriend high and dry on Valentine's Day.
The good news is, you don't need to do something crazy special or expensive. You don't need to fly her to Fiji. You don't need to buy her a new car. You don't need to have one of those planes that writes "Scott + Carly 4Ever" in the sky in white smoke fly by her house.
There's only one thing you really need to give her to stop this entire process of the Valentine's Day mopes:
Time.
Give her time with you, in-person, and she will be reassured.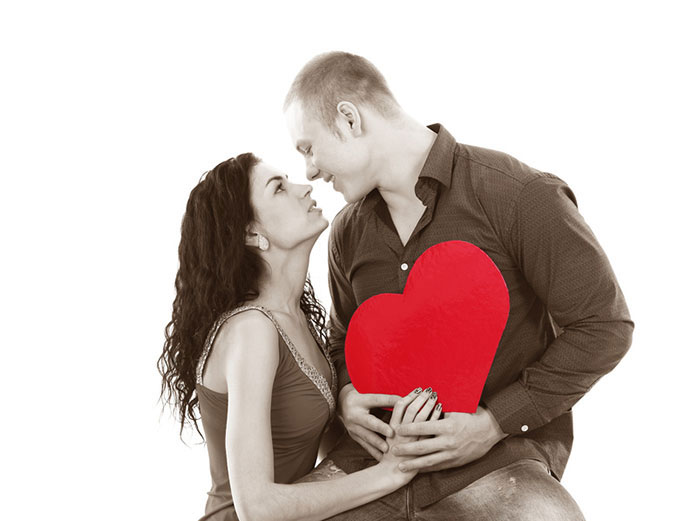 It doesn't even need to be a lot of time. You don't have to spend all day with her. You don't need to spend all night with her. You just need to spend a little time, hug her, kiss her, take her to bed, and reassure her that, yes, you care about her.
Then - even if you only spent a few hours talking with her, having a meal with her, and making love to her, and then you went back home to do some work or get to bed early because you have an early day tomorrow - she'll be reassured that she isn't alone, and she is on the trajectory she wants to be on.
Should You Ever Get Gifts - and If So, What Kinds?
Valentine's Day is not your girl's birthday, and it isn't Christmas or any other holiday. It's a manufactured holiday focused on love. It's not personal. It's a little silly and contrived, actually.
Therefore, my recommendation is that, while you do give your girlfriend some of your time (to avoid her having a Valentine's Day meltdown... even if she tells you she won't have one), you also make it NOT a big deal.
Unless you want to be seen as the hopeless romantic trying to romance a girl in a big way who really only ends up chasing women, that is.
Therefore, if you want to give gifts, you're absolutely fine going with any of the gifts listed earlier for committed couples who've been together for over a year:
Flowers and chocolates
A nice cooked dinner (cooked by you)
Some kind of memorable, creative gift
Nothing, and just spend the day talking and relaxing with her
Most of those are self-explanatory, but what's a "memorable, creative gift?"
A handful of Valentine's, I've gotten some of these for girlfriends. One was a gift I made in a hurry when a girlfriend was on her way over with a gift for me, and I'd completely forgotten the holiday and needed something impromptu, fast. So, I created a basic HTML webpage with some pink hearts in the background and four photographs of us, plus a quick poem I wrote up split into four lines, one line under each photograph. A little sappy, perhaps, but I was young and I wanted something nice and creative. The reaction for that was probably one of the best reactions I've ever had for a gift.
I also like to have personalized gifts when I buy gifts. e.g., a heart-shaped locket with a photo and a message inside, or a snow globe with a photo of us and a little poem inscribed on it. There are a variety of websites that sell gifts you can have personalized and shipped to you.
But those were when I was a bit younger and a bit more romantic... I wouldn't do anything like that any more. It creates too many emotions, builds expectations up too high, and makes girls fall in love with you a little too much.
Which means stronger good emotions so long as the relationship is a strong, healthy one... and stronger bad emotions when/if the relationship ever spirals into unhealth and disrepair.
A Day for Lovers
Ultimately, I tend to see Valentine's Day as more a crisis to be averted than a day to be celebrated, for anyone in any kind of relationship other than an older committed one. In casual relationships where the girl wants more, and in new relationships where she doesn't exactly know what to expect yet, her emotions will be doing somersaults prior to "the day."
Your goal - at least, the goal I recommend for you - ought to be to calm things down and take away the emotional extremes your woman is feeling.
In so doing, you lessen the day's impact - either to drive a woman into despair and depression, making her want to break up with you, or into ecstasy and euphoria, making her want to marry you on the spot.
For a calm, rewarding, pressure-free relationship, this is the best outcome you can hope to achieve.
You can always go overboard and be romantic if you want - but be aware that you set that precedent for the rest of the relationship, and you'll be expected to be a romantic who moves her swiftly along the road to commitment and everlasting romance.
Choose the path that best suits your goals and objectives - calm things down, if you want a calm, contented relationship, or stir things up, if you want an emotionally wild one on the fast track to commitment or bust - and, most of all, happy Valentine's Day.
And if you're single this time around, be sure to tune in in a couple of days to find out how to lift the spirits (and the skirts) of a lucky lady (or two) in need of a little comfort and consolation this February 14th.
Yours,
Chase
Get Your FREE eBook on Texting Girls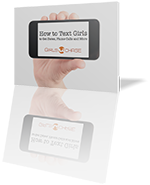 Sign up for our email insights series and get a copy of our popular ebook "How to Text Girls" FREE. Learn more ...
---


Trying to piece together a seduction strategy bit-by-bit, article-by-article, question-by-question? Stop killing yourself doing it the slow and difficult way - and get it all spelled out for you instead, in detail, in exactly the order you need to learn it... with homework, too.
With our complete mastery pick up package, you'll get our 406-page how-to eBook How to Make Girls Chase, our 63-minute long video Spellbinding: Get Her Talking, and 3 hours of audio training - all for less than the price of the book and video alone.
Quit banging your head against the wall - get it now, to speed your learning curve up dramatically... and start really getting the women you want to want you too. You can go right here to get started and be downloading your programs in minutes: How to Be a Pick Up Artist.
Related Articles from GirlsChase.com