Telling Women You're NOT Boyfriend Material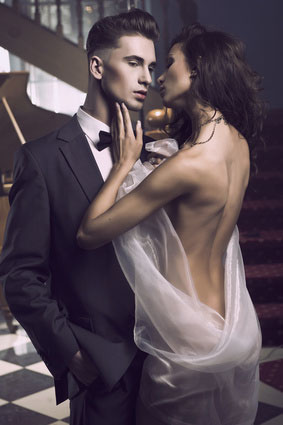 Last weekend I spoke at a gathering of the San Diego pickup community. One of the things I skirted over briefly, due to time constraints, but that guys asked me to spend a little more time on and seemed very interested in hearing about, was on disqualifying yourself as a boyfriend.
Why would any guy trying to get girls want to make girls not want to date him? Well, in answer to that, the long and short of it is this: women and men have different things to consider when it comes to having sex with someone new. And for women, the question of whether or not she wants a man as a boyfriend can muddy up the picture and make the decision to sleep with a guy quickly not so clear-cut.
Deciding whether or not to have sex with some girl we like is easy for us guys. Go out, get laid with the girl you hit it off with as soon as possible, and, if you like her, start dating her. For girls, it isn't so straightforward. If a gal likes a guy, she typically wants to make sure she DOESN'T jump into the sack too fast with him. Because us men being what we are, we naturally tend to value women who sleep with us quickly lower than women it takes us longer to bed. Even among guys who think of themselves as more enlightened... look back at your past girlfriends. How many began as women you slept with the same night you met them? OK. Now how many of them were the girls that it took you forever to bed, but whom you really got to like and value in the meantime before you finally, after all that work, managed to wrestle into sleeping with you? Hmm. Yeah. If you're like 99% of men out there, you'll start picking up on a very noticeable trend. And women pick up on this trend that men have, too. They know men don't usually date the girls they hook up with quickly.
That proclivity of men's is why, in some cases, you'll find that women in committed relationships are easier to sleep with than women who are single. Because women who already have a man (whether they tell you about him or not) are usually not looking for a new relationship. They're just looking for sex. So they don't worry as much about whether sleeping with a man too quickly will blow their chances at a relationship; they're not looking for one in the first place.
But women who are single are usually looking not only for sex, but for a relationship, too. Here's the kicker though: they are not necessarily looking for those things from the same guy.
I said something while speaking about this at that talk I gave that seemed to rattle some guys, excite others, and cause still more to lash out in disbelief. What I said was this:
"Believe it or not, a woman does not have to like you to sleep with you. In fact, she's probably more likely to have sex with you the day you meet her if she doesn't like you a whole lot."
Now hold up a minute, one guy said. If a girl doesn't like you, she's NOT going to sleep with you. Period. End of story. No happy ending.
Well, I'm here to tell you that isn't so. This isn't something you see a lot when you're a beginner in the social arts; it's not something you're even all that aware of as a guy who's intermediate with women. But as you reach the top tiers of advancement, you'll start realizing that women have sex all the time with men they just don't like all that much. That guy they're hooking up with they value don't enough to want to date. In many cases, they don't even like him enough that they'd respond to a call or a text from him the next day, regardless of whether they slept with him or not.
But, they will still sleep with him.
If that starts feeling a little counterintuitive, think about it like this. Sex with a girl you're in love with feels great. It's probably the best sex you can have. Sex with a girl you kinda like is good too, though not quite as amazing, right?
Now how about sex with a girl you don't even like all that much. Say, a girl who's cute but completely lacking in the personality department. Or a girl who's not even all that cute, but she's there, she's available, and you're horny.
You'd never sleep with a girl in those conditions, right? Only a girl you like, right?
Well, if you're like almost every other guy on the planet, that's wrong. You would. Probably wouldn't answer her call the next day, but the night you met her, if conditions were right, you'd hook up with her. Now here's the shocking thing for most guys: despite their generally having longer hair and bigger chests, women are in fact exactly the same when it comes to sex. They hook up with guys all the time they don't like all that much.
In fact, there are a very wide variety of reasons a woman will seek sex with a man, and many of them have little to do with HIM and how much she likes him, and more to do with HER – and he, the guy, just happens to be available to fill a need for her.
Here are some of those reasons a woman might sleep with a guy, despite not liking him all that much:
She's horny, she wants to get laid, and he's the best option available

She's been on a dry spell, and she decides he's "good enough" to shag

All of her girlfriends are hooking up that night, and she doesn't want to be left out – and the guy in question just happens to be hanging around and available

He's an unknown in her social circle (he's there on vacation, or she is, or they run in completely different circles), no one she knows will ever find out, and he's basically a "freebie"

She wants revenge on a current or former lover, and this new guy looks to be the means to that end

She's feeling down in the dumps and in need of the boost in self-esteem that comes from getting laid

She's always wanted to try a guy like him (white / black / Asian / Hispanic / muscular / wealthy / punk / rocker / badboy / international from XYZ country)

She just feels like it.
There are probably a bunch more, too. But just as any girl who's tolerable will likely do when you are just feeling down and want to get laid, so too will just any GUY who's tolerable likely do when a girl is feeling down and just wants to get laid.
Most men have this myth that women, especially top women, are incredibly picky. As a guy with a lot of dynamic, intelligent, beautiful, successful women in his life, it's my distinct experience that this is utter malarkey. Here's what I've seen: top tier women, dating or hooking up with men who were not cool, not attractive, and not successful. It's not that these guys were badboys and had some kind of mysterious sex appeal, either. They just happened to be in the right place at the right time, and the girl in question wasn't feeling all that picky.
But those girls still tell me they're picky. They say things to me like, "It's hard for me to find someone I like, because I'm very picky when it comes to men," or, "I'm fine without a man in my life. I'd rather be single, actually." But when I look at their choices in men, they're getting together with these guys that don't meet the standards they continually profess to have (or, realistically, the quality of guy I'd assume they could get). And bizarrely, they often end up in friends-with-benefits relationships with men they don't really care for or respect all that much. They don't even really like these guys. The guys press for relationships, and the girls decline, because they're not all that into them. But these guys are still good enough for sex – even though they're not good enough to date.
Women DON'T have to like you to sleep with you.
Period. End of story.
So, onto the whole disqualifying-yourself-as-a-boyfriend thing. The thing that disqualifying yourself as a boyfriend does is, it makes it much easier for a woman to decide that you're the guy to fill that short-term need, and it helps her cast aside any reservations about sleeping with you too quickly and how that might affect her long-term prospects with you. You've negated yourself as a long-term prospect. She doesn't have to worry about that anymore.
Before I list some ways to do that, one final note: most guys don't do this. How come? It's because they believe that women only want relationships, and that if they rule themselves out of the "long-term potential" category, they'll lose the girl they're speaking with. So they play it safe, and try to make themselves seem to be the best boyfriend material they can muster – thereby shooting in the foot any shot they had at sleeping with their new female acquaintance the same night. If she's thinking of you as a potential boyfriend, and she thinks she legitimately has a shot, she's NOT going to sleep with you the same night. Guaranteed.
Will you lose a few girls by disqualifying yourself as a boyfriend? Sure. But they're girls you wouldn't have hooked up with that night anyway, and unless your follow-up game is incredibly solid, probably wouldn't have hooked up with at all.
And here's the funny thing: even the girls who don't hook up with you that night will like you more. They'll find you mysterious, intriguing, and… sexy. That guy who seems like he'd make a great boyfriend? Yeah, he's nice. But now, the guy she can't get into a relationship, at least not all that easily… THAT guy makes her think.
Women (especially top-tier women who are used to getting their way) find challenges irresistible. As a guy who's off-limits from a dating perspective, you position yourself as a challenge.
So how can you disqualify yourself as a potential boyfriend? Here are some common ways you might disqualify yourself as a boyfriend to a woman you've met:
Let her know you have a girlfriend or are in a relationship

Let her know you're newly out of a relationship and still recovering and not looking to get involved

Let her know you're on travel and only in town another night or two

Let her know you're moving out of town and will be far away

Let her know you have all kinds of friends in your life, but that when it comes to serious dating, you usually only date girls of XYZ race / nationality (something different than her)

Let her know you're not really all that sure about relationships anymore, and not even sure you want to have another one (in a very neutral, non-negative / pessimistic way)
Use one of these (preferably, one that's truthful and matches up well with your situation – obviously, if you say you're on travel and you're actually not, and the two of you run into each other later on, there could be issues!) and you will find that, contrary to what most men might think, you'll see an increase in attraction from women, and you'll see that sex happens faster.
Note that there can be a bit of a learning curve: delivery is essential, especially when all this seems new and unfamiliar and nerve-wracking. If a woman can sense that a man is nervous / needy when he disqualifies himself (e.g., he tells her he already has a girlfriend, then tenses up and gets quiet, as if waiting for her rejection), attraction will plummet. This has to be a natural, emotion-free declaration that you are not really on the market from a relationship standpoint.
Guys who are off the market and nervous women will reject them are unattractive. But guys who are off the market and confident that women will want them are even more attractive than guys who are on the market and equally confident. They actually had an interesting little study recently that showed that women in committed relationships ranked photographs of men they were told were single as more attractive, while single women ranked photographs of men they were told were in committed relationships as more attractive. Get that? Single women are more attracted to men who are tied up. How come? Well, long story short, a guy who's got a girl already is basically communicating that he is wanted by other women. That guy who's single is an unknown variable – why is he single? Is it because he's just out of a relationship – or is it because there's something wrong with him and women don't want him?
It's good to be off-the-market. It says a lot of attractive things about you. It also takes some pressure off the girl, because it implies you're not "looking" (and hence, judging). She is more free to be herself around you.
Once you're using disqualifications like these and you're comfortable with them, it's mildly remarkable how things change with women. The planning / calculating / scheming side of women goes away as they lose their primary calculation objective ("net this guy into a relationship") and become free to enjoy or not enjoy you based on their whims and how the mood strikes them (and how you make them feel).
Try it out – it's fun.
Chase Amante
Get Your FREE eBook on Texting Girls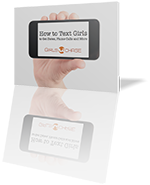 Sign up for our email insights series and get a copy of our popular ebook "How to Text Girls" FREE. Learn more ...
---


Trying to piece together a seduction strategy bit-by-bit, article-by-article, question-by-question? Stop killing yourself doing it the slow and difficult way - and get it all spelled out for you instead, in detail, in exactly the order you need to learn it... with homework, too.
With our complete mastery pick up package, you'll get our 406-page how-to eBook How to Make Girls Chase, our 63-minute long video Spellbinding: Get Her Talking, and 3 hours of audio training - all for less than the price of the book and video alone.
Quit banging your head against the wall - get it now, to speed your learning curve up dramatically... and start really getting the women you want to want you too. You can go right here to get started and be downloading your programs in minutes: How to Be a Pick Up Artist.
Related Articles from GirlsChase.com