Review: How to Date Korean Women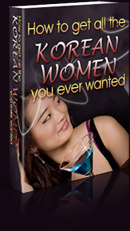 My buddy BlueMystery, whom I had a blast partying with over in Seoul a year ago, has finally put down all the knowledge and skill he's accumulated meeting and dating women over there into a comprehensive ebook.
And it's a great, solid book, too. Having helped proofread the first version, I can attest the time and dedication that Blue put into strapping together a quality product. The sections on inner game and figuring out what you really want from a woman are fantastic and are applicable to ANY kind of girl, actually, and the suggestion that you pull up roots and MOVE to where the kind of women you want live is... well, not something you here from a lot of folks, but it's great advice and quite refreshing.
Honestly, if you're living in Smithville, population 1500, and there are only ten hot girls in town your age, and four of them are married with kids... a new town, with a LARGER population, preferably of the kind of women you're attracted to, may very well be the greatest thing you can do for your future with womankind.
Blue doesn't hold any punches, and isn't afraid to tell you how it is. His is not a sugarcoated, fluff-filled feel-good book. It's a book filled with practical solutions, everything from communicating effectively with women who speak little English to proper uses of body language to an in-depth perspective on the culture, including sections like "Notes on How Koreans Hook Up" and "What Koreans Expect From Foreigners".
If you're into Korean women, buy this book. Hell, if you're thinking about making a trip over there, buy it. It's twenty bucks -- won't break the bank ;) And what you get out of it will be more than worth the price of admission.
Here's the link:
Always,
Chase Amante
---
UPDATE: while there was formerly a notice on this page that Dan's site was down, he now has it back up in operation again - so you can still grab your copy of his book there if you find yourself so inclined.
Related Articles from GirlsChase.com