How to Find the Woman You Most Want: A 10-Step Process
Many a man's search to secure for himself the woman he most desires ends in disappointment; unable to get the girl of his dreams, he settles for someone a little less beautiful, a little less intelligent, a little less charming, a little less ideal than he imagined he ever would.
She's good enough, he tells himself... but in the back of his mind, he always wonders if he could've found her had he kept looking; that perfect woman for him.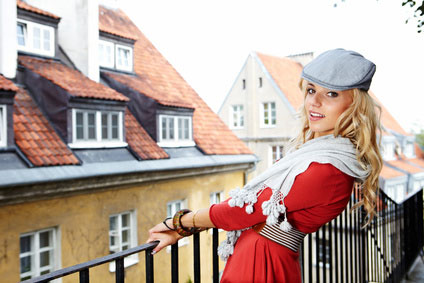 It's a large part of the reason so many men in the West drag out their relationships into these extended courtships now, with no real direction or purpose. And when you ask them where their relationships are headed, as a friend; whether they are going to stay with this girl or marry her, even after they've been with her for two or more years, they only tell you, "I don't know."
If she was their DREAM girl, they'd know then, though. They'd tell you, "Yes," of course, and they'd tell it to you in a heartbeat.
But where do you even begin looking for a girl like that? And how do you get her, when there's so much competition out there looking for a girl like her, and so few girls who are like her themselves?
That's what this post is about; on how to find the woman you most want. I'm going to show you why most men - and most women - never really find the person of their dreams, what paths you must be willing to take if you truly want to find yours, and what the 10 steps are that will ultimately lead you there... to her.
Note: for guys who've been reading this site for a while, much of this will be review. However, you might find interesting the notes on settling - that hasn't been discussed as much. In any event, read on...


It's been pretty disconcerting for me... even among my friends with good jobs, cool personalities, and plenty of options with women, I've seen a lot of them "settle" lately.

What I mean by settle is, taking a girl that the guy originally told me with absolute firmness and certainty he was not going to stick with long term... and then moving in together with her, getting engaged to her, or marrying her. This has been happening with a lot of guys I know lately, and it's nothing short of surprising to me. And it's made me ask myself the question:

If she wasn't good enough for him before, why's she suddenly good enough for him now?
Either she got better, or he got worse. Or... whatever confidence he had in his ability to do "better" that he had in the past has, somewhere in between the two points, slipped away.

I read a lot of books and watched a lot of movies when I was young. I didn't have friends, partly by choice, partly not, so I spent a lot of time learning about the world through the lessons they taught, rather than through the lessons of hands-on experience. And one of the things that stood out to me the most was the sheer number of stories that contained the melancholy thread of the hero giving up on his grand dreams and settling for an ordinary life.
To me, this was always terrifying; to give up one's dreams in order to live, in effect, the same exact life as everybody else? But as I looked around me, it seemed that most weren't that bothered by it.
I mean, they were bothered by it, but it was an under-the-surface kind of bother; they'd accepted their lots in life, and accepted that they had something that was good enough, and that they probably weren't going to be able to get more than that, if they were going to be realistic about it.
I wanted to make sure I never ended up in that place, where I was doing my best to ignore unrequited desires and instead struggling to content myself with a "good enough" life.
To me, there seem to be 4 core areas that people will settle on:
Their romantic partner(s) being "good enough"
Their career or business being "good enough"
Their lifestyle being "good enough"
Their skills being "good enough"
To understand why this happens, and why people let go of the idealistic visions of their youth and move toward accepting their lot in life, typically around 30 to 35 years of age in the Western world (sometimes a little earlier, sometimes a little later), we need to dive into some evolutionary psychology, and the way threats and opportunities play out in the mind at a very deep, subconscious level.
Why Settling Makes Sense (Evolutionarily Speaking)
In the article on victim mentality, we discussed the underlying reason why it makes sense from a natural selection standpoint that people get discouraged and give up (i.e., to dissuade them from pursuing quixotic undertakings that leave them total failures).
Settling is very closely related to this.
Who is more likely to pass on his genes; the man who:
Dates around for a while, yet, unable to find a woman who is "perfect," continues to date around, well into old age, never finding his ideal woman and never successfully reproducing, or

Dates around for a while, yet, unable to find a woman who is "perfect," eventually selects one that is "good enough," settles, and starts a family
The answer is obvious. We are descended from individuals who began life as idealists, and ended life as realists.
Winston Churchill has a famous quote on this that reads as follows:
"

If you're not a liberal at twenty you have no heart, if you're not a conservative at forty you have no brain.

"
This shift from idealistic ("liberal") beliefs to realistic ("conservative") ones affects nearly everyone, and it happens right around that 30 to 35 year mark. Why?
It's the optimal strategy for maximizing reproductive success.
You can think of it this way:
When you're young, it's best to dream big, see what you can get, and push yourself to achieve limitless success

Once you pass a certain age, however, you've had enough time pass that if you were going to do something significant, you'd probably have done it; thus, it's now time to buckle down on what you've got and make the best of it, rather than squander away the rest of your life endlessly exploring new avenues to go down
In other words, by the time you hit your early to mid-thirties, you start figuring you're doing as good as you're ever going to do, that you're performing at or near max capacity, and that it's downhill from here.
Not always - there are those (like Richard Branson) who continue pushing themselves and challenging themselves well into old age. But even Richard Branson isn't going to walk away from Virgin and start a new web-based business anytime soon. He's on the ride he's going to be on, probably for the rest of his life.
And there is an exception to the "settling" phenomenon: once you've had children, the process seems to reset. Women frequently divorce their husbands in the West, now, often some period of years after the birth of their last child. Unsatisfied, and not living their dream lives with their dream partners, they feel confident knowing they've checked off the "Successfully Reproduce" box on their life goals checklist, and move on in pursuit of their dreams once more.
Unfortunately, for both men and women, the older you get, the harder it becomes to find partners your own age who match the "guy or gal of your dreams" criteria; they've simply all been snapped up by other similarly desirable mates. And while older men can go younger to find "dream girls" who haven't been taken off the market yet, older women often can't.

By and large, for most men, the woman they find themselves with by their early to mid-thirties is the woman they're going to be on that ride. Which means it's either
Proactively find your dream girl before the "settle" instinct starts kicking in and forces you to take whatever the best option at the time it hits is, or

Be prepared to settle for something less than what you truly want when that time comes.
Assuming you want to be the former, and not the latter... how do you find the woman you most want BEFORE it's "too late?"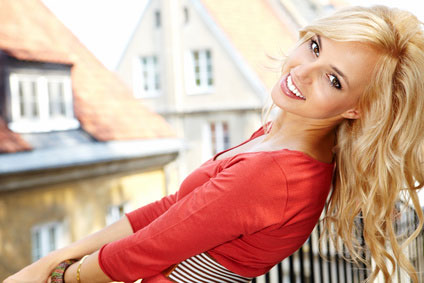 As you'll see, it has a lot more to do with you than it does with fate, destiny, luck, or her.

Well, first off, you're not going to find the girl for you sitting at home in front of your computer - online dating's not a venue any women you want to spend any large amount of time with hang out on much, and you already know my opinion on why not to meet girls on Facebook.
That means you're going to have to get up, go out, and do this the hard way.
You're also going to need to look at figuring out how to find the woman you most want as a process, rather than an event. You aren't going to wake up one day and a bolt of lightning hits you and there's the girl of your dreams and BAM! you're together and it's magic.
You've got to get the basic skills of being able to get girls you want down first, otherwise you'll just wake up one day and a bolt of lightning hits you and there's the girl of your dreams and... oh, there she goes. Off into the mist once more, never to be seen or heard from again.
So yes... the advice here isn't going to be, "Go out, go to this place, say this line, do this thing, and then you've GOT HER! The girl of your dreams!"
But it IS going to tell you how to land her... if you're committed to doing so, that is.
How to Find the Woman You Most Want
Most men take the scattershot approach to finding girls: whatever, whenever, with any old approach. Is it any wonder they end up with whatever quality of woman?
Imagine approaching selecting a job, or college, or friends that way. Wait a minute... most people do there, too! All right, I guess that's why most people end up at whatever college, with whatever job, and whatever friends.
What I propose here is that you take a far more selective approach to both learning how to find the women you want, and to what women you choose to want, than the majority of men you meet. (and I might further be so bold as to suggest that you take this philosophy and apply it to other areas of your life too... but, that's not what this post is about, so I digress)
And the approach I propose to you is this:
Know what you want FIRST. Before you do anything else, you need to know what you want. Partly, what you want must be filtered and cultivated through the lens of experience; and before you have much experience with women, you'll have trouble knowing how to answer this one. But this site has a variety of tools at your disposal for figuring out what specifically you're in search of in a girl; here are some of them here:
The long and short of it: know what you want, not just in terms of looks (which is where most men start and stop their lists of what they want in a mate), but also in terms of personality, behavior, ambition, and intellect (because these do not change).

Start getting out there to meet girls. Once you know what you're looking for, you've next got to go find it; essentially, you've got to get out of the house and meet some girls. How do you do that? Here are a couple of articles to get you started:
The long and short of it: you need a routine of going out regularly, and you need to be meeting women in quantity (LOTS of them) to get yourself to the point where you're meeting enough women that you'll find the woman of your dreams purely by accident... because "by accident" is the only way anybody ever meets anybody else, and by meeting quantities of women you vastly increase the odds that an "accident" will happen to you any given week.

Focus on your operating system. Get the right mentalities about meeting women; understand that you're almost certainly coming from a place of misunderstanding what it is women actually want, desire and are after, and who you need to be to woo them. Some articles to reset your thinking include:
The long and short of it: the beliefs you have set in your head have tremendous influence on the world outside your head, simply because your beliefs determine your actions, and your actions determine your results. The difference between two men otherwise identical on the outside with totally different internal beliefs is like the difference between two identical computers, one running a modern operating system, and one running a system from the dawn of the computing age. The difference in the capabilities of the two otherwise identical pieces of hardware, simply because of the core software running on it, is stark.

Which is great news: upgrade your operating system (your beliefs and thought processes), and you upgrade your capabilities... often dramatically so.

Focus on your presence and vibe. Learning how to find the woman you want isn't just about finding her; it's about keeping her once you've found her. And if you want the woman of your dreams to feel like you're the man of hers, you're going to need to get your behavior and your vibe down. See these for reference:
The long and short of it: by handling your presence, you'll quickly find that you're able to attract and command the attention of all kinds of women, including the kind of woman you're most attracted to. This means that women start coming out of the woodwork; where you might've found it hard to find the girls you really liked before, suddenly you're meeting them left and right.

Handle your fundamentals. Fundamentals are your basics - the foundational components that make up who you are and how women receive you. Having a strong foundation makes everything else you do work better; from meeting new women to getting them on dates to making them stick around for a long, long time ever after. See:

The long and short of it: your fundamentals are what make everything else work. These are the basics; but don't confuse "basic" with "beginner." These areas can be continually targeted for improvement even as you advance with women, and together comprise all the most important aspects of attracting and landing the women you most want.

Get some basic technique going. Even with great beliefs, presence, and fundamentals, you won't get very far if you don't take the right actions. See:

The long and short of it: your actions with every woman you meet should inspire confidence that you are in control, know what you're doing, and are intent on leading her to a satisfactory end. If you're not sure where else to start, place your focus on moving women, gaining investment from them, and continually progressing an interaction towards the bedroom (which then puts you in a position to have her as a girlfriend).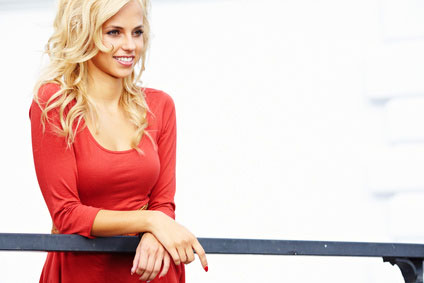 Get your environment working for you. One of the first things you'd imagine a man would think of the instant he began wondering how to find the woman of his dreams would be the importance of things like putting himself in the right conditions, circumstances, and places to be most likely to meet the women of his dreams... but often he doesn't. Instead, he keeps going to the same places he always does, then goes home sighing and telling himself how hard it is. But environment is very important here - see these articles:

The long and short of it: if you aren't meeting the women you most want in the places you are right now, there's a good chance you'll be best served by changing your patterns. That means: going new places, building new circles, meeting new people - maybe even changing cities or countries. Don't rule out the extreme - better to suffer some change to find the woman you want, than to suffer yourself not to change and then suffer from never finding the right women.

Get dating down to a science. Dating is not a guessing game... though most people seem to treat it as such. But in fact, there are a lot of things you can do to make the entire process - from asking her out, to setting up the date, to pulling that date off without a hitch - a smooth, succinct, and predictable process. For reference:

The long and short of it: you should be asking women on dates soon after meeting them, and grabbing phone numbers from them immediately after. Don't make the phone number a big deal - it's a given if she's said "yes" to meeting you at some later date. Keep correspondence brief and mostly limited to date planning and setting up logistics, and run your date smoothly, with great conversation, strong leadership, and preplanned logistics.

Get your escalation handled. It's all for naught if you can't get her home, or can't make it happen when you do - anyone who thinks a relationship can really get going before physical intimacy in this day and age is in for a rude awakening. You've got to take her as your lover first, and you've got to know how to do that. See:

The long and short of it: if you're not accustomed to inviting women home with you, you'll likely be surprised how easy this often is. Once she's back with you, your focus needs to be on moving calmly but confidently, and not letting nerves derail from making a girl that you really like yours. Much of the time you'll only get one shot - most women won't give you another date if you can't close things out the first time you're alone together. So - make it count.

Learn (and master) relationships. Any and all effort you put in to find that dream girl goes down the drain if you're no good at relationships. And for their part, relationships are an often entirely different skill set than what it takes to get the girl in the first place - although the same fundamentals and focuses still apply. Read:

The long and short of it: learning relationships is primarily about learning how to manage another individual's emotions, be a leader, provide what's needed without asking too much or too little in return, and being willing and able to walk away if absolutely necessary. When all those pieces are in place, you'll do fantastic at relationships, and stand a far greater chance of holding onto that dream girl once you find her than most men are, who instead play the odds (50/50 in much of the West right now, for whether they stay together or split apart).
That may seem like a lot to learn on first glance, and it is a fair amount, but think about it this way: how much time did you spend learning math in school? How about English? History? Science?
Now, answer me this: how much time and energy is worth devoting to learning how to get the most perfect woman for you into your life?
100 hours? 200 hours? 500 hours? More?
Don't feel overwhelmed. Feel excited. And start combining learning information with taking action immediately, because you don't retain what you don't use.
So start using it.


Most people say, "I'll NEVER settle!" ... until they do.
Rather than shaking your fist defiantly into the wind until the day the wind blows you down, it's my belief that you're much better served to expect that at some point, if you aren't able to find the woman you want most (or the career you want most, or the friends you want most, or the lifestyle you want most), you'll settle.
When you expect and plan around the chance that you will settle, it lends a certain impetus to your efforts to get things handled in those areas you know most people settle in.
Suddenly you realize you must learn:
How to find the woman you most want, and land her

How to find the career or build the business you most want, and land it or launch it

How to develop the lifestyle you most want, and get it set

How to get your skills to as advanced a level as possible, and doing that with as many core skills as you can while it's still early
... and you must do all of these things before you hit 30 or 35.
What if you're over that age range? Can you still break out of "settle" mode and do something exceptional?
You can... it's just hard, is all. Your motivation and selected life purposes are usually concrete by then, and if they don't lend themselves easily toward large amounts of self-improvement and regular self-reinvention, you'll probably need to make some changes to get there.
But either way... if you ARE focused on finding the woman of your dreams, and you're willing to not just HOPE for her, but commit yourself to becoming the kind of man that SHE dreams about too, then going out and meeting enough women until you meet her, you will meet her eventually... and it might even be a lot sooner than you think.
Always,
Chase
Get Your FREE eBook on Texting Girls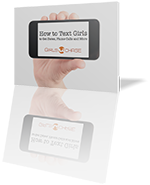 Sign up for our email insights series and get a copy of our popular ebook "How to Text Girls" FREE. Learn more ...
---


Trying to piece together a seduction strategy bit-by-bit, article-by-article, question-by-question? Stop killing yourself doing it the slow and difficult way - and get it all spelled out for you instead, in detail, in exactly the order you need to learn it... with homework, too.
With our complete mastery pick up package, you'll get our 406-page how-to eBook How to Make Girls Chase, our 63-minute long video Spellbinding: Get Her Talking, and 3 hours of audio training - all for less than the price of the book and video alone.
Quit banging your head against the wall - get it now, to speed your learning curve up dramatically... and start really getting the women you want to want you too. You can go right here to get started and be downloading your programs in minutes: How to Be a Pick Up Artist.
Related Articles from GirlsChase.com