How to Be More Aggressive with Women, Dating, and Life
As a youth, I always used to envy those men around me who acted with such directness, certainty, and speed, without any hesitation or hint of self-doubt. Growing up, I found myself defined more by inaction - by being a watcher, an observer - than by any action I took. I think most people are defined like this... stuck watching from the bleachers and the sidelines while the aggressive go-getter action-takers dominate life.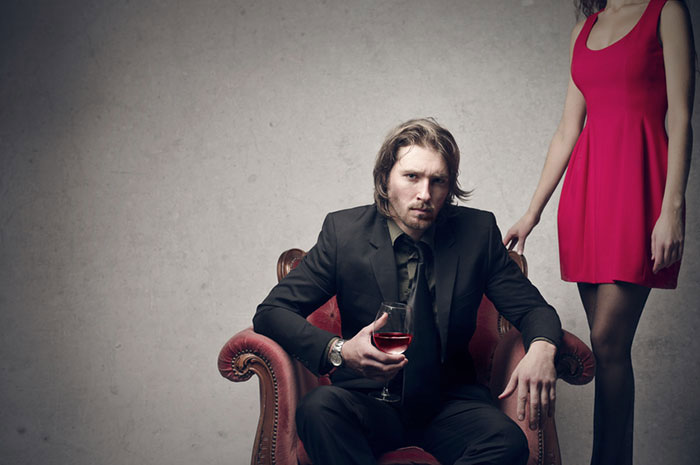 So I can understand and empathize when guys write in asking how to be more aggressive, like Wolf did in the article on being hard to please:
"

Hi Chase, how can I be more aggressive in my life? I think about just being extra ballsy but I think a lot about the consequences so I end up not being aggressive. How can I be more aggressive?

"
Some of this ties into what we discussed in "Threats and Opportunities;" the more focused on threats you are - when the focus is aligned in a certain way - the more you tend to retreat back from confrontation and aggressive action that might possibly end in rejection or worse.
But there's another side to this, too - and that's the inherent differences between those born aggressive, and those not so naturally inclined.

An interesting study from Greece entitled "Social Preference, Perceived Popularity and Social Intelligence" weighs in on the different types of social aggression and their impact on social status:
"

Relations among social preference, perceived popularity, social intelligence and two types of aggressive behaviour were studied. Peer-estimation techniques were used to measure all major variables. Altogether, 403 Greek schoolchildren from fourth-through sixth-grade classrooms participated in the study. Both overt and relational aggression were negatively associated with social preference for girls; overt aggression was positively associated with perceived popularity for boys. Relational aggression was positively associated with perceived popularity for both boys and girls, and social information processing only for girls. In addition, as was hypothesized,

relational aggression was predicted by cognitive aspects of social intelligence whereas overt aggression by lack of social skills. Overt aggression was found to be a unique significant negative predictor of perceived popularity whereas relational aggression a positive predictor.

Implications for intervention are discussed.

"
Distilled, the findings were:
Overt aggression is physical and verbal bullying, insulting, name-calling, and other such gestures, stems from a lack of social intelligence, and results in lower perceived social status

Relational aggression (also called "covert aggression") is socially skilled takedowns of others' status and relationships, stems from higher social intelligence, and results in higher perceived social status
Now, that's one kind of aggression - they "attack-oriented" kind, where the object is taking an opponent down a peg or two in order to raise one's own status up higher (though this ultimately isn't recommended at the highest levels; see: "Ultimate Social Calibration: Stop Climbing the Social Ladder").
The argument I'd make is that this same division between social intelligence and method, and between method and effectiveness (in this study, popularity; in other cases, you might deem effectiveness "the ability to get what is desired") carries over to all forms of aggressiveness - including the ability to get what you want... out of just about anything.
Why?
Because no matter what it is you're trying to do, it's almost always going to involve people, to some extent... and knowing how to navigate through the social jungle that is the wants, needs, ties, relationships, alliances, animosities, and cold wars of the people you deal with plays a large role in how strongly you feel you can take action to get what you want - or not.
The Strong Actors
So, when it comes to aggression, there are two ways of going about things:
The socially unintelligent way, and

The socially intelligent way
Now, I'd like to specify that each of these "strong actors" in terms of aggressiveness acts this way independent of overall intelligence.
That is to say, I've met and known some highly intelligent people overall who behaved aggressively in very overt, socially unintelligent ways. Likewise, I've met and known relatively unintelligent people overall who behaved aggressively in very under-the-radar, socially intelligent ways.
We're talking about intelligence in one particular way here: social intelligence.
Someone who's trying to get something in an overtly aggressive way does so like this:
He threatens ("Do this or I'll do [something bad] to you")

He cajoles ("You're clearly an intelligent guy, and you must realize this is the intelligent thing to do")

She pleads ("Please help me out here! I've never asked you for anything like this before!")

She bluntly insists ("Give me my money back now!")
However, someone's who trying to get something in a socially intelligent way does so like this:
He implies a threat without stating it outright ("I've been a customer here for six years and I've always been thrilled with the service and have recommended it to countless friends and business associates, but now I'm finding myself suddenly and surprisingly dissatisfied with how things are going. I'd love to stay a customer if you can figure out a way to fix this... What can you offer me that will keep me a customer?")

He asks questions instead of cajoling ("Would you consider yourself an intelligent guy? Okay... so in your opinion, what here is the intelligent thing to do?")

She states her case in both hers and the other person's interest ("If you do this, it's going to benefit you in this way [list ways], and it'll benefit me too by [list reasons].")

She smoothly insists ("How do we make sure I get my money back for a service that didn't work?")
You'll notice a few key elements in how these differ:
The socially unintelligent person makes everything a yes/no situation - the individual being aggressed upon has either to decide "yes, I'll give you what you want" or "no, I will not"

The socially intelligent person makes everything a multi-part decision, that is not just about what that person himself wants, but about what the other person wants (i.e., not to lose a valuable customer; to do the intelligent thing; to reap the benefits; to have to figure out how to resolve the return situation)

The socially unintelligent person uses blunt emotions to try to get what's desired (e.g., fear, sympathy, etc.)

The socially intelligent person avoids eliciting overly powerful emotions, instead choosing to use more subtle emotions that don't evince as strong an emotional response
Some interesting differences here. Why does one type of aggressiveness use bluntness - yes/no situations and strong emotions - while the other uses vested-interest decision making and subtle emotions?
The reason why, of course, is that anyone who's socially intelligent rejects the arguments of the socially unintelligent. And most of the socially unintelligent people reject them too. Yes/no makes it easier to say "no" than "yes" (especially if the person seems pushy... people are more inclined to say "no" to pushy people than "yes" as a defensive measure), and strong emotions often elicit the opposite emotional response of what's intended (efforts to use fear elicit anger as a response; efforts to use pity elicit disgust instead).
But what about the people who aren't aggressive at all and who don't use either of these methods for getting what they want? What's their deal?
Caretakers Expecting to Be Taken Care Of
I had a realization recently.
I was thinking about the difference between "givers" and "takers." I don't think either person is necessarily "good" or "bad," but when you throw a bag full of givers and takers together, you get a lot of very angry and suddenly poorer / worse off givers and a lot of suddenly wealthier / better off takers who nevertheless are confused at why the givers who just gave them so much are so very angry at them.
And I asked myself, "Why is this? What is the key difference in how these people see the world?"
The issue seemed to be one of mental models. And what I realized was this:
Givers give selflessly to others because they expect those around them will return in kind, and their selflessness will be repaid by loyalty and selflessness in return. A giver expects that if he lent out money to a friend, that friend would repay him quickly and be very grateful, because that's what he would do in that situation. When that happens, he views the friend who does as was expected as a noble and honorable individual. When that doesn't happen, he views the friend who violates those expectations as a treacherous villain and a bad person.
Takers take aggressively from others because they expect those around them will try and take what they need from them aggressively and make aggressive demands upon them in return. A taker isn't sitting around considerately thinking about what others need. He expects you to come to him with your needs and take from him what is needed. Takers see nothing wrong with taking what others are willing to part with, and they have no problem with others trying to take from them, either, because they see this as simply how people get things. Life is about telling what you want from others and getting it, and others telling you what they want from you and getting it.
Therefore, when I look at the question of how to be aggressive, I see it more as one about changing the way you see things to be much more cognizant of the fact that if you don't try to get the things you want, you probably won't want them.
The fact of the matter is that the "taker" has the far more efficient worldview.
How often will you get a:
... by waiting for life to recognize how outstanding you are and simply giving that to you?
Answer: never. Not in a million years.
That's not to say you ought to become a taker and simply take, thoughtlessly and inconsiderately, from others. But it is to say there might be something the taker knows that the giver has to learn from.

Aggression, then, apparently comes from a belief that you cannot really get what you want by sitting around and waiting for the world to reward you for your goodness and honor; you must go and grip the golden ring at the center of the carousel yourself.
And, how effective you are (or not) with that aggression, and it's impact (positive or negative) on your social reputation appears to lie squarely at the feet of whether you use overt or covert aggression - covert being the "likeable" sort of aggression, and over the "unlikeable" sort.
There's one other factor very much worth mentioning - and that's what we talked about in "How to Be a Dominant Man: What You Didn't Know About the 'Winner Effect'": the impact that testosterone plays on assertiveness, confidence, risk-taking, and aggression. The higher your testosterone, the more likely you are to take action to get the things that you want. Men with higher testosterone have more sex with more women, get in more physical fights, and make more money as stock traders. They also tend to die sooner.
So we now have our picture of the typical successful aggressive male:
He doesn't believe in waiting for the things he wants; he believes in going out and getting them himself

He's socially intelligent and uses relational aggression to get what he wants, rather than over aggression

He's high testosterone, and is religious about monitoring his testosterone levels and refusing to take losses and testosterone hits
What can we learn from him to become more aggressive ourselves?
Hoping That Success Finds You? Knock It Off
"If I'm just a good enough person, the world will reward me!"
No it won't.
Yes, be a good person. They go farther in the long run than equally-action-oriented people who only care about their own selfish short-term needs by a long shot.
However, EVERY action-oriented person, no matter how compassionate, empathetic, or "good" (or not) goes farther than any of the people who sit around waiting for "the right moment" or "the perfect opportunity."
This requires something of a mental reboot if you're stuck in this habit. The people who wait are usually those who fear rejection. This fear must be re-channeled... channeled into a greater fear than the fear of rejection.
For me, the fear I found was the fear of leading an ordinary life - one that would be of little impact when all was said and done. Tapping that fear was enough for me to overcome any fear of rejection; it was better to go out and get rejected 1,000 times at anything in order to learn how to succeed than it was to avoid that rejection and become what amounted to a failure at achieving the objectives of my life.
What gets you motivated?
Maybe you really want to find that one PERFECT girl for you, more than anything. Is it worth enduring hundreds or thousands of rejections from women over the course of a few years (and, doubtlessly, plenty of girls you sleep with along the way, too) in order to find her? Or would it be better to never find her so that you never have to endure rejection by women who don't want you anyway?

Maybe you really want to have the ability to go out and charm the socks off of damn near any woman you meet. Is it worth enduring day after day and night after night of rejection to cultivate that ability so that you'll have it forever a few years down the road, or would it be better to just not bother to save yourself a few years of hardship and sacrifice a lifetime of possessing a talent few men ever will?

Maybe you really want to build a business so that you never have to work for anyone else ever again. Is it worth struggling for a few years while you figure out the ropes, going into debt, not knowing if you'll fail and have to go back to the corporate world, so that you can emerge on the other side a competent businessman able to create revenue streams at will? Or, would it be better just to stick to the cubicle for the next 30 or 40 years?
Whatever it is, you need to kick start the process of proving to yourself that waiting around doesn't get you a damn thing.
Once you see that taking action gets you results in one area of your life, the approach of taking aggressive action on anything you want handled in your life spreads virally to everything else.
How to Be Aggressive in a Socially Intelligent Way
If you're new to getting the things you want, you're most likely going to start off rather clumsy at it. Fortunately, there's plenty of material here on the site already aimed at helping you be more effective at achieving desired outcomes socially and romantically... here's a small sampling of these:
... and many more. Each of the above (and many more in addition to these, too) is about maneuvering aggressively for the things you want while keeping things socially on-the-level.
In fact, you might even go so far as to say that this site is really one big primer on how to get what you want in socially intelligent aggressive ways.
This takes time, and it takes conditioning. You can shave a lot off your learning curve with the programs and articles on offer on this site, but you're going to need to spend a fair amount of time out there using and testing and refining all of this for yourself in the real world with real women and men.
You'll be too blunt when you first start figuring out how to be aggressive in social situations. I know I was. But from your earlier failures spring the steps forward to success... so, as you try things and fail, you also lay the foundations for later successes, so long as you're continuing to work both hard and smart.
Boosting Your Testosterone Levels
To a certain extent, you're born with a certain level of testosterone. For some men, these levels are higher than normal; for others, they're lower than normal. For most, they're right around normal. That's the "fate" part of the equation.
However, there's a part that has nothing to do with fate, and that's the extent to which you can impact your own testosterone and, hence, base aggression levels, through controlling your environment and social and romantic situations.
I'd refer you to the article on dominance again, as that's really the authority on the topic on this site (the link is here again, in case you missed it the first time around), but here are a few boiled-down tips on boosting testosterone levels above your biological baselines:
Win at everything, and never settle for defeat (winning boosts your testosterone levels, which leads to more winning; losing causes your testosterone to fall, which leads to more losing)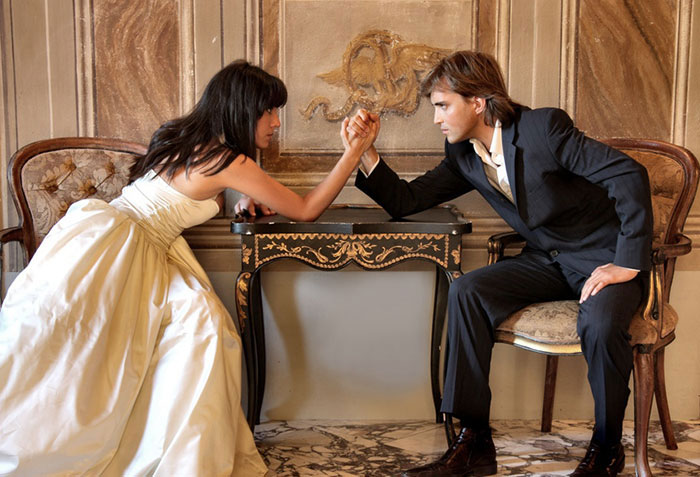 Workout regularly and lift heavy weights (i.e., bodybuild rather than do cardiovascular workouts)

Eat a lot of fats and proteins, and reduce carbohydrates (discussed more in Eric's article on weight loss for men)

Get used to doing what you want, and reduce situations where you are not in command or control - be the boss at your work / company; be the alpha male of your social group (or don't have a social group); be the one with the relationship control in your romantic relationships and don't get into the habit of deferring to women (you won't like it all that much if you do, and neither will they)
There are also androgen / steroid drugs, but I'd be very wary of these. They can lead to medical problems (like plaque buildup in the heart, and fatal heart attacks - even in 20-something men), and they also have other unfortunate side effects, like the shrinking of a man's testicles (since these organs are no longer needed for testosterone production; the body adjusts to higher levels of testosterone by downsizing its own testosterone factories, the testicles).
If you stick to the four main categories above - winning, lifting, fat/protein consumption, and getting out of situations where you aren't doing or getting what you want - you'll most likely find you have all the testosterone you need.
Misconceptions About Being Aggressive
Most people who aren't by nature aggressive see aggressive individuals and shrink back in fear and horror. "Oh, that person is too aggressive!" they say.
But aggression is all in the eye of the beholder.
If you're a very aggressive person, and I'm a very passive person, we may both look at a moderately aggressive individual and react differently to him. "Oh, he's too aggressive," I, the passive person, say. But you, the very aggressive person, look at him, and instead say, "This guy is not aggressive at all."
Aggression does not make you a "bad" person, unless, perhaps, you are using that aggression in ways that brings harm to others. If you're pushing people into situations they don't want to be in that leave them worse off, that's no good; if you're taking too much without consideration for whether you're bleeding others dry, that's no good.
The socially intelligent aggressive person gets around these problems because his aggression is performed in ways that are beneficial to all. He seeks to be aggressive in ways that he is bringing value into others' lives... value that those others appreciate and want. He often will not take action until he knows what it is others want, or at least is fairly confident he knows.
Aggression is no more than going after you want.
However, the aggression that works, that leads to the most effective end state of things, and that allows you to get what you want while keeping others happy and raising your social status, is socially intelligent aggression - taking action to get the things that you want in ways that take care of what others want, too.
This is the responsible man's means of being aggressive.
Can YOU Become Aggressive?
Once you're out of victim mentality and you're following the path of the aggressive man:
You don't believe in waiting for the things you want; you believe in going out and getting them yourself

You're socially intelligent and use relational aggression to get what you want, rather than over aggression

You're high testosterone, and are religious about monitoring your testosterone levels and refusing to take losses and testosterone hits
... you will get there.
I waited until I was in my early twenties before I started down the path of learning how to be aggressive in getting the things I wanted most. And while it doesn't come completely naturally, and there's always somewhat of a learning curve - for instance, had you seen me in business a year ago, you'd have considered me a pushover around more naturally aggressive partners and even employees; these days though, it's a very different story - the commitment to staying in the driver's seat is always there.
Once you make a similar commitment to getting into the driver's seat of your life and staying there, you might suffer setbacks sometimes in novel situations, but the end is ultimately assured - through the rejections, defeats, and setbacks, you will eventually emerge the stronger for it - and you will have learned how to be the aggressor.
Chase Amante
Get Your FREE eBook on Texting Girls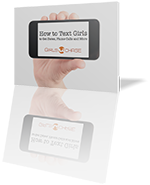 Sign up for our email insights series and get a copy of our popular ebook "How to Text Girls" FREE. Learn more ...
---


Trying to piece together a seduction strategy bit-by-bit, article-by-article, question-by-question? Stop killing yourself doing it the slow and difficult way - and get it all spelled out for you instead, in detail, in exactly the order you need to learn it... with homework, too.
With our complete mastery pick up package, you'll get our 406-page how-to eBook How to Make Girls Chase, our 63-minute long video Spellbinding: Get Her Talking, and 3 hours of audio training - all for less than the price of the book and video alone.
Quit banging your head against the wall - get it now, to speed your learning curve up dramatically... and start really getting the women you want to want you too. You can go right here to get started and be downloading your programs in minutes: How to Be a Pick Up Artist.
Related Articles from GirlsChase.com